Registered User
Join Date: Mar 2013
Location: louisburg
Posts: 5
Lift kit advice and other questions. new Comanche owner
---
Hey I bought a 1989 Comanche about 8 months ago and now I'm planning on lifting it I would like to know what's the best lift kit for the Comanche? Should I buy one off the internet or build a custom one myself? If I should buy one online what website would you guys recomend? And how much will it run me? I want to be able to fit 33s or 35s under it. Also I would like to hear your guys input on the 10/5 puegot transmission, I don't think it can handle the power behind the 4.0 and it randomly won't go into gear sometimes and I want to g
Replace it possibly if it keeps being a pile. I just would like some advice please. I would love a input on any of my questions. Thank you
Registered User
Join Date: Jul 2011
Location: woodbury
Posts: 348
Registered User
Join Date: Jan 2006
Location: Medford, OR
Posts: 119
Quote:
Originally Posted by
ftpiercecracker
View Post
That is a really awesome link you posted... it should be stickied in this category.
I don't know how much lift OP is looking for, but I have a general question. If the Rubicon Express 5.5" Coil Springs were to be swapped with some Rusty's Offroad 8" coils, (and longer shackles / blocks) in the rear, what changes would be expected from that list? Thanks.
---
02 Jeep WJ, 6.5" IRO Critical Path long arm, 31x11 tires
Registered User
Join Date: Jul 2011
Location: woodbury
Posts: 348
I dont know enough about it to give you an accurate answer, but if you want to know simply put your question at the bottom of said link. ComancheClub is a place you guys need to get familar with.
Quote:
Hey I bought a 1989 Comanche about 8 months ago and now I'm planning on lifting it I would like to know what's the best lift kit for the Comanche? Should I buy one off the internet or build a custom one myself? If I should buy one online what website would you guys recomend? And how much will it run me? I want to be able to fit 33s or 35s under it. Also I would like to hear your guys input on the 10/5 puegot transmission, I don't think it can handle the power behind the 4.0 and it randomly won't go into gear sometimes and I want to g
Replace it possibly if it keeps being a pile. I just would like some advice please. I would love a input on any of my questions. Thank you
I started with a 4.0, B/A-10, 2wd. I got an AX-15, NP231, and a Dana 30 front axles, and installed them. Everything bolted up, and it was $600, plus I got all the small hardware. Zone 4.5 J29 lift kit, and 35's will fit. Bing bang boom done. With that you'll be fine. I am doing all the work my self, and it's going smooth and easy. So 2wd to 4wd and lifted with about $1350 invested.
---
88 Comanche AX15/NP231 swap. Zone 4.5" lift Future-Dana 44s, lockers, 36" tires, 4BT swap
Thanks NYtrailrider! Checked out the lift kit and I think that's the one I'm gunna get. This summer I will put the lift on and put on some 33s. I will post my build on here for sure
Registered User
Join Date: Mar 2009
Location: holly
Posts: 419
Anyway to tell if my comanche has been lifted?
---
It has rough country shocks on the back and what looks like bilsteins in the front. Any way to tell by looking at the rear leafs and front coils?


Joey
Registered User
Join Date: Jun 2009
Location: OR
Posts: 1,057
Post up a picture and we could tell you.
---
I go to college and I drive a Jeep.
ebair, here is when I got it to the lift kit installed and on 30's.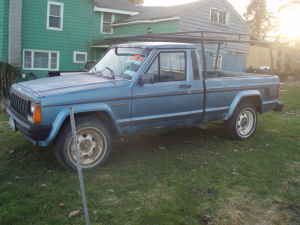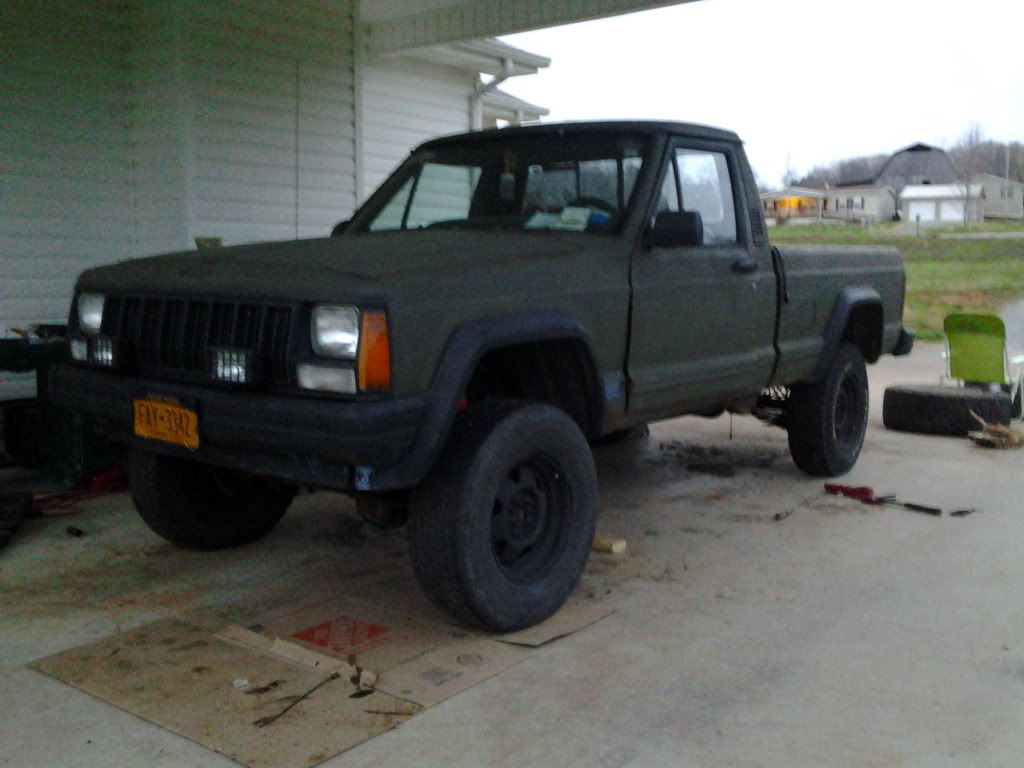 ---
88 Comanche AX15/NP231 swap. Zone 4.5" lift Future-Dana 44s, lockers, 36" tires, 4BT swap
Registered User
Join Date: Mar 2012
Location: Macomb
Posts: 325
Looks good. What paint is that?
---
Jeeps 4 Life!
Krylon OD Camo, needs touched up for sure, but looks great when freshly applied
---
88 Comanche AX15/NP231 swap. Zone 4.5" lift Future-Dana 44s, lockers, 36" tires, 4BT swap
This is my truck. Pretty much all stock FOR NOW. Really wanting to get rid if the puegot 10/5 in the near future.





1989 jeep Comanche 4.0 Peugeot 10/5 31 inch bfg all terrians. Future plans; ax15 tranny 4.5 inch lift with 33s custom bumbers with winch two electric fans headers and flowmaster exhaust system
@deejayzeejay @NYtrailrider
Currently Active Users Viewing This Thread: 1

(0 members and 1 guests)
Posting Rules

You may post new threads

You may post replies

You may not post attachments

You may not edit your posts

---

HTML code is Off

---