Registered User
Join Date: Jul 2003
Posts: 597
Joining the MJ community
---
Well after the unibody went to hell on my XJ, I'm now crossing over to the MJ community. Although for this build-up I'll be re-enforcing the crap out of the unibody portion lol.
Here's a pic of my XJ may she rest in peace. Although not all shall go to waste as most of her will be ported over to the MJ. Although I'll be tossing out all the axles, and using the D60 in my garage, and hopefully acquire a full width front axle to match.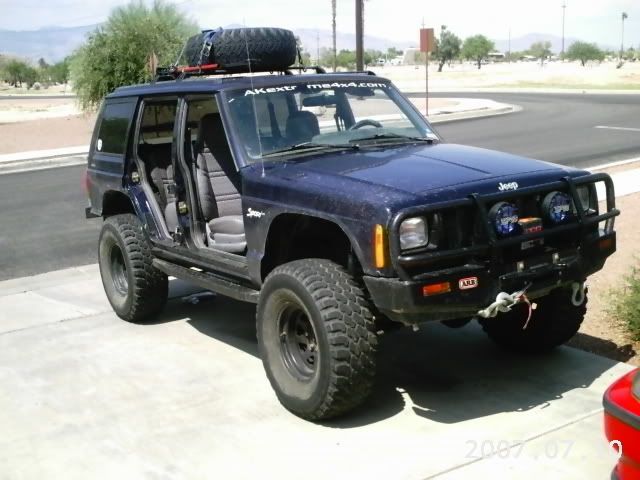 Here's a pic of the MJ I picked up for the lovely price of
free
That's right, Freebie
My sister in laws boyfriend fixes up civics and got this from a junkyard after he bought a civic that had a problem and they wouldn't give him his money back so they gave him this instead. He really didn't want it so said I could have it. Plans for the build are to rape my XJ of her motor, tranny, and xfer case. The MJ has a 4.0 that cranks up, but I'd perfer my newer motor over it, and his has no tranny so shouldn't be too hard to swap over. She'll be getting new axles, my ARB bumper off the XJ, my teraflex long arms off the XJ, a spring over axle in the rear, New coils or just my exsisting XJ coils and some coil spacers. Hopefully I can re-use my sliders, if not I'll sell my XJ ones and get something fabbed up.
---
Combat Search and Rescue: If you go down, I'll come.
Registered User
Join Date: Sep 2005
Location: S/E Michigan
Posts: 1,837
Looks like a good project.
Jeep on!
--Pete
---
-88 MJ; 4.0L, ex-2wd, TJ ax15/231, 78 Ford D44 w/spool, 9" w/posi, 33" trXus MTs, custom roll-bar/bumpers/etc.
Also an 86 MJ Metric ton and 2 '90 MJs
Projects/wheelin' pics: picturetrail.com/petermontie
My email:
To view links or images in signatures your post count must be 10 or greater. You currently have 0 posts.

ComancheClub.com/forums
Currently Active Users Viewing This Thread: 1

(0 members and 1 guests)
Posting Rules

You may post new threads

You may post replies

You may not post attachments

You may not edit your posts

---

HTML code is Off

---