Registered User
Join Date: Sep 2008
Location: Hillsboro
Posts: 90
Back to the Jeep world, Matts MJ Build
---
So I've been out of the jeep world for almost a year now, First started when I had my 93 Jeep Cherokee, loved it, it was a manual and it was the very first car I owned. Fast forward to 08 when I purchased my 2005 Jeep Wrangler TJ when I lived in florida for the Navy Loved every minute of that as well, but I started having issues dreaded DW, and small things here and there. In 2012 I traded in my TJ for what I paid for it! And bought a 2007 BMW328xi.
So after being out of the jeep world, I started my search to get back into it. I started with looking at 99-04 Grand cherokee's as there are some pretty sweet builds out there. And then I shifted to 05-07 Grands with the Hemi. Not wanting to pay an arm and a leg for them I started my search and fixated on Cherokee's and Comanche's. Long story shorter I finally picked up my 1989 MJ Comanche heavy project truck.
So far I've gotten the truck into my Warehouse and the Trasmission dropped out, PO said that it needed a new seal on the Tranny so we're doing just that.
While the tranny is out I'll be cleaning it up and spraying it a gloss black. Hopefully I'll have pictures up soon!
Plans for this build are to the sky.
Massive cleaning up
- All parts cleaned up and refinished with rustoleum or engine paint
- 97+ front clip swap -doors grill header hood fenders
- 97+ Dash swap
- Full Interior restoration
- 4.5 inch lift
- 33 inch tires
- paint job - still unsure what color or just full linex
- 4.7l stroker with future prospects of a turbo
- One thing I'm dreading is an updated electrical system.
Big influences on my build are
rymanrph's MJ -
http://www.jeepforum.com/forum/f22/9...-build-934131/
Kabowabo's MJ -
http://www.jeepforum.com/forum/f22/m...manche-886068/
And of course
H3RESQ's MJ -
http://comancheclub.com/topic/26632-...escue-2/page-2
Registered User
Join Date: Mar 2011
Location: Portland
Posts: 13
Very cool. Some before pics are in order.... This will be good. Just what I need to inspire me to get back on track with my MJ. I'm just south of you in Salem. Are you in one of the local clubs?
I'm not in any of the local clubs actually, havent found any, but I havent been looking to hard. Anyways here some starter pictures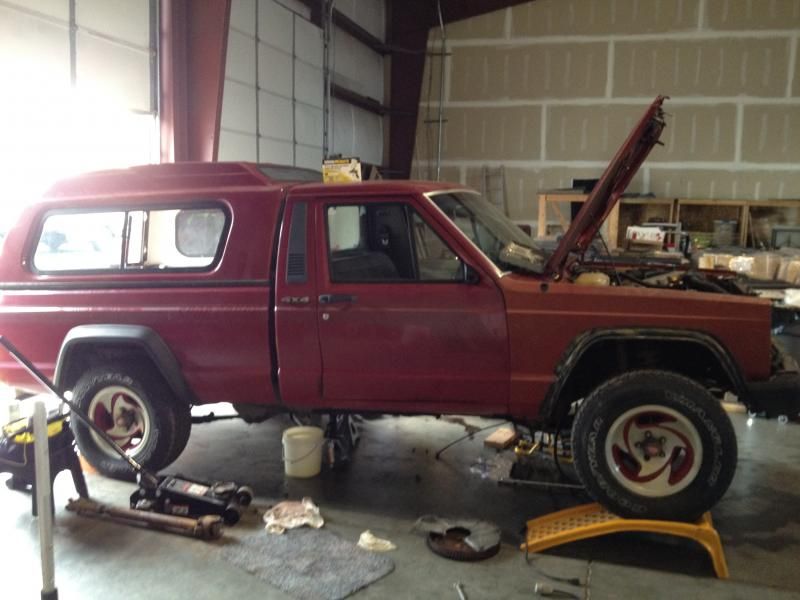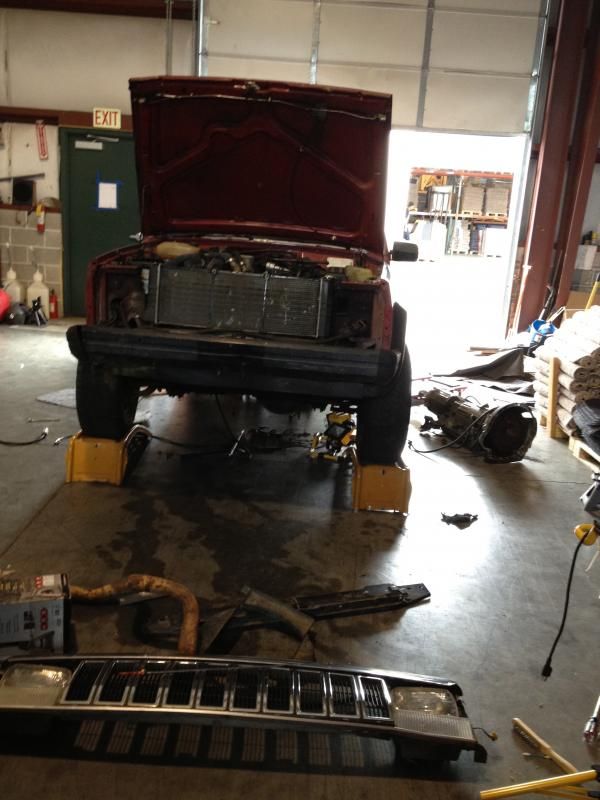 And then the Tranny Real fun to get out! Getting it back in is going to be the fun part as the PO had it mostly out and now I get to try and figure out where most of the things go.
So today I fixed the Main seal, pretty easy once the tranny is out. Tomorrow I think I'll go and buy a tranny jack, imagine it'll be a lot easier to get it back in with it.
Things to do -
Go to pick and pull, it is their half price weekend! Hopefully see about getting some Dana 44's ford 8.8 or even an 8.25
Clean the tranny, and reinstall and above all, get this Manche running again.
Registered User
Join Date: Aug 2013
Location: Sonoma
Posts: 89
Sub'd. I have always liked these trucks. Have fun.
---
Don't Tread On Me
Well Two days ago I bought a 1991 Cherokee, Got the fenders and header panel off so far and I'm going to replace them with my banged up ones, taking the doors off tomorrow and going to put them on the Manche.

now I'm going to try and swap everything over, engine, ax15, electronics, wire harness, everything. might as well since I have the whole donor car!
Been a while since I updated it, But today I removed the engine, Tranny, Transfer case. Getting the engine bay cleaned up, power washed, and ready for the 91 cherokee engine after a few mods. Have to pull the cherokee into the garage get everything labeled and figure out. I'm going from an Automatic to a Manual, any idea of what all has to be removed or added in order for everything to work right?
Big day today, Got the new Wire harness all labeled, and pulled in once piece, looks just a million times better than the renix system. And then the interior wire harness all disconnected and ready to go in. Close to having this 91 engine out now!
feels like leaps and bounds today, got the dash, interior wire harness, and everything hooked up inside! Started working on my cherokee bucket seats and changing the brackets to my comanche ones.

Things left to complete before it's back on the road

1 Resurface the flywheel is the first thing
2 rebuild the ax15
3 get a 23 spline input shaft for the Tcase
4 drop the motor in and hook everything up.
5. rear shocks are shot, doesn't feel like anything is there.

then upgrades!
Currently Active Users Viewing This Thread: 1

(0 members and 1 guests)
Posting Rules

You may post new threads

You may post replies

You may not post attachments

You may not edit your posts

---

HTML code is Off

---