**see-through (plexiglass) catch can**
Photos and writeup courtesy Captainofiron
Instructions:
Purchase the following parts:
(the following can be purchased at home depot or lowes) (2) 1/4 NPT to 1/2 hose brass fitting, (1) 1/4 NPT to 3/8 hose brass fitting, (1) 1/4 NPT male coupler, (1) 1/4 NPT brass t block, (1) Air compressor mini air filter (plexiglass so you can see the accumulated oil)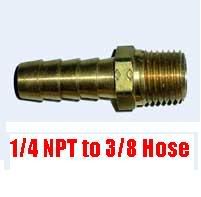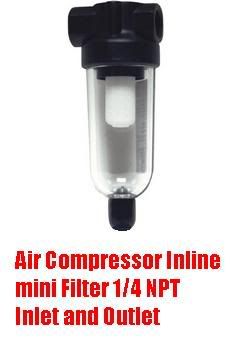 (the following must be purchased at a auto parts store) (1) air breather with 3/8 hose connection on bottom
1.
Remove your old Crankcase Ventilation line going from the Valve cover to the air box.
2.
Assemble the parts as shown in the picture make sure to use either a thread sealer or teflon tape, and make sure to not over tighten the fittings.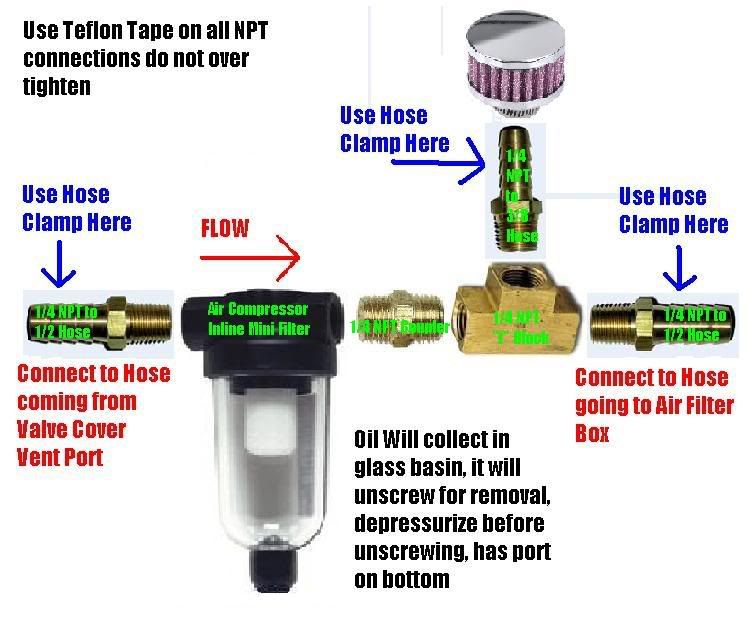 3.
Place the part where you want it and measure the hose lengths on both sides and cut the hoses and plastic pipe.
4.
Attach hoses to part and connect to Valve Cover and Air box, use hose clamps where necessary.
5.
Check for looseness by shaking the hoses to see if any part of the hose gets loose.
6.
Also make sure the plexiglass bowl does not rub or vibrate against any other part it may rupture.
7.
Turn on your engine and check for leaks.
8. When the filter becomes full, simply unscrew the plexiglass bowl and pour the ejected oil back into the engine.
Final Product:
Here's a similar writeup with some of the same part numbers + links to those parts on Home Depot's website:
http://www.srtforums.com/forums/show...7&postcount=29