Registered User
Join Date: Feb 2014
Location: Greater Vancouver area
Posts: 106
Quote:
Found am 8.8 for $125.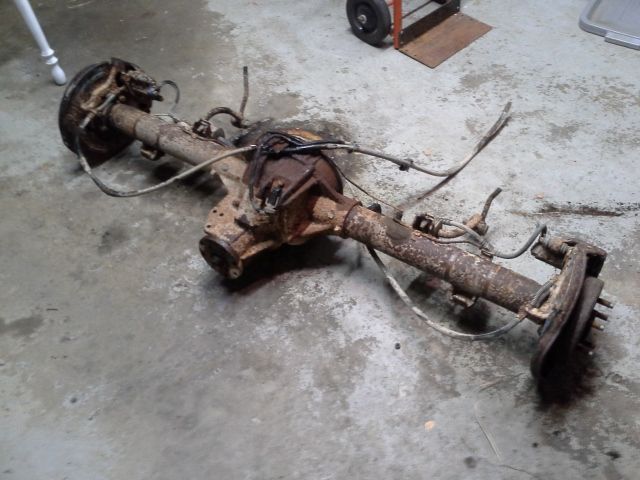 .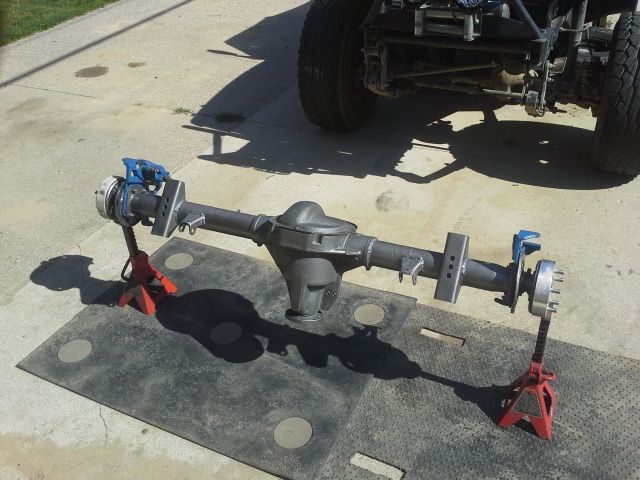 Killer find and restoration!
Registered User
Join Date: Sep 2011
Location: Chandler
Posts: 7,986
Quote:
Originally Posted by
BROWNING3250CAL
View Post

Killer find and restoration!
Thanks man
---
To view links or images in signatures your post count must be 10 or greater. You currently have 0 posts.
To view links or images in signatures your post count must be 10 or greater. You currently have 0 posts.
To view links or images in signatures your post count must be 10 or greater. You currently have 0 posts.
Registered User
Join Date: May 2013
Location: Peterstown
Posts: 1,670
Registered User
Join Date: Apr 2011
Location: Augusta
Posts: 200
-complete XJ D44
-complete mint woodgrain interior from a 96 XJ Country. I wanted the whole Jeep but didn't have enough cash for it ($1600, a steal in 2006); it was an absolutely mint, fairly low mileage new arrival sitting in a clean junkyard outside of Gatlinburg, the only problem being a dead trans
-several mint overhead consoles from XJ's and ZJ's (still have a few in my workshop I believe)
-excellent condition bucket seat out of a DJ that I thought about putting in my CJ if I can find one more
-complete 5.9 hood louvers for ~$10 (still sitting in the shop, either use them or sell them one of these days); wanted the interior but the doors had been left open (huuuuuuuge junkyard pet peeve of mine) and there was a lot of moisture inside; the motor was complete but I had no way of getting it
-clean black leather interior from a WJ (but I had to leave the driver's seat behind. In the time that I left the WJ to grab tools, someone came by that obviously didn't have tools and actually ripped the seat straight off of the mounting bolts and broke the back support also; the only thing they took was the set of 10-way switches...)
-I found another XJ D44 a few weeks ago but didn't have a way to get it out of there. By the time I got back to the yard it was gone. I regretfully left the 44 on my old XJ when I sold it to a friend because I had no time to swap the D35 back in. I would much rather have the 44 sitting by my shop right now than the 35, which I probably can't give away on Craigslist...
---
2002 WJ Overland - stock
1978 CJ5 - 350, 34's
1990 XJ Laredo - sold...
Registered User
Join Date: Apr 2014
Location: Green
Posts: 26
I've been finding some decent tools here lately, just randomly left in vehicles. Also, in the van section I've found brand new tubs of different adhesives and sealants that were left behind. Haven't found any teeth or fingers yet tho!
Registered User
Join Date: Jan 2005
Location: Tiger Country
Posts: 1,129
The best thing that I have found was a D44 from a 2001 TJ from a CFC that I picked up for about $130. Even after having the bearings replaced, I think I came out pretty good.
Moderator
Join Date: Nov 2006
Location: Millen Area,Georgia
Posts: 3,360
about 10 years ago was looking in a local U-Pullit JY for parts for my wifes 1985 GT Stang ragtop project...

Noticed a Jalapeno red 1986 GT ragtop still sitting on a rollback out front,asked about it,said it just came in,they payed 500.00 for it with a bad trans as far as they knew...

Long story short,i bought it for 800.00 figuring i could at least get the parts we needed,plus sell the perfect condition ragtop doors the 85-86 only GT nose peice and get my money back easily plus other parts to sell...

He still had the title just with the women's signature only,so it wasn't a salvage title...

Got it home..trans would only go up to second gear(auto)..engine ran fine...ended up being a 35.00 vacuum modulator on the outside of the trans...
The ragtop needed replaced,,opened the trunk,,a brand new in the box replacement top minus the rear glass window section,the new top was black,the old one was white,so i bought some SEM black vinyl paint and matched the rear window section...
And the best part,,noticed a lil sticker on the 5.0"Jasper engines"..found out the engine was only 2 years old and had the GT40P heads...lol

We ended up keepin it because it was in better shape then her 85,plus 86 was the first year for EFI instead the 85's crappy TBI and i repainted it,someone had put a funky heavy gold metallic clearcoat over the factory Jalapeno red.

I did a few minor things to her 85 and sold it for 3500.00 and kept the 86..untill about 4 years ago when a friggin dear ran in front of her and she ended up in a ditch and it shoved the unibody nose in the air...
---
Don't DREAM your life, LIVE your dreams

Never forget 9/11

"Welding is like a woman,Get 'er HOT and Penetrate"

Gotta LOVE a person who knows everything about NOTHING

The only Thing necessary for the Evil to win is a good man to do nothing....

"How far you go in life depends on your being tender with the young,compassionate with the aged,sympathetic with the striving,and tolerant with the weak and strong--because someday YOU will have been all of these"....George Washington Carver

Want to know what an Ironworker is and the job scope of a Journeyman?..click here...
To view links or images in signatures your post count must be 10 or greater. You currently have 0 posts.

Registered User
Join Date: Sep 2012
Posts: 154
Front and rear axles from a 93 yj with 4.88 gears already installed. I bought them because the axle tags showed 4.10 and I was looking for lower gears since mine had only had 3.07 gears. ...Awesome. Only paid 250.00 for the pair

Sent from my iPhone using JeepForum
Registered User
Join Date: Sep 2012
Posts: 154
Hoping to find a Dana 44 rear from a Commanche. It will be a direct swap.

Sent from my iPhone using JeepForum
Registered User
Join Date: Aug 2009
Location: Moultrie
Posts: 316
Anyone near Moultrie Ga. COX PICK AND PULL has a decent selection of explorers with 8.8s and a few xjs on the yard. Sometimes you can catch a waggy non CAD D44 and usually a yj and tj or two. It will cost ya a buck to get on the yard. They have cars and trucks there.
Registered User
Join Date: Sep 2014
Location: Tahoe Vista
Posts: 42
Found a good cummins 12 valve and thought about putting it in my YJ. went back and it was gone. darn it!
Real Jeeps have dents
Join Date: Apr 2002
Location: out in the garage - Minneapolis
Posts: 25,794
- A Rubicon Express 5.5" lifted XJ Cherokee with TrueTracs and 4.10's. I paid $125 each for the axles, and $175 for the entire lift kit.
- Over the years a whole stack of XJ D44, 2 MJ D44, and 2 86 CJ-7 D44. I paid $90-150 each and sold them for $4-600 each. I don't see any more XJ D-44, but Ford 8.8 are becoming very common.
- Assorted XJ lift kit parts, some in excellent condition.
- XJ/ZJ/WJ tow hooks and skids. $5-15 each.
- Probably 15-20 1997-01 XJ Overhead Consoles. Bought for $75 average and sold for $300+ each.
- 4-5 complete XJ front clips for repairing Craigslist wrecks. During Cash for Clunkers I could get a complete XJ front clip for $150.
.
.
.
.
---
.
A recent Gallup public opinion poll shows the NRA, at 58% approval, has a higher approval rating than either Hillary Clinton or Barack Obama.

Progressive Liberalism: Bringing you new Healthcare ideas so wonderful, they have to include mandatory participation ...
Originally Posted by Ronald W. Reagan: Government is not the solution to our problems; Government is the problem.

Currently Active Users Viewing This Thread: 1

(0 members and 1 guests)
Posting Rules

You may post new threads

You may post replies

You may not post attachments

You may not edit your posts

---

HTML code is Off

---