Alrighty so I've had this idea bouncing around in my head for a while and I didn't do much research to see if this was an actual product so please forgive me. I have been having problems lately with shady people equipped with sticky fingers lurking around my neighborhood. My proximity sensor is either too sensitive or wont go off even if I open the door. No middle ground. My Hi Lift is the only thing outside the vehicle that I am worried about growing legs so I put two and two together and came up with a solution. For starters, my jack is mounted on the roller fairlead in the holes provided for lights? maybe? I dont know. I stuck my jack there as it fit within the confines of the bumper and doesn't protrude or hurt anything.
The bolts go all the way through the fairlead and into the hi lift and were secured with wingnuts (image missing) and then tack welded to the fairlead so they could not spin.
I thought it would be awesome to lock one of these wingnuts so it couldn't spin and thus couldn't be removed. So my research began. I ran across something called an eye nut. It's like an eye bolt but with female threads.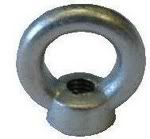 also if youre looking for these in the 7/16" flavor, they're $10 at fastenall. Each. And special order so be prepared to wait a week.
I poked around my local hardware store and lo and behold I ran across these for 68 cents apiece.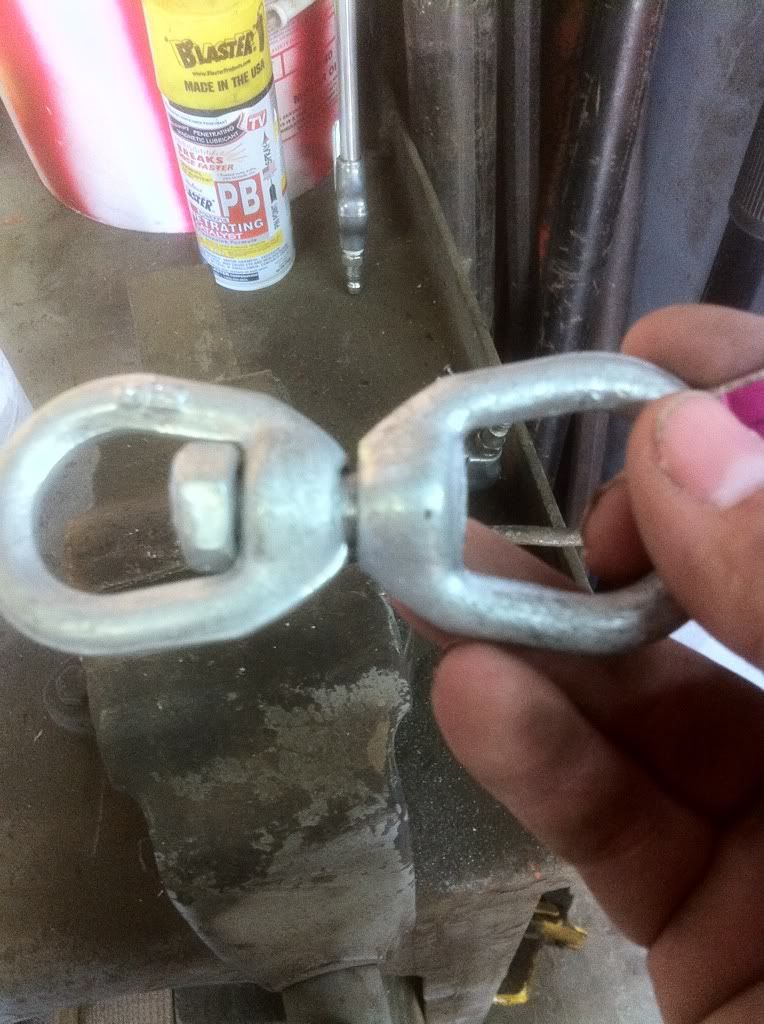 They're 5/16" clevis swivel majigs and they were perfect for what I needed.
I then proceeded to hack it in twain thus releasing the bolt end and exposing the side with a hole in it.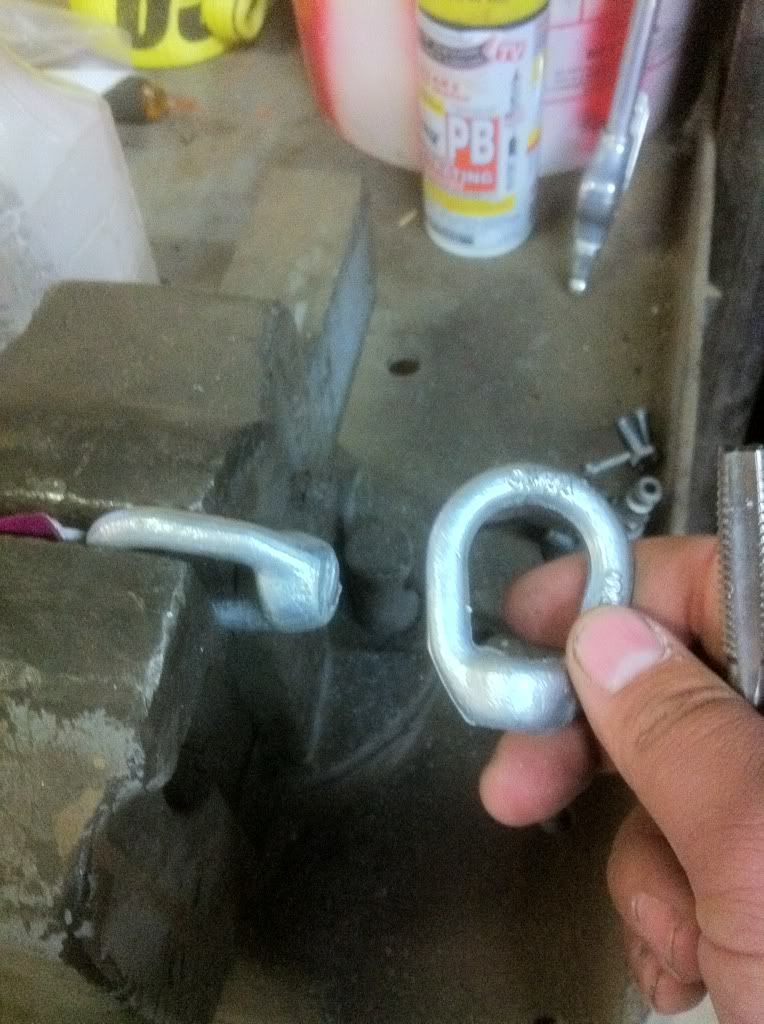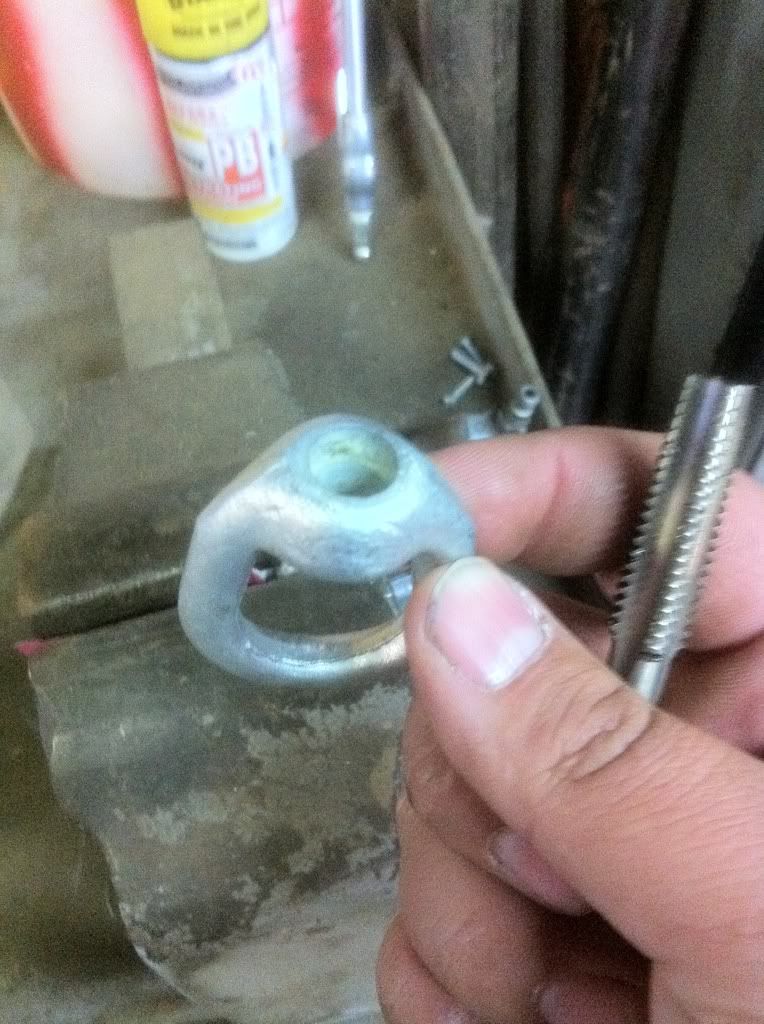 Then out came the tap:
and then I test fitted it: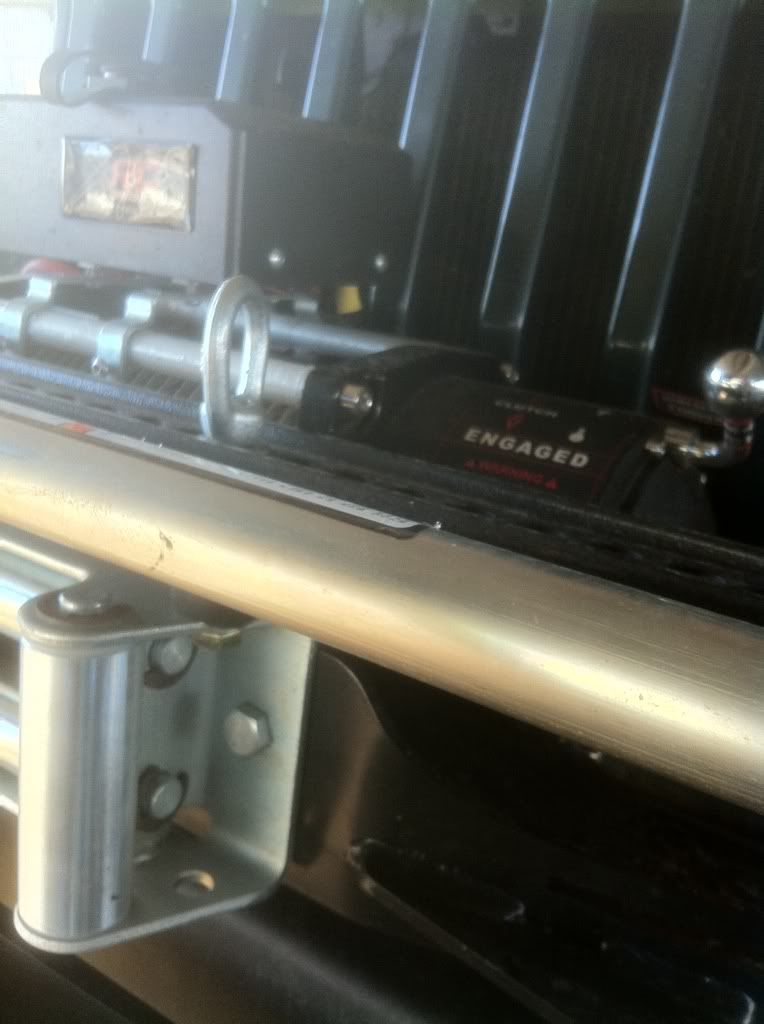 The only thing missing was a lock. Here in California, they hate guns with a passion but every police station I've had friends in has had a jar of cable slide locks for securing firearms free of charge. One of these mentioned cable locks goes through the jack and then through the eyenut thus locking the jack to the mount and ensuring your jack won't loosen up on its own.
This method could work in any configuration of mount as long as the bolt that holds the jack is immobile from the other side. Theoretically two bolts welded to a steel plate going through the jack could hold it. And with two nuts, you don't have to use the holes in the jack, they can be locked together with a standard or elongated padlock. I also thought about using this method for locking the tire to a tire carrier instead of having those stupid sockets that get lost.
Of course for a little more security, masterlock sells a cable lock and it's a pretty stout mother. It also costs more than free, unlike the other one. Also wrapping the cable around the jack instead of through the pin holes works just as well. I just opted going through the pin holes because the way my nut ended up.
Anyways, first write up. Might be stupid but I hope someone else finds some use out of it. If it's stupid and theres a major flaw that I haven't thought of, Please Please PM me! It's been a long day and even though I'm feeling confident about this little idea, I may have overlooked something.
Thanks for reading!