I don't know if this has been mentioned here or in the electrical section but I figured it's at least one of the correct sections to give this a try so here goes:
I'm going to be basing this quick write up on the smittybilt xrc winch platform and from what I've seen they're pretty similar inside the solenoid box. I know most people despise these winches or the company altogether so I'll tell you that this review from here on out isn't for you. Keep in mind for those that are following along, I didn't take many pictures because I figured it out pretty quick. And it was really hot in the shop. Ok. Parts list:
Three feet of 14 gauge wire
Three butt connectors that would fit 10 gauge wire
Three female spade connectors
Three male spade connectors (preferably shielded)
One smittybilt #97203-31 (replacement handlebar controller for xrc 3.0 winch)
One drywall screw about 1.5" long
Some zip ties for cleaning up your wiring
I started with the hand control piece itself and cut the proprietary end off the winch side exposing the three wires and mounted the toggle section inside the cab with the drywall screw. Found a nice little nook for it to go
Next I routed the wiring through the engine bay toward the bumper where the winch is mounted. Pretty simple.
Then after opening up the solenoid cover I tapped into the wired that the remote control uses on the inside of the cover itself. There are two red wires on my particular model and one black wire. The black was the constant hot because I could trace it to the power bus and the two reds were a guessing game, really.
After pulling leads out with the butt connectors, I attached the shielded spade connectors to the ends of the leads. The wires that came from the toggle switch are as follows:
Red-power
Black-out
Green-in
The spade connectors made it easy to line up the colors because I knew the power wires were clear and the in/out situation was just seconds of trial and error.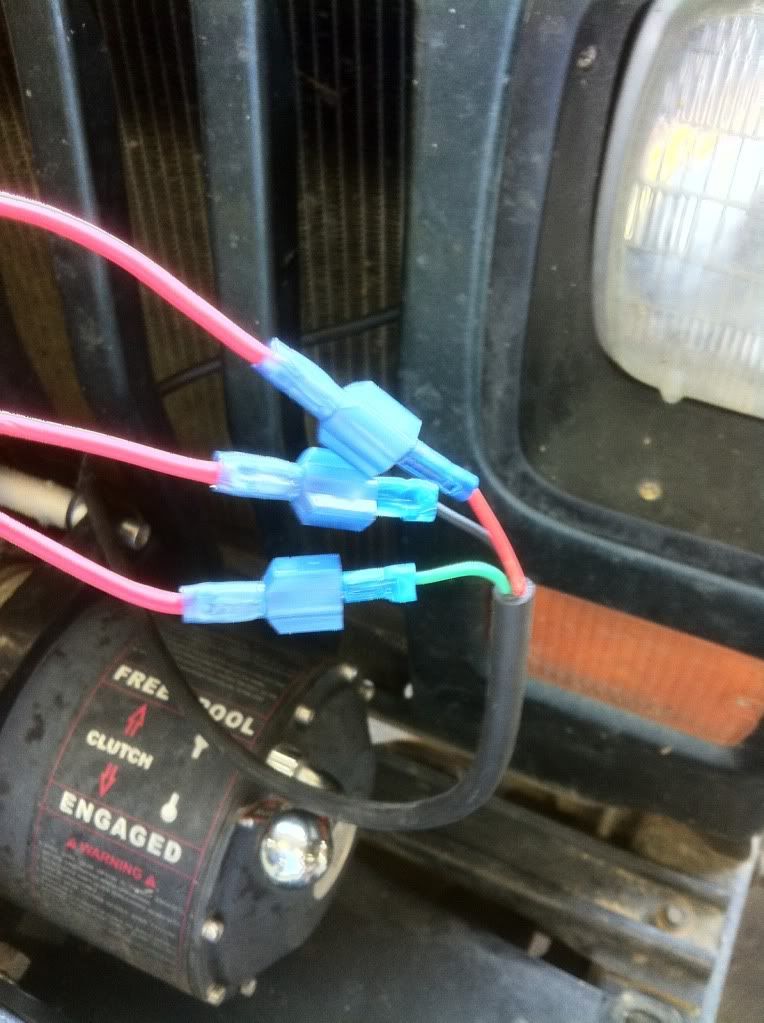 I was careful to reinforce the connection to the plug and ultimately to the winch itself. As it was my first go at this project, I used crimp connectors but I will eventually solder the connections to make it a little more permanent and stable.
That's pretty much it. A five dollar switch and a couple bucks in wire and connectors. Well, assuming you don't already have them sitting around. Here is a pic of the switch in its virgin form: