So I'd been rolling around the idea of lining my grill for a few reasons. 1, it was a bit dinged up from road debris & radioactive Florida mosquitos. 2, I kinda wanted it to match the bed lined front fenders the previous owner had done. And 3, I just wanted to be different.
So plan A was to just do flat primer/paint. But then I realized I'll be applying 6-8 coats of flat black, then just as much if not more clearcoat. Y'know since the grill gets beat up everyday. So I decided to go with bed liner.
$10.XX for the liner @ Oreilly's, $.75 for the newspaper, $11.00 for the craft brew, I already had the blue tape.
Here's how she started before disassembly and masking
I took out the headlight bezels, and took off the sway bar cover, to find this.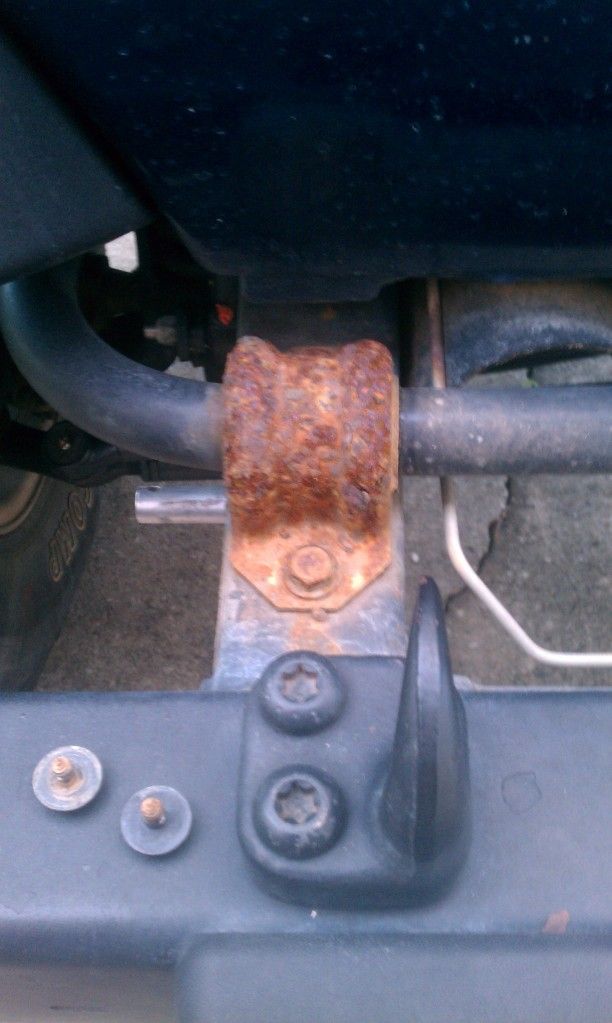 Wire brush, sand paper, & Rustoleum "Rust Reformer", I'm back on track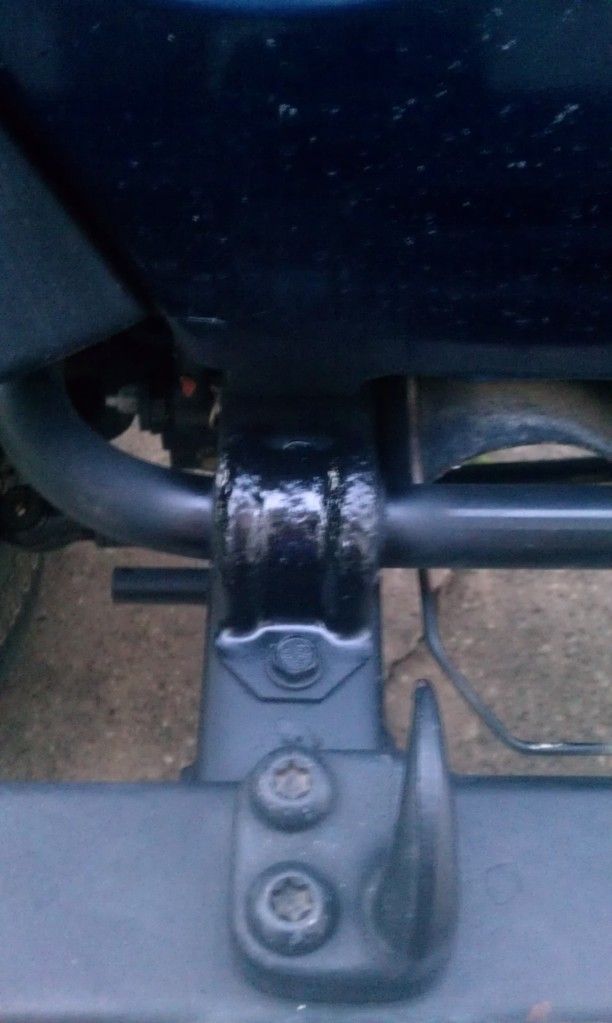 I covered up the headlights, did a small amount of masking, and went at it with an entire sheet of 180 grit.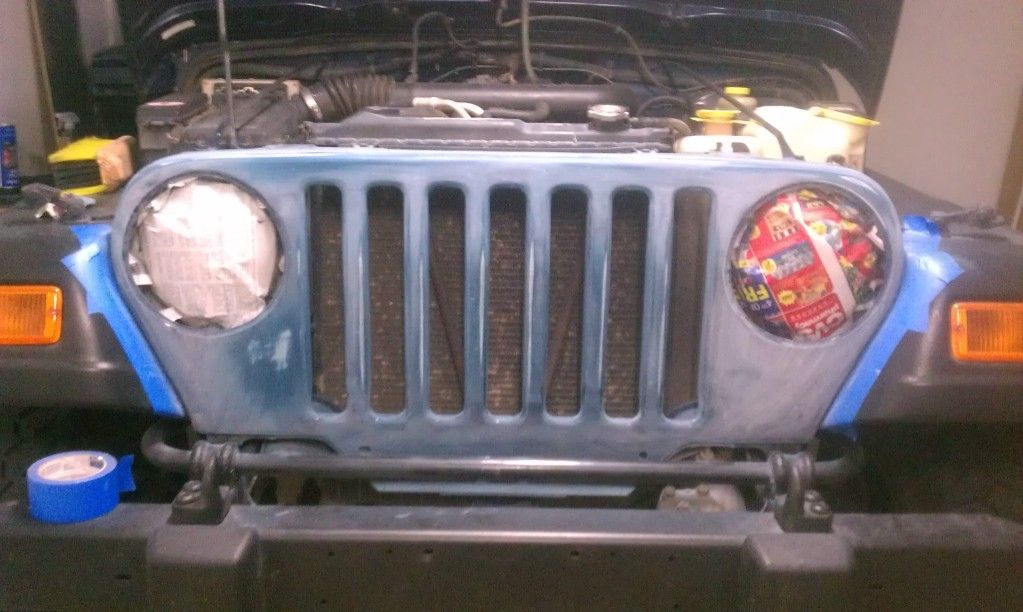 It really shocked me how thin the factory paint and primer really were, and how quickly I made it down to bare metal.
I then windexed the grill to get the bulk of the powder off. Then I used rubbing alcohol to clean it all, until I stopped getting powder blue off. Then, apply newspaper!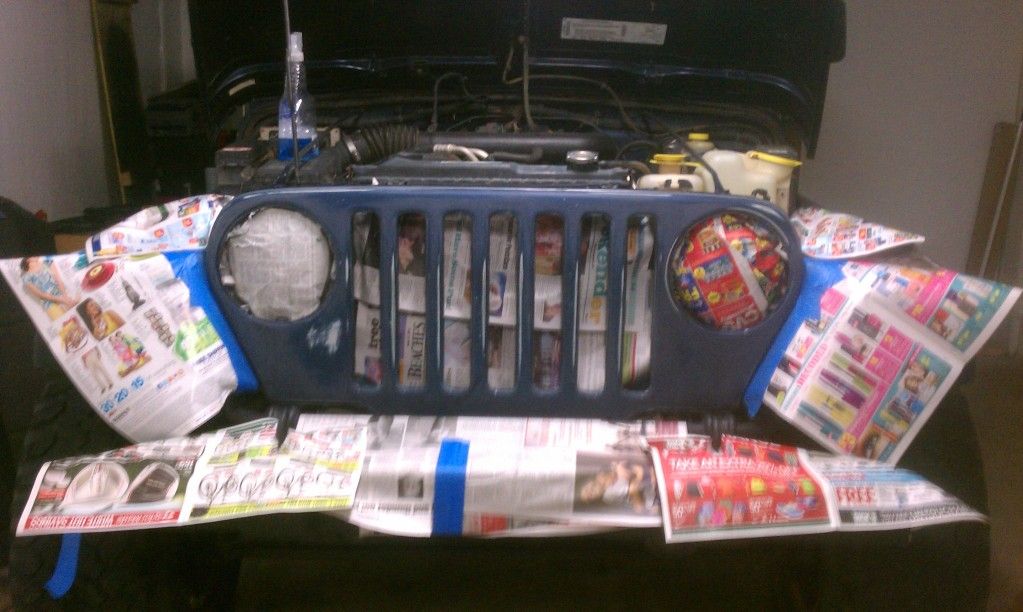 When you're taping, take your time. I found my self hurrying, and started over. The better job you do taping, the better this is gonna turn out. I'll spare you all my spraying methods, because honestly, I'm pretty bad at it. Shake can for 2 mins, hold 4-6 inches away, blah blah blah...
1 coat, wow... this sh*t is thick.
3 coats, wow... this sh*t is sticky.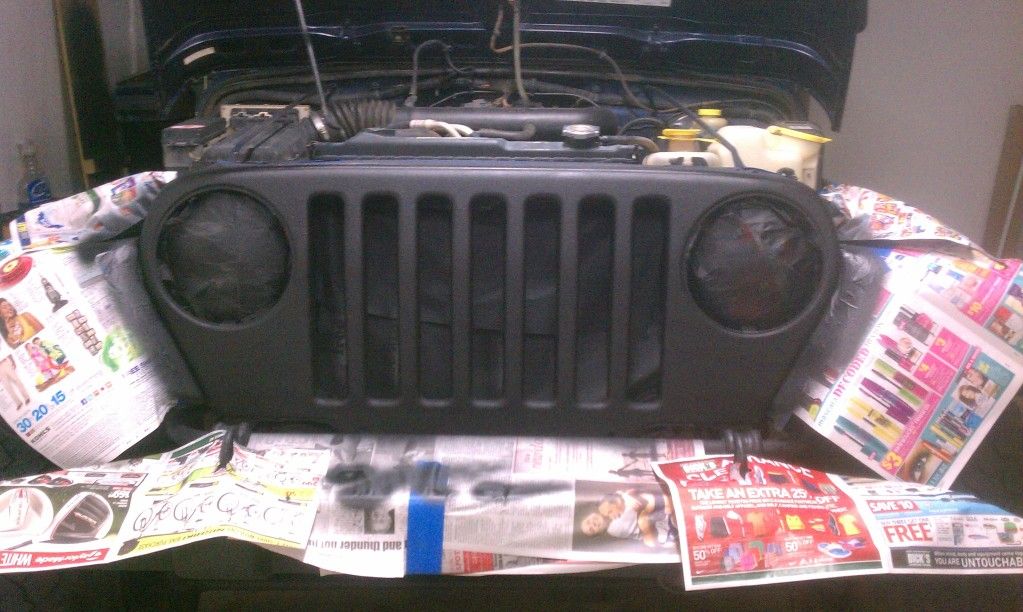 5-8 coats, I lost count. Probably stoned on fumes by now, halfway though 6 pack too. Can is empty, I guess I'm done spraying.
Because of the thickness of this stuff, it takes a while to set up. It's got the consistency of roofing tar, kind of. But this is a good thing. I took a nylon/plastic bristle brush and tapped the bristles over my mistakes. Pretty much masked them right in the spayed texture. I think I actually smiled, it worked so well. Well, that and the fumes...
I let it sit for awile, 20-30 mins, let the dogs out, cleaned some tools up. Then I began peeling. You'll see here where I stopped masking.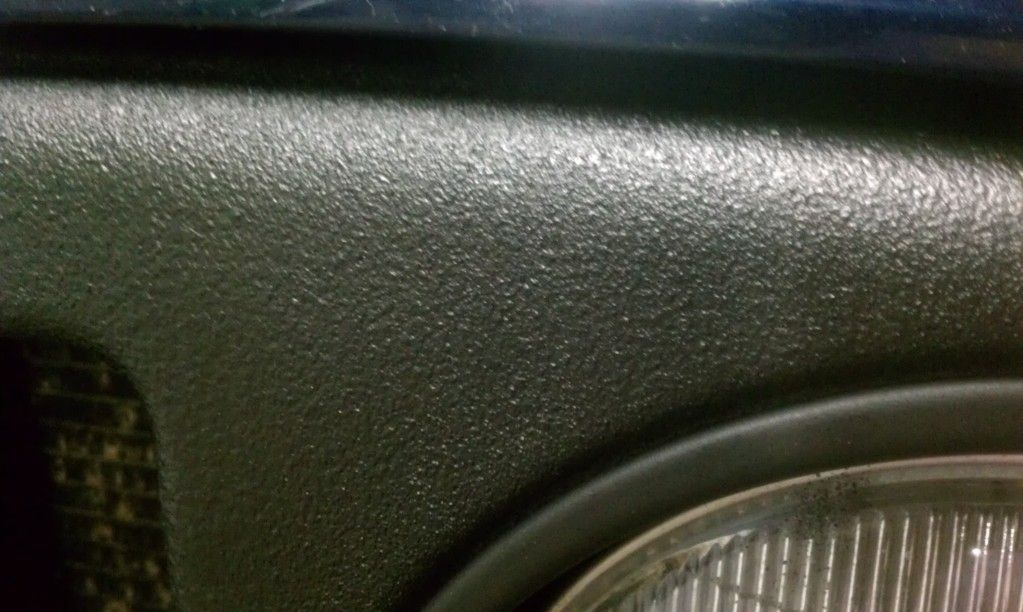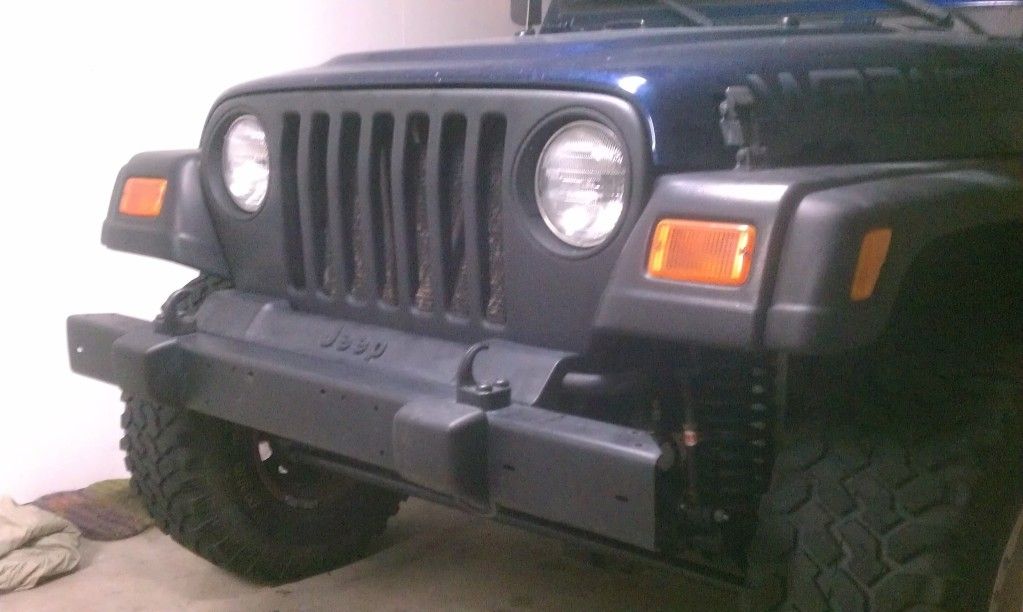 So there it is. I'm a little anxious to get this baby out in the sun today. I feel it's gonna show all my mistakes better than the florescent lights in the garage did. I'm a bit hungover this morning, I blame the fumes, not my drinking
Oh, and my gf is screaming at me that if I'm gonna do this stuff, I need to wear a mask. I've blown bed liner out of my nose 3 times already. Might wanna wear a mask. Hope this helps. Happy Jeeping!