Safari Cab For TJ's now available !
---
We are happy to say, that the TJ version of the Safari Cab Full length hardtop is now available.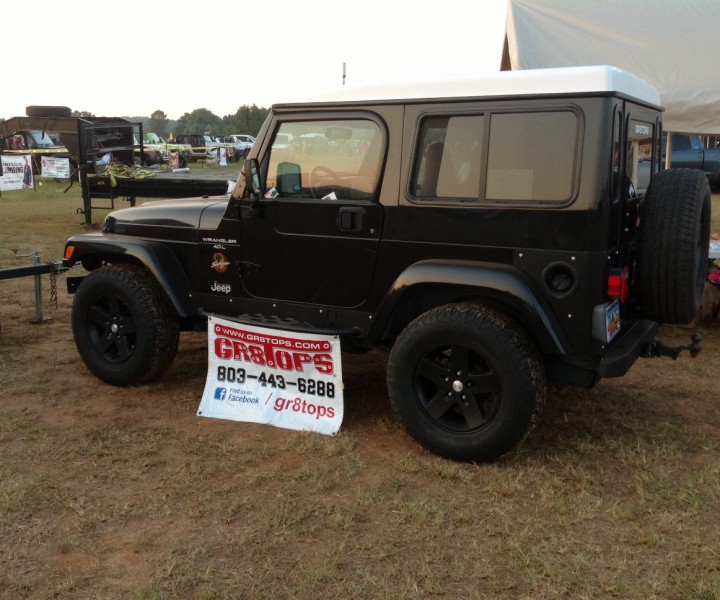 Here at GR8TOPS, we love anything old school Jeep. The Safari Top oozes old school Jeep.
Modeled after the Meyers hardtops in the late 70s and the World Cab hardtops that were on export Overlander CJ-8s and the rare Alaskan postal Scramblers, these unique looking hardtops give your 1997-2006 Wrangler TJ an appearance like nothing on the market today. This top has hardcore roots in (somewhat obscure) Jeep history
Be sure to visit the detailed product info page
HERE
Aside from the unique multi-panel design, these tops feature:
sliding/screened side windows and four additional small windows
easily removable rear barn door upper insert that opens with the tailgate
integrated inner roof support system and center console that allows mounting of minor accessory items (CB, small switch panels etc)
exterior finish of body panels to color match your Jeep
As we did for the introduction of the LJ version, we are waiving the installation labor of ($500) for the first 6 installs.
Initially, all installs are completed here at our shop or we are also in discussion with a location in Michigan to do installs as well. For these first 6 installs, we are not shipping product yet and would require your jeep to be here.
Pricing is as follows:
Base price
$3800
paint color side panels
$600
installation/assembly (waived on first six)
$500
Roof rack -installed
$400
LED third brake light
$75
.
The base price includes having all panels in either white, black or primer gelcoat. We highly recommend painting the side panels to match the jeep and having the contrasting roof as that is one of the major eye catching traits of the Safari Cab hardtop.
The roof rack option is adjustable feet and track setup with square type crossbars. The roof rack option would be suitable for bikes, kayaks, baskets, and/or possibly a canoe. At this time, the roof rack option is not recommended for roof top tents without major reinforcements to the hardtop.
More TJ photos on our Facebook page
HERE
. More LJ photos
HERE
Give us a call or email us if you are interested in starting a build of a top for your Jeep. Lead time from start to install is approximately 2-3 weeks. The on site installation time usually only takes 1 shop day.
Give us a call or email us with any questions. GR8TOPS @ gmail 8034436288
Registered User
Join Date: Jul 2012
Location: brick
Posts: 227
Looks great. Do you have any interior photos as well as the tailgate open? Just to get the general idea of how it is finished and what it will be like inside.
---
Quote:
Why do you let your wife out of the kitchen?
Registered User
Join Date: Dec 2013
Location: Neptune
Posts: 33
Have any of those interior photos yet?
---
Yellow 2003 TJ: Stock, 4.0L I6, Manual Transmission
Registered User
Join Date: Apr 2014
Location: Annapolis
Posts: 102
To clarify, this can be removed and put back on again just like any hard top?
Half top & duster type cover in development for the JK?.. Currently running the Bestop Half top, Jammer and Duster. Here is what we are needing.. A slightly extended cab area about 6 - 8 inched behind the front seat.. then a hard shell over the rear cargo area. Lift up or hinged in the middle so that we can access items from either side w/ a locking option
Registered User
Join Date: Jan 2011
Location: Atlanta
Posts: 2,122
more pics please- inside and out!
Correct, the hardtop can be removed all in one piece if you like or you can remove it in multiple panels as well (roof, two side panels, and rear hatch). much faster to remove it all in once piece.

I've got some other interior photos that I need to upload to the facebook page. I will try and do that tonite or tomorrow. I'll repost here once the pictures are posted. or I will link to them.

We just finished a impact orange LJ this morning with one that turned out very nice.
Here is a picture of the inside of the roof panel on the TJ in smooth white. The only thing out not shown in this picture is there is small 1.5" pockets along the inside wall of the roof to access the bolts to the side panel.
and a Partridge family picture on the shop jig tub. All different colors panel van.
Avoiding my question?..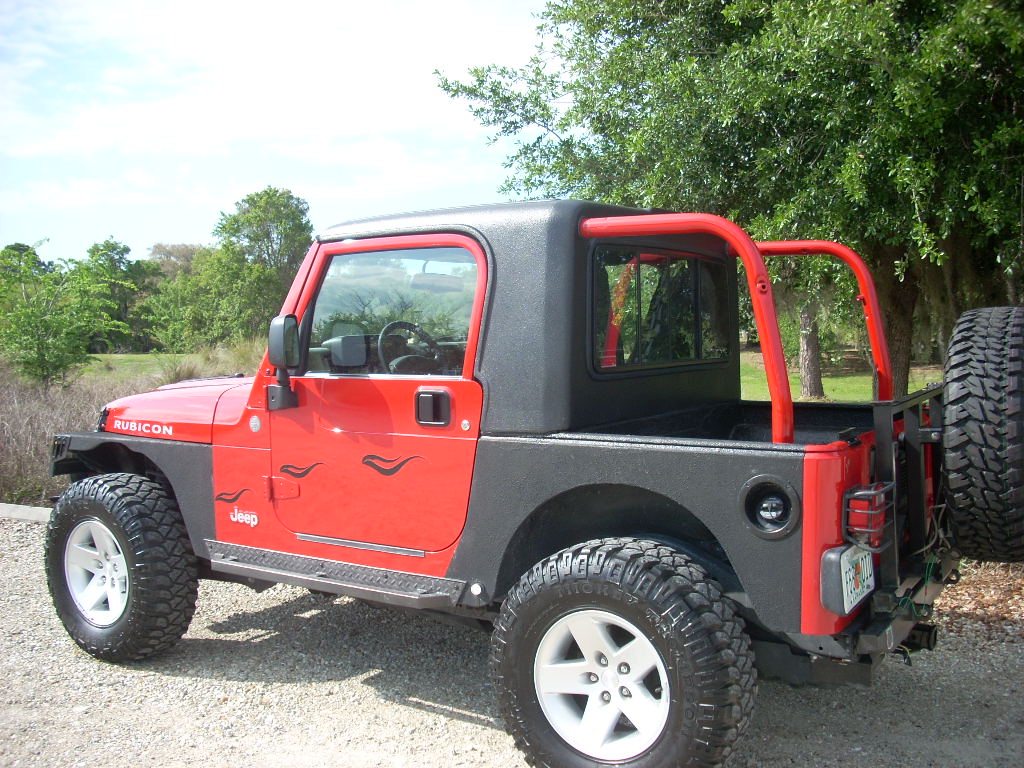 Here is Red's Reply when I sent her the pic:
(9:32:35 AM) RedJeepGirl: Cool
Sorry, I was trying to read through the questions on the Safari cab and address each of those and I missed yours in there between them sorry.
In regards to 2 door JK halftop. We are close on a product for that. I've got a contact list I've been putting together when we are ready to announce something for that. Drop us a email with your info to
gr8tops@gmail.com
and I will let you know when we are ready to release the product info for that. But, hopefully more towards weeks not months on that front. We probably won't have an initial solution for the back tonneau but possibly at a later date after release of top info. And/or as always make sure you sign up for our email newsletter and like us on our facebook page.
K good on the top.. but any ideas with the cargo cover.. I was forced to create something myself out of a discarded plastic bedliner.. that rest on top of the side rails just under our duster cover.. Thou the only access point is via the tail gate.. I'd sort of like to have side/trap doors in the hard shell cover that will allow us to access via the port or aft.. :P

BTW: Just added you via G+ & Face is out of the question..
Registered User
Join Date: Jan 2011
Location: Atlanta
Posts: 2,122
Thanks for pics! I am tempted to turn my Tj into a lj and run the rover like top. The extra window and wheel base would just be too damn cool.
Currently Active Users Viewing This Thread: 1

(0 members and 1 guests)
Posting Rules

You may not post new threads

You may post replies

You may not post attachments

You may not edit your posts

---

HTML code is On

---