Does your drill press run too fast to use a hole saw on metal? How about a ¾" drill bit through steel plate? Are you sick of burning up expensive cutting tools? Look no further, you have found the solution. Now you can turn a used $150 drill press into a serious cutting machine!
This bolt on kit cuts the RPM of your drill press and increase torque. Typically referred to as a "jackshaft", these are commonly home made with plywood and hardware store parts. This is a much easier and safer alternative, and will likely cost you less money than building your own. Made with high quality greasable ball bearings in cast pillow blocks with a laser cut and CNC formed steel mount, this tool is designed to last as long as your drill press when properly cared for. Requires trimming your belt guard if equipped. kits reuse one of your factory belts (or an additional belt will be required). Comes with new motor mounting hardware. Made in the USA*.
NEMA 56 3L 1:2 – 3L (3/8") belts, 1/2 the RPM, 2x torque. $119 shipped (US)
NEMA 56 3L 1:2 – A (1/2") belts, 1/2 the RPM, 2x torque. $119 shipped (US)
NEMA 56 3L 1:4 – A (1/2") belts, 1/4 the RPM, 4x torque. $139 shipped (US)
What is a NEMA 56? These kits work only with motors that mount with a 3" x 4 7/8" bolt pattern and have a 5/8" shaft, part of the definition of a NEMA 56 motor. Most drill presses have these motors. Call/PM us if you think you have something else.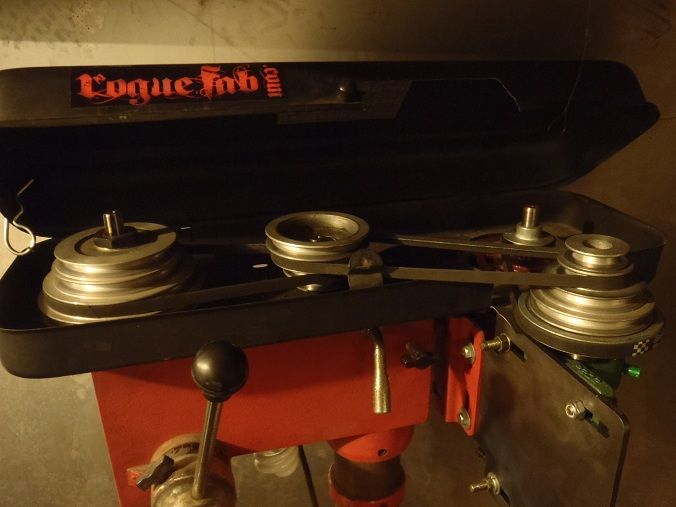 *Bearing components are imported.