Wow this is an epic thread. Its gotten monstaobsessed and I've literally read through the first 7500 posts so far over the last week. But curiosity is getting the best of me and I have some questions. [Note pardon I'm not a jeep guy these days (I did have an XJ with 33's and 4.11s in the past though
) but some of you might find my project interesting none the less]
Magman I already emailed you some of my preliminary questions over the weekend but I'm sure you get swamped and I've refined some of the questions through my reading so far and all the experienced users can weight in as well. Again I've read to post 7500 so far so I'm still catching up in case some of this has already been covered in the last portion of the thread.
I'm contemplating putting monsta over my home built sandwich panel composite pop-up truck camper project. Reason for doing so would be to have a bit thicker coating over conventional paint and with some texture to it my fairing work would be notably reduced. Construction is fiberglass cloth and epoxy resin hand laid over a shaped foam core (its far more time consuming than I imagined when I started...).
Anyways onto the questions:
1) I've got basically flat surfaces to cover and about 400sqft of it to do. In general I'm looking to do a smoother texture like vincent and I'm not necessarily looking to get a really high build up on most of the structure like you would want in the tub of a jeep. So with that said any idea how far thinned monsta with a smoother texture could be reasonably stretched?
2) Vincent used ~7oz of xylene in black monsta and strained with a medium cone strainer if I recall. I see there are different directions for spraying black verse tinted monsta, any suggested differences in thinned tinted monsta for rolling like Vincent?
3) I thought I read vincent used cabinet/trim rollers (which I assume are those Wizz brand deals) but magman said he used the monsta rollers in a later thread. Who's used what for a smoother texture? Regardless I'd get some monsta rollers as a back up and also I'd want some texture on the bottom of the camper.
4) Tapping off and switching color procedures? I'm thinking the main body would be light grey with the top being white (think of a toyota FJ) potentially. But even if not it would be nice to break up the job between sides and top/bottom so it doesn't get overwhelming. With tinted monsta what are the recommendations to be able to mask off and recoat w/o messing up the base coat but also ensure a good bond on the overlapped area?
5) Smell, how strong are we talking for the days/weeks after while this is curing? I need to leave the project in my garage (HOA rules), during application I can have to door wide open but not for the days/weeks after. Wife will be pissed if the smell creeps into the house, will the door open something like 6" and an air mover fan circulating the air keep the smell out of the house?
6) Physical properties? Any idea of the tensile strength and percent elongation of this stuff or never tested? I know polyurea can get in the 2300psi range and elongation is all over the board between 50-400% depending on formulation. More of a curiosity here.
7) The links for some of the data sheets and MSDS on the magnet paint site aren't working could you post a link or email me the TDS/MSDS for magnapoxy and the TDS for Magnatron 5000 and 160HS?
Since everyone loves pics, here's some from the above description to paint a better mental picture:
I've taken this stuff: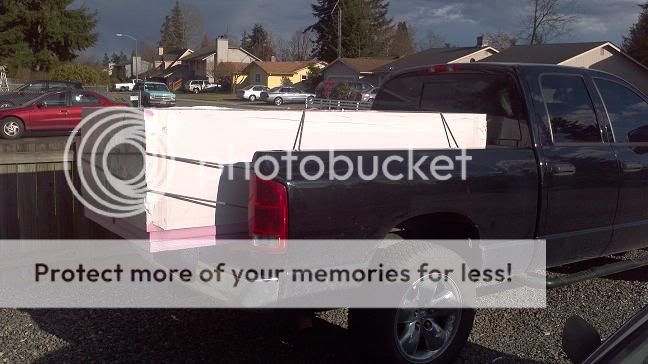 And turned it into this currently:
(Pardon the poor texture over the peel ply, I've been using heat blankets over plastic sheeting to help cure in the cooler temps which leaves that texture, it'll come off when the peel ply is ripped off.)
Overall planned interior layout is this:
Its getting mounted onto this rig to take the place of my current camper: