Get your custom or club stickers at 3 Jeeps Offroad!
---
If you want something fun for a giveaway from your club, stickers for your garage or new decals on your Jeep, we can do it all. Whether you need one pair or 75 pair, we can work with you on pricing & colors. Many different font options and colors are available!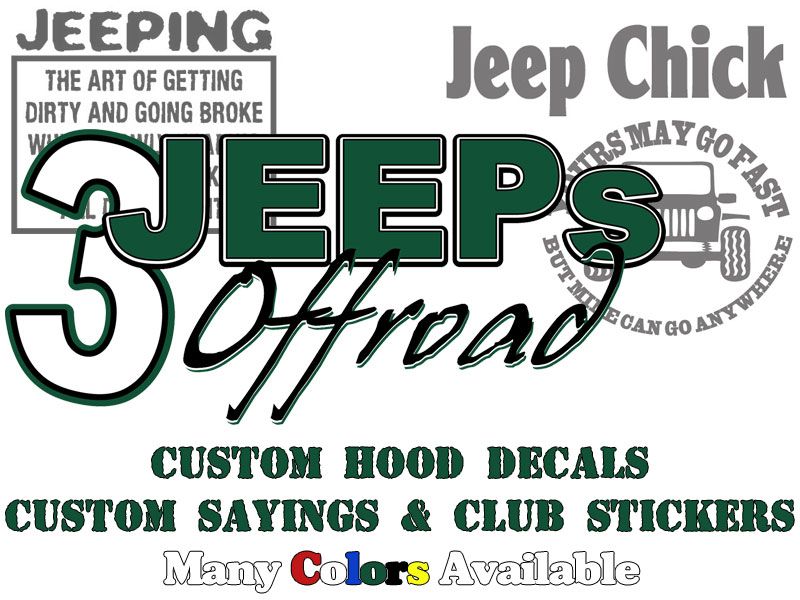 __________________
[URL="http://www.3jeeps.com"][B][SIZE="4"][COLOR="DarkGreen"]3Jeeps.com[/COLOR][/SIZE][/B][/URL]
Like us on [URL="http://Facebook.com/3Jeeps"]Facebook[/URL] or follow us on Twitter: [URL="http://twitter.com/3JeepsOffroad"]@3JeepsOffroad[/URL]

[B]3 Jeeps Offroad is honored to donate a portion of every sale to help our wounded heroes. For details see our webpage: [URL="http://store.3jeeps.com/Articles.asp?ID=252"]Charity Support[/URL][/B]

3 Jeeps Offroad is proud to be a [COLOR="Red"][B]Warn Authorized Retailer[/B][/COLOR].