NorCal Run: 2nd Annual Cow Mountain Trail Run, May 4th. 2013
Meet at Kmart parking lot in Lakeport, 9:30AM.
April 30th Updated list of participants: Two groups:
The List:
Moderate Trails:
lowranger
flyinion
89YJBuilder
sarath
RonKat
Jcool
spinuck
Jr76
Stone
n00g7
misfit1981
FirstSilverLJ
BoarderMX
Difficult Trails/Pinstripe City:
bobthetj03
Gene13
Kg6mov
titomars
IndyBanipal
SpcRodeo
billybooster2
villageidiot13
408jeeper
RParky
Don
Dave
broncobrian
jkthomps
swartzacon
Round two folks! I thought we'd give it another try and see what kind of trouble we can get into! Provided the gates are open and it's not raining, we will meet up at the Kmart parking lot in Lakeport at 9:30 AM Saturday morning with a 9:45ish departure to the trail head. Once at the trail head, we will break up into groups. The number of jeeps that attend will determine how many groups we will have. My plan is to offer 2 or 3 difficulty levels. We can do "Easy" "Moderate", and "Difficult", or something to that effect. Suggestions on this are welcome. We have plenty of time to plan, so I'm hoping to make this run better than last year.
A couple of volunteers and myself will be executing scouting runs between now and the run date to map trails that will work for said difficulty levels. For those that have never been to Cow Mt., it is an OHV area maintained by the BLM. I use the term "maintained" loosely because many of the trails have been neglected over the years. The website provided below has a map of the area and trail difficulty ratings. These ratings are not exactly true to form anymore. This is why we will be scouting trails to get a better idea of difficulty, and whether they are too overgrown with brush.
http://www.blm.gov/ca/st/en/fo/ukiah/cowmtn.html
http://www.blm.gov/pgdata/etc/medial...th_Cow_Mtn.pdf
At the end of the day, we will all hopefully meet up at the obstacle course on the Ukiah side of the area. There are campsites near by for those who would like to camp, or a short drive into Ukiah will provide hotels off the 101 corridor.
Here are a few highlights from last years run....
Cavavan to the trailhead.
Staged at the trail head.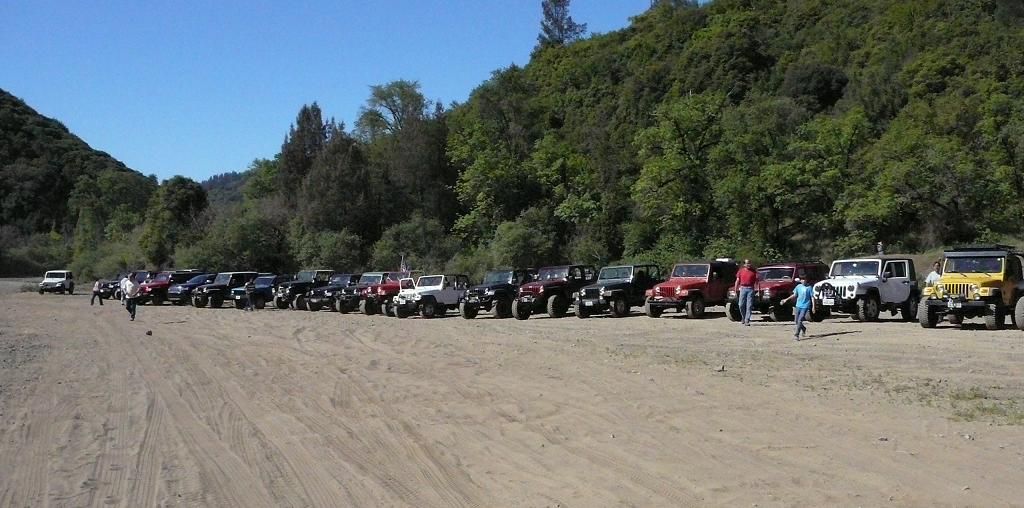 Playing around in the creek bed.
Lined up at the obstacle course.