NORRS Desert Night Race R8 - Nov 15 Mina, Nuevo Leon * Northern Mexico
Noreste Offroad Racing Series - Desert racing in real Mexico
Amigos,
We recently got an invite to go race in the new Jeep and 4x4 class at the NORRS (Norste Offroad Racing Series) Potrerillos Desert Night Race R8 to be held on November 15 in Mina, Nuevo Leon Mexico (2.45 hours from Laredo Texas). If anyone would like to participate as an international guest star team please send us pm.
Keep in mind this is real Mexico and you will have to get a temporary vehicle permit and insurance for your race vehicle, tow rig and trailer. You will also need a valid passport.
We dont use a tow rig and simply drive and race. If anyone wishes to caravan along with us, we depart Friday Nov 14 and return Sunday Nov 16 to Texas. We can help guide you for the vehicle permits.
Click here to see more info and updates on this new desert race series in northern Mexico.
http://www.facebook.com/noreste.racingseries
We realize that this is a short notice but hey that is racing. We also need to prep our Jeep King Cherokee alias the Mexi-Can and are waiting on some essential parts such as these
Brown Dog Super Ultra Flex Soportes de Motor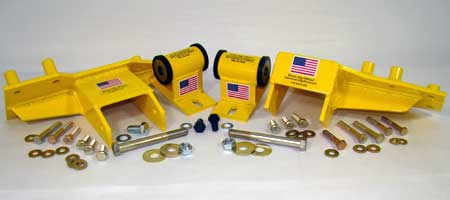 But 2 weeks should be enough time to get ready. We know this area well and it is very unique, similar to the Mojave and San Felipe, Baja California deserts.