So I'm currently in the process of building a roof rack for my XJ i will probably end up selling it soon, and building one just a little differently, its a bad problem i have i like to weld and i like money when i sell it, Oh well right anyway hope this thread helps out anyway looking to build their own.
I bought 100' feet of 1"x1" .065 wall tubing i only ended up using about 70' of it though. i started out by cutting out a piece of 3/4" plywood to a 22 1/2" degree angle because it seemed easier then moving my chop saw out of square. the rack is 4'x6' from the outside of the tube to the outside of the tube.
the 2- 22 1/2" degree angles together make a nice looking 45 instead of just a 90
i clamped the "L" to the table to get it square before i tacked it all together
I built the second one right ontop of that to make it square as well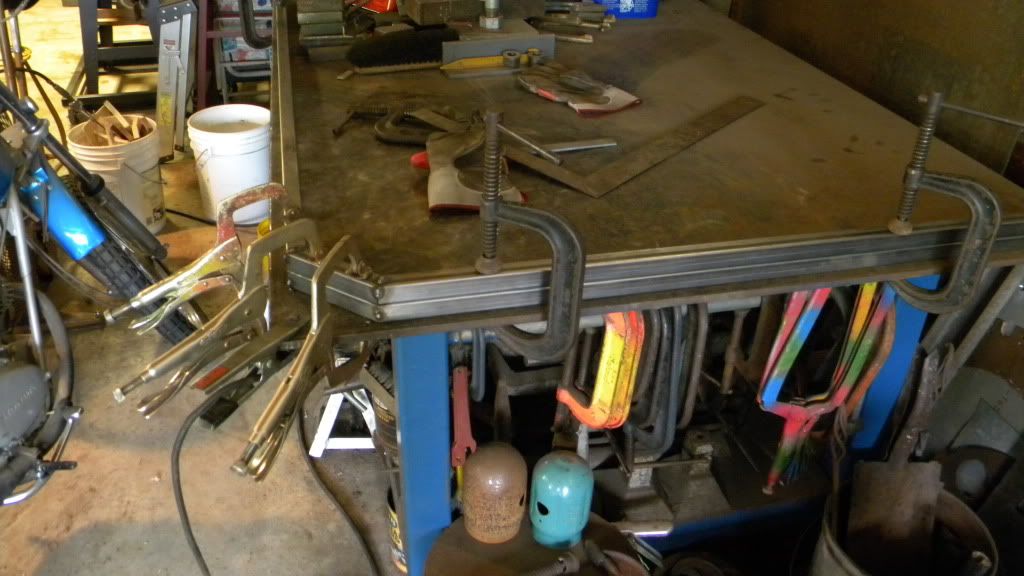 then i layed both of the "L's" out on the floor and made sure they were square. also be sure to make sure its flat if your going to be doing this, i had to use 1/16" shimms i snagged off one of our walgreen jobs down in cali, one its completely flat and sqaure i tacked it all together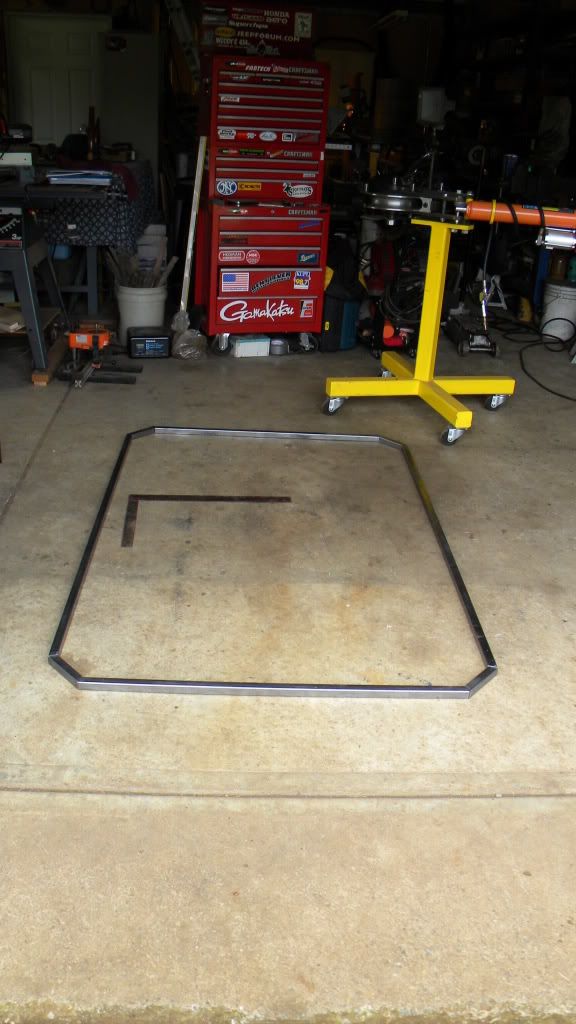 i then did the exact same thing again but i built the next one ontop of the first one since it was already flat all i had to do was square it up. and i tacked all that together.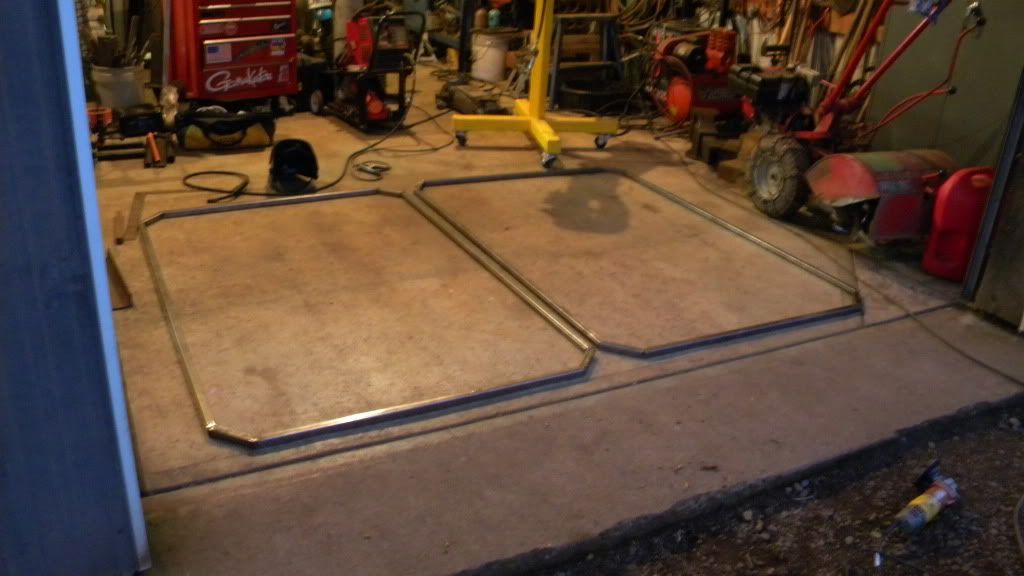 i then laid out all my cross pieces i laid them out 10" on center from the outside of the rack Not the inside. and it worked out perfectly. i made sure those were flat with 50 lb magnets( make sure all the crap and dust is scraped off the magnets or it wont be flat) also in this picture i just used magnets to hold up 4 uprights so i could lay the top piece ontop of it just to see how it looked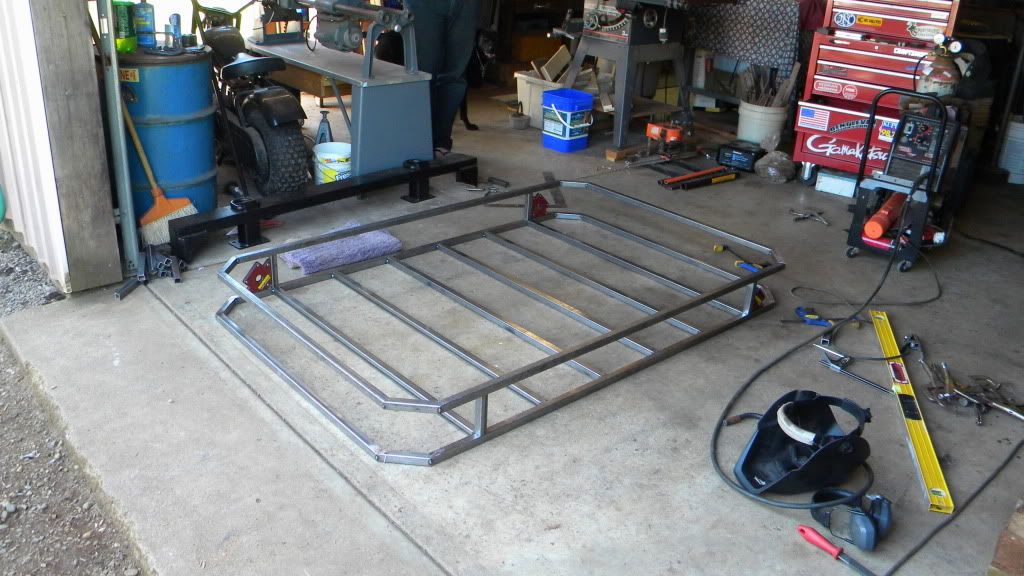 i then tacked all the uprights on making sure they were square as i went along. the ones in the front are also 10" on center as well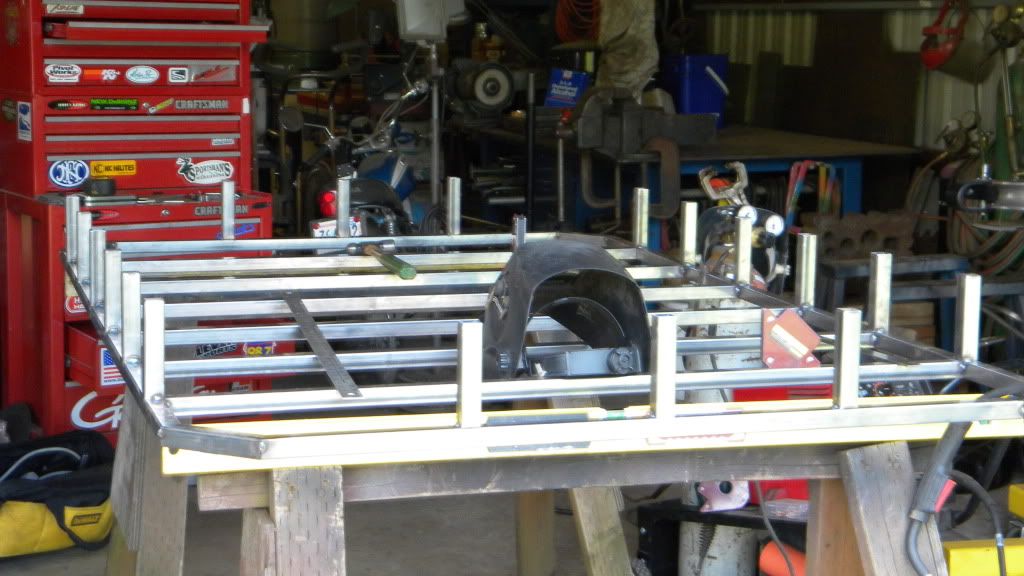 then i set the the top piece on and made sure it all lined up with the bottom and the uprights and clamped it together with many many clamps!! then tacked it all together as well. here is a picture of it just sitting on the roof of the jeep sorry i forget to snap some pics when it was all clamped together i was in go mode.
when i was doing all the final welds on it i had to turn it all different directions since i really enjoy welding when the object is flat haha, not that i cant other ways i just didnt want to ALSO.... if you will be doing this, make sure you jump around from side to side when your welding, avoid welding all of one side at once, allow it to cool a little bit before you come back to it, with such thin walled material its very likely to warp and bow if you put to much heat on it for to long just a little help to yall.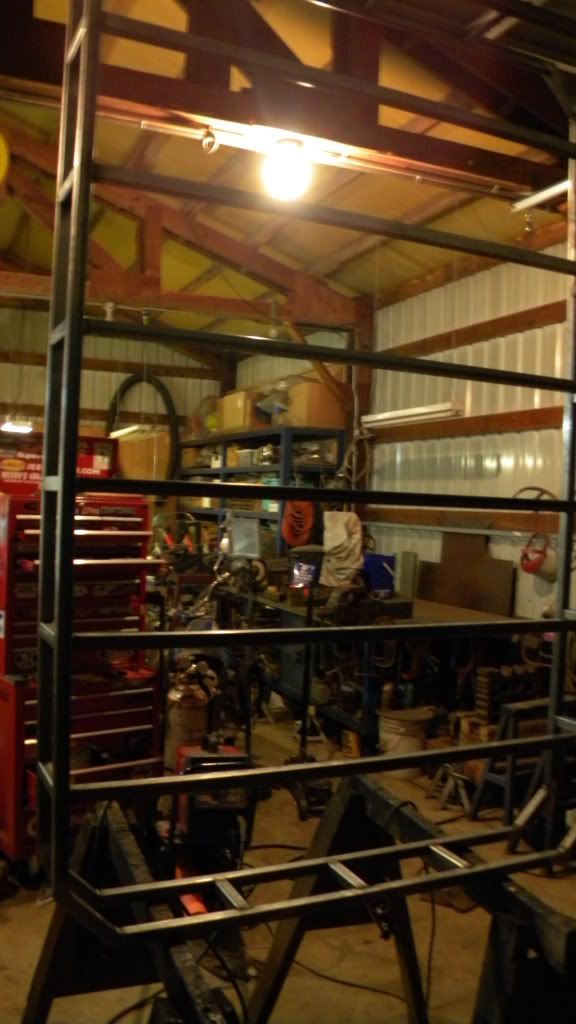 then i used a hole saw that was 3 1/4" in diameter, it was one i had sitting around from doing the perches on my 8.8 and i cut holes in the center of 1/8" plate for the corners
thats about all it is for the roof rack portion of the build now the tricky part the gutter mounts, now any sane person would just freaking buy them but i like a challenge! heres the 3/16" i will be using for the cutter mounts
now im no stranger to bending steel on my welding table but its always long lengths for bumpers either 1/4" or 3/16" but trying to make 4 brackets identical was going to be a giant hassle i realized after trying to get the first one right with the torch and a block of steel and a sledge hammer, so i built a die for it and by no means will i be using this one again i just did it for the time being, when im done with the rack ill be building a decent one this one was just thrown together in a hurry. i used to pieced of angle welded to a 1/4" scrap i had laying around and welded another scrap from a hole saw to the top of a piece of 1"x1" flat stock i had laying around that i used for the blade, don't criticize this part of the build i know its not very professional looking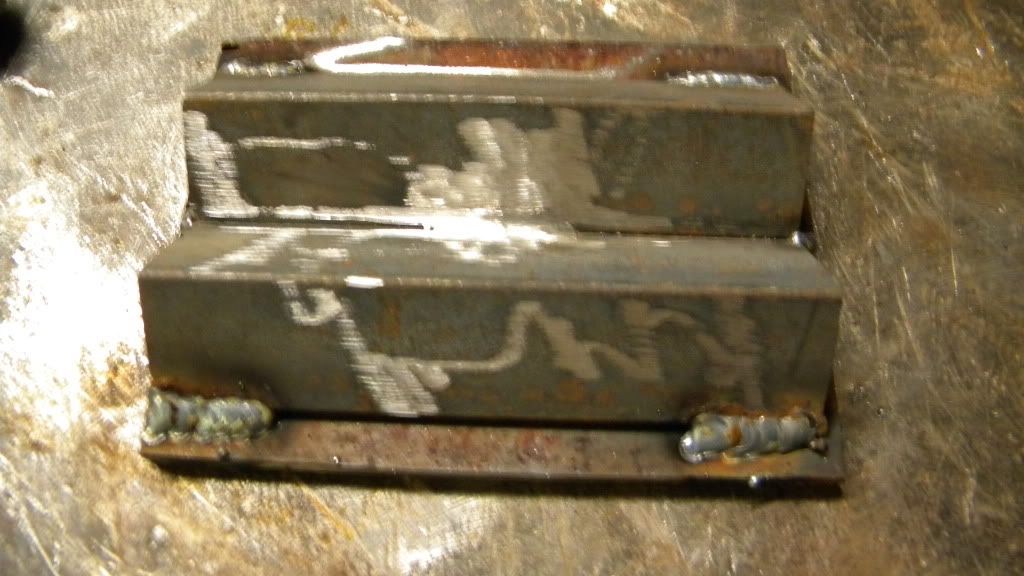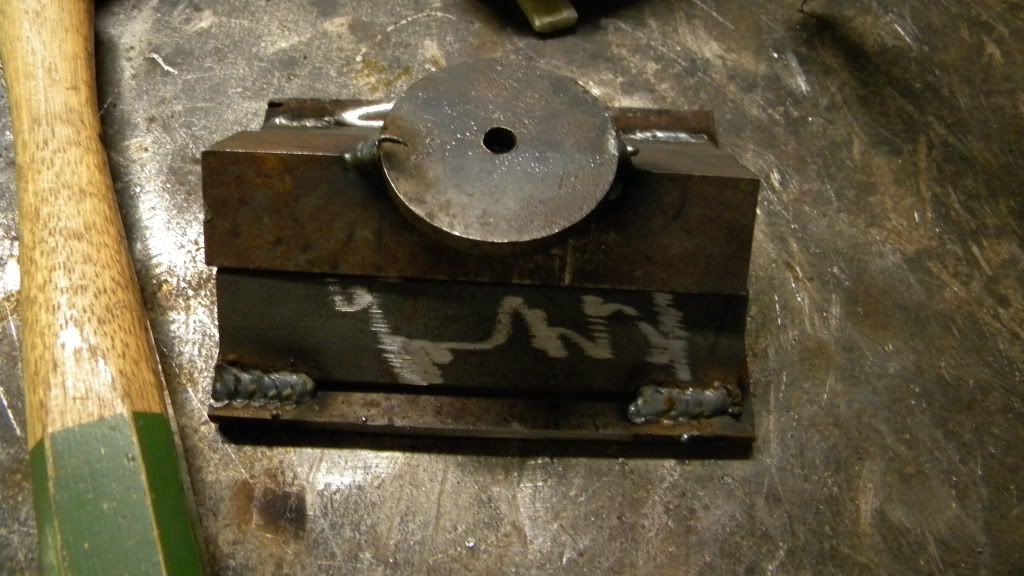 sorry i didnt get any pictures while they were in the press or of the beding process again i was in go mode. haha heres some pictures of the brackets after i bent them, they are about 1/2" to long on each side i was giving my self a little room to play incase the radius in the bend was bigger then i had imagined.
there are 4 brackets sorry i didnt get a picture of all 4 but there are more trust me and the press worked quite well for bending the 3/16" and now i know what blacksmithing is such a dieing trade because it hard as hell to make exact copies of pieces and parts and when you can do this why bang on red hot metal right!
here are a couple pictures of the one i did by hand with the torch and a sledge compared to one i did in the press sorry for the poor picture quality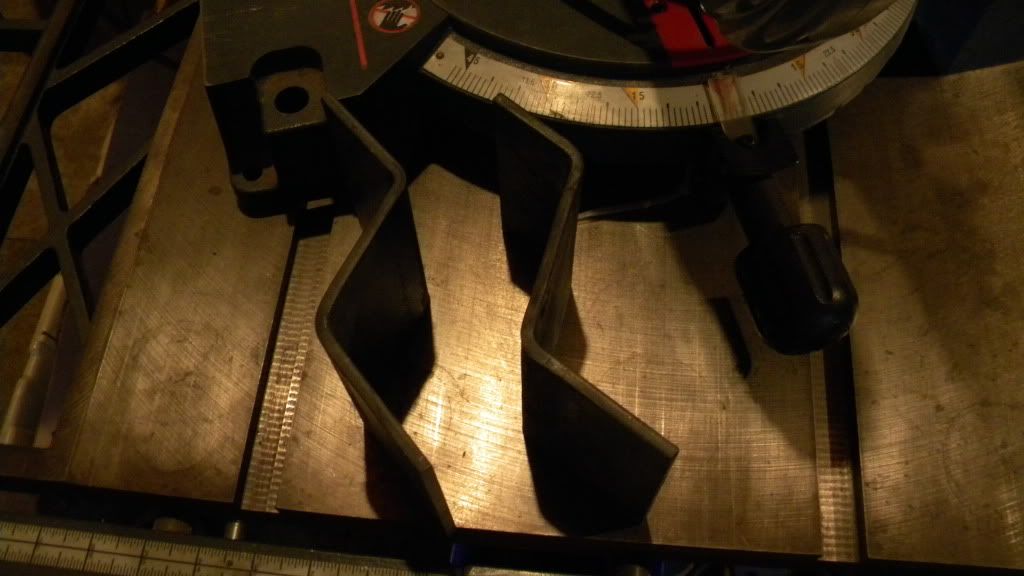 ill post some more pictures tomorrow when i am hopefully done with this project and how the brackets and everything turned out
Please let me know what you all think, and i dont know if ill get it done tomorow but by the weekend hopefully i will have a light bar on it that resembles the light bars on most of the pre runner type jeeps and trucks.