and one more thing i forgot to add..don't buy "polarised" safety glasses for wearing behind an auto sheild..i found out the hard way..couldn't figure out why everything was distorted looking through the lens and had a bunch of rainbow colors....i thought something was wrong with my Jackson Nexgen....just buy the clear only.....polarised are for fishing....clear is for safety...lol
---
Don't DREAM your life, LIVE your dreams

Never forget 9/11

"Welding is like a woman,Get 'er HOT and Penetrate"

Gotta LOVE a person who knows everything about NOTHING

The only Thing necessary for the Evil to win is a good man to do nothing....

"How far you go in life depends on your being tender with the young,compassionate with the aged,sympathetic with the striving,and tolerant with the weak and strong--because someday YOU will have been all of these"....George Washington Carver

Want to know what an Ironworker is and the job scope of a Journeyman?..click here...
To view links or images in signatures your post count must be 10 or greater. You currently have 0 posts.

Registered User
Join Date: Apr 2011
Location: Blanchard
Posts: 405
Working outside, I wear tinted glasses all the time. I use a no. 9 auto lens. In daylight with tinted glasses works great, and allows for torch use without changing glasses. A little bright for late night call outs.
Registered User
Join Date: Jul 2011
Location: Shelbyville
Posts: 92
I always wear tinted safety glasses too. It beats the hell out of trying to keep up with two pairs and switching from clear to tinted depending on the task. I have two welding hoods with different shade lenses, one for hard wire (9 shade), and one for flux (10). If you ever get bad arc flash, invest in ton GenTeal eye drops. They are kinda pricey, but worth it!
Registered User
Join Date: Oct 2008
Location: Hereford, AZ
Posts: 103
For those of us who are "a little older" and need to use "cheaters", I wear these all the time while welding. They are very comfortable, offer great protection and best of all I can see my work much better. Not your $3.00 specials, but I couldn't weld without them.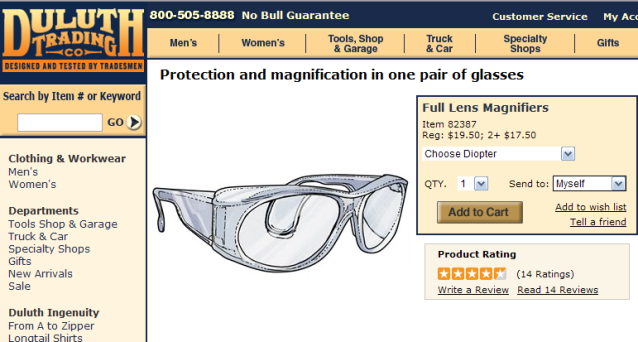 Registered User
Join Date: Sep 2012
Location: chickamauga
Posts: 630
Well I went to walmart to search for prescription saftey glasses (because I cant see far away worth a damn, like anything past my elbow is blurry) and found a sweet pair that is tight fitting and has a rubber gasket around the perimeter of each lense. I was told these are usually worn for motorcycle riding. I'm not sure why they are not more popular for fabricators or even construction workers. While explaining to the eye dr why I came in she said she didnt even know they had prescription safety glasses!
So the lenses are 100% UVA and UVB blocking. This should mean no more chance of burnt corneas or eye irritation.
HOWEVER, what I am concerned about is does this also eliminate possible deterioration of the retina over time caused by the blue light spectrum?
http://www.mdsupport.org/library/hazard.html
In my research there has been conflicting information and the doctors Ive went to do not seem well educated in this field to answer the question. My confusion is that the lens are supposed to be 100% UV protectant by the material it is made from, this means tint does not matter. I opted for clear, however, as I researched I found that to protect from retinal damaging blue light wavelengths created by welding reflections under the hood, they advise a colored lense such as red or yellow that will filter out the harmful blue light...
I am fine getting a yellow or red tint, but I need an explanation as to WHY, if the clear lense itself is claimed to be "100% UV blocking", why do other sources say you need to have it color tinted to filter out the blue spectrum of UV light? The problem is I dont know who to believe or even who to ask.
Straight from old reliable wikipedia:
Quote:
Depending on the manufacturing technology, sufficiently protective lenses can block much or little light, resulting in dark or light lenses. The lens color is not a guarantee either. Lenses of various colors can offer sufficient (or insufficient) UV protection. Regarding blue light, the color gives at least a first indication: Blue blocking lenses are commonly yellow or brown whereas blue or gray lenses cannot offer the necessary blue light protection. However, not every yellow or brown lens blocks sufficient blue light.
Thats about as clearly stated as my pond water is after running my jeep through it. So yellow lenses may or may not block blue light. So how do you know if it does?
Registered User
Join Date: Sep 2012
Location: chickamauga
Posts: 630
I may have found an answer to my question. Simply labeled UV Blocking is not enough, you must ensure the glasses are rated UV 400. So I assume as long as they are UV 400 than color of the lense does not matter?
Quote:
Misleading claims about certain glasses providing UV protection can be easily confusing to consumers. A pair of glasses might be labeled UV-absorbent, for example, but the label might not indicate exactly how much UVA and UVB rays are blocked. Sunglasses should be labeled UV 400. It is recommended that you protect yourself from UV radiation up to 400 nanometers, which extends into part of the visible spectrum to ensure complete blockage of ultraviolet light. This is what distinguishes "cheap" sunglasses from more expensive ones.(1.)
http://www.macular.org/bluelite.html
Registered User
Join Date: Dec 2012
Posts: 77
http://www.allaboutvision.com/sunglasses/spf.htm
This is an article I read, maybe it will answer your question on blue light. I have only heard of using a tint color such as red, yellow and green for laser eye protection. 100% HUV green tint is the high for inferred light. If you are looking for a prescription safety with good UV protection. You can get ballistic sunglasses they are pricier and you can have prescription lens madefor the
Registered User
Join Date: Dec 2012
Posts: 77
Currently Active Users Viewing This Thread: 1

(0 members and 1 guests)
Posting Rules

You may post new threads

You may post replies

You may not post attachments

You may not edit your posts

---

HTML code is Off

---