There would be stress on the tabs, but if they're an appropriate thickness and either welded properly or better yet cut directly out of a single piece of square tubing, I wouldn't worry too much about them.
I would be concerned about how the parts are held together with the bolts. Here's what I see in the photo:
It's a bolt through holes in the tabs and a hole in the center block. There is nothing to relieve rotational stress on the nut or prevent it from loosening, so it will loosen and fall off at some point.
A better way to do it would be to add washers for some relief from the rotational stress, and absolutely the nut must be captive in some way, probably easiest would be a cotter pin similar to how an axle nut is secured:
Done as in the above photo, the nut would be tightened just to the point of slight friction on the joint, just like a trailer axle nut, to allow rotation of the parts.
Even better would be to do the washers and the cotter pin, but put a sleeve through the hole that the bolt could also go through. The sleeve would be slightly longer than the outside dimension across the tabs, so the bolt could be snugged down against the sleeve without binding against the tabs, thus providing very free motion. The sleeves would also greatly reduce wear on the bolts, reducing the possibility that they might wear enough to break.
All of this applies equally well to the center bolt,which provides rotation around the axis of the receiver. I do see a washer there but all towing force is going to be working at unscrewing the nut that must be on the other end of that bolt. This one really needs a sleeve and a cotter pin. I wonder how they would get the cotter pin in there since the nut must be inside the receiver?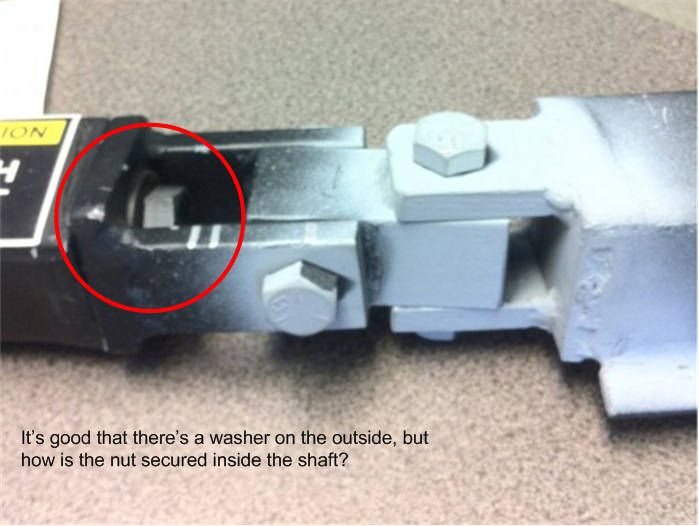 Without at least all of the nuts being captive with something like cotter pins, this design is unsafe. Movement of the coupler will work to loosen the nuts.
Other than that, the basic design would work, although to uncouple the trailer you'd have to pull the shaft out of your receiver (or unbolt one of the joints?). Might sometimes be a challenge to recouple, you have to slide the coupler into your receiver rather than just backing under the trailer coupler and dropping it in place on the receiver side of the coupler.