A few months ago, I posted a thread about building a large pressbrake (okay.. not really big but something about 48"-60" or so).. I still intend to build a large brake but I wanted to test the waters with something small.
My short-term goal with this project is to be able to do small production runs of things like Frame Tie In Kits, Spring Perches, Winch Mounting Brackets.. etc.
I used steel laying around the shop and cut everything on my 4'x4' Plasma Table. The plate is 3/8" thick since that's what I had on hand. This project was as much for learning as anything else.
Cost so far...
25 Ton 6" Enerpac Ram.. $360 (used off eBay)
9" Punch/Die set with 3" opening (for 5/16".. off eBay) $180 Shipped
3/8" Plate.. (about 3/4 of a sheet.. about $200)
Nuts/bolts.. $50?.. still need to order
Yeah.. yeah.. I know a little 20ton manual bender setup can be made or mounted in a 20ton shop press for less than $100 and I fully intended to do this with an air/hydro 20ton bottle jack. However, as I browsed around on eBay looking at jacks, I found the Enerpac hydraulic ram for a little more.. and it will work with the power unit from my tube bender.. and it is much faster than air/hyrdo.
I didn't intend to document this so I ended up shooting cellphone pics... sorry.
Total time to draw this up was about an hour or so.. it's pretty simple.. I basically just "shot from the hip" while designing it. In retrospect, I should've done the center (main frame) plate out of 1/2" so it would've fit the dies. However, I was able to mill the "tang" down on the dies to work with the 3/8" plate. If the brake were larger, I would've used a 1/2" center plate. Also, I should've done a center eyelet up top to allow it to be easily picked up with the forklift.. or even cut forklift slots in the framework. This sucker is heavy..
Here's the punch and die that I picked up off eBay..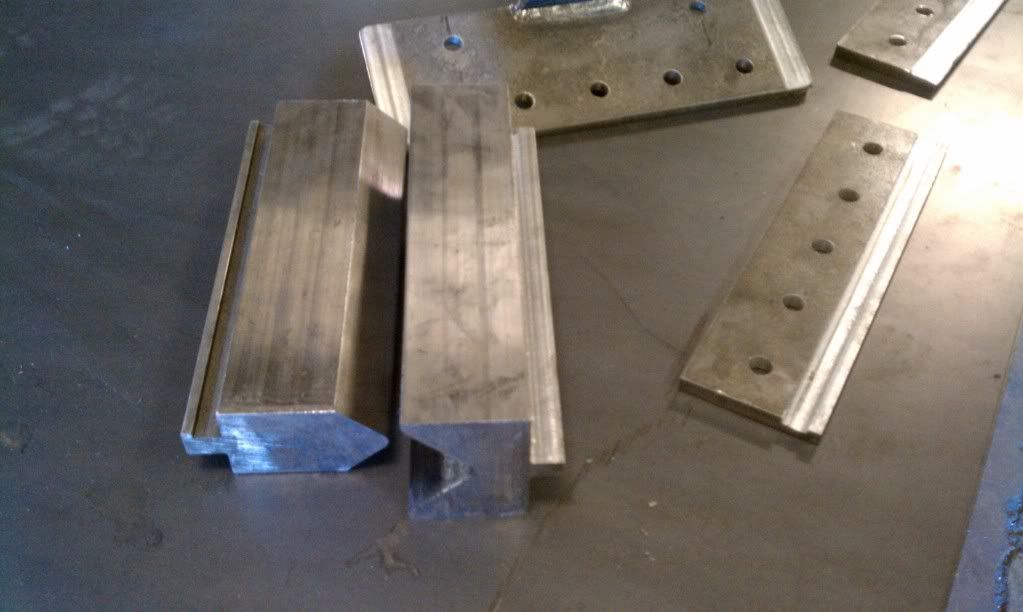 Here's the Enerpac 25Ton/6" Ram along with the punch holder. I made a small cup for the top of the holder for the ram to seat in and milled a smidgen off the ends
of the plate so it would slide freely between the framework.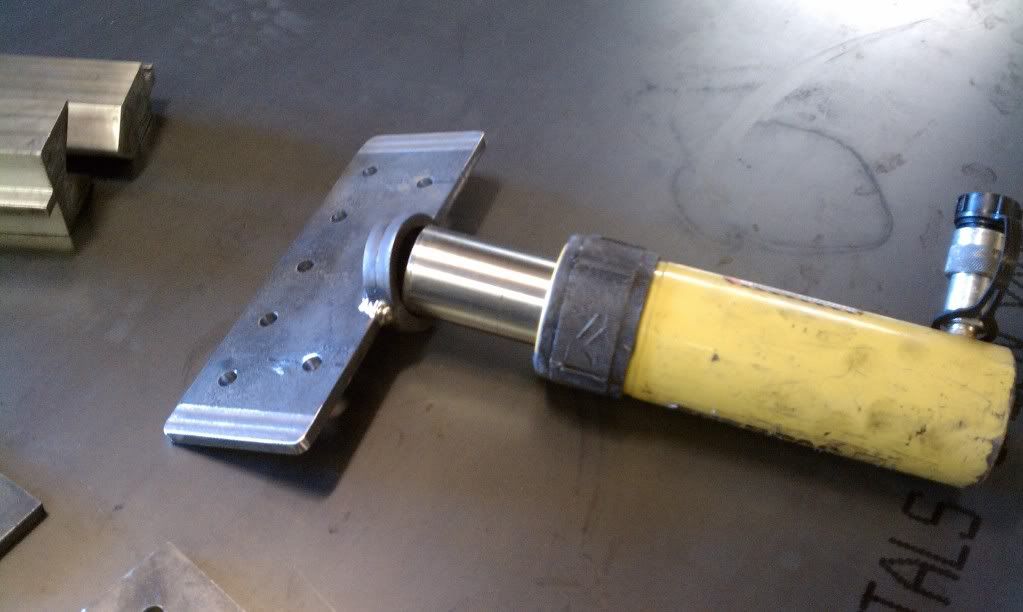 Here's the other parts of the punch holder. Basically, a front and back plate will sandwich the punch between them. This particular punch has the "safety tang" on it so I milled a small ledge in the front holder plate to catch that tang and keep the punch from possibly falling out of the holder..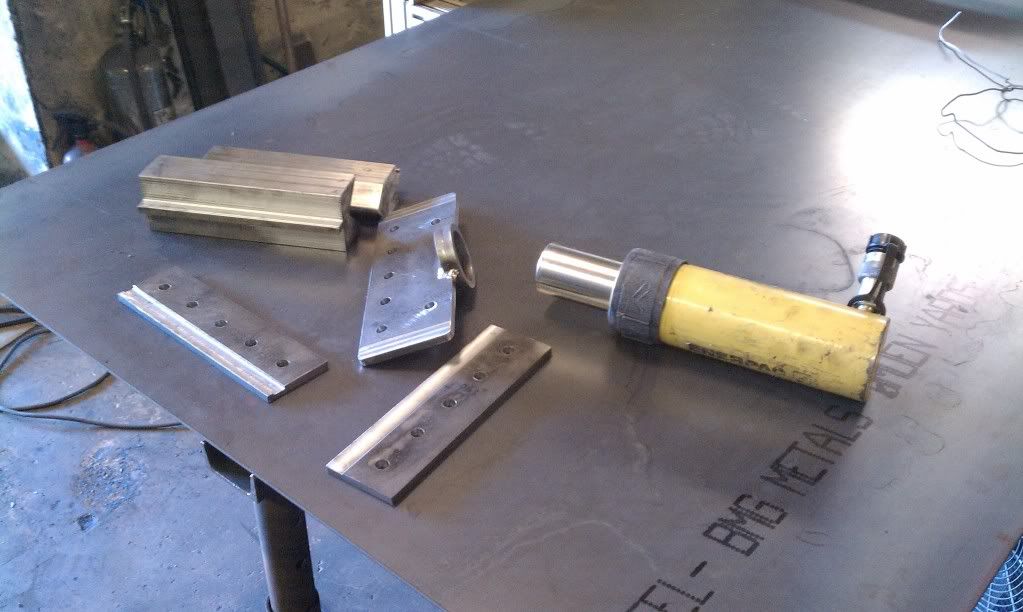 Here's the main frame... 3/8" plate with a pair of feet at the bottom. Also, a small round mounting pad up top for the ram..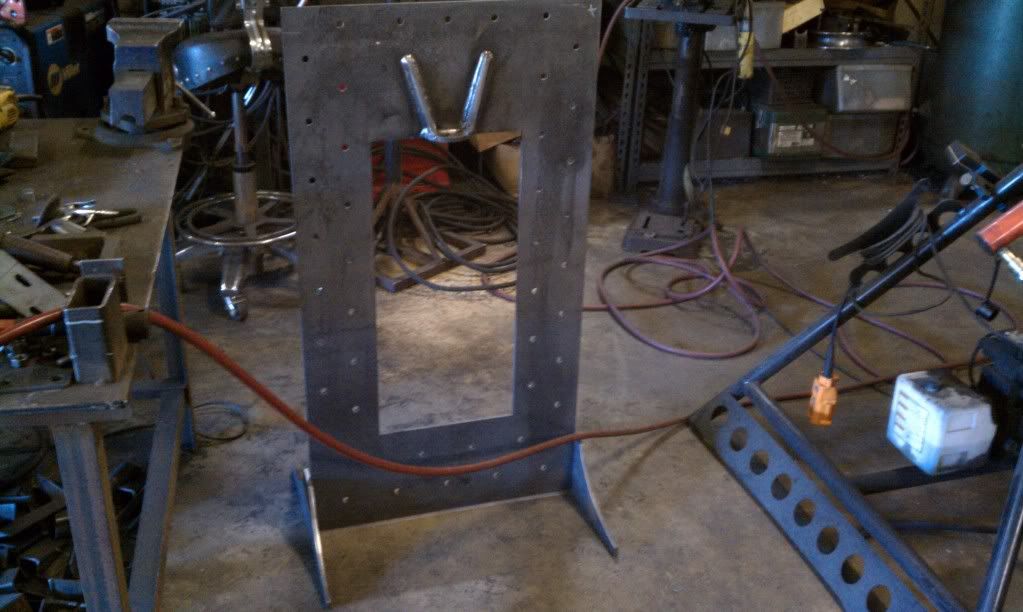 These are the front and back "sandwich plates" for the main frame. When they are bolted together, their "windows" are slightly smaller than the main frame's window. That will sandwich the die holder (sort of like a Guillotine) and keep it on track. I milled a smidgen off each end of the center punch holder so it slides in its "groove" freely.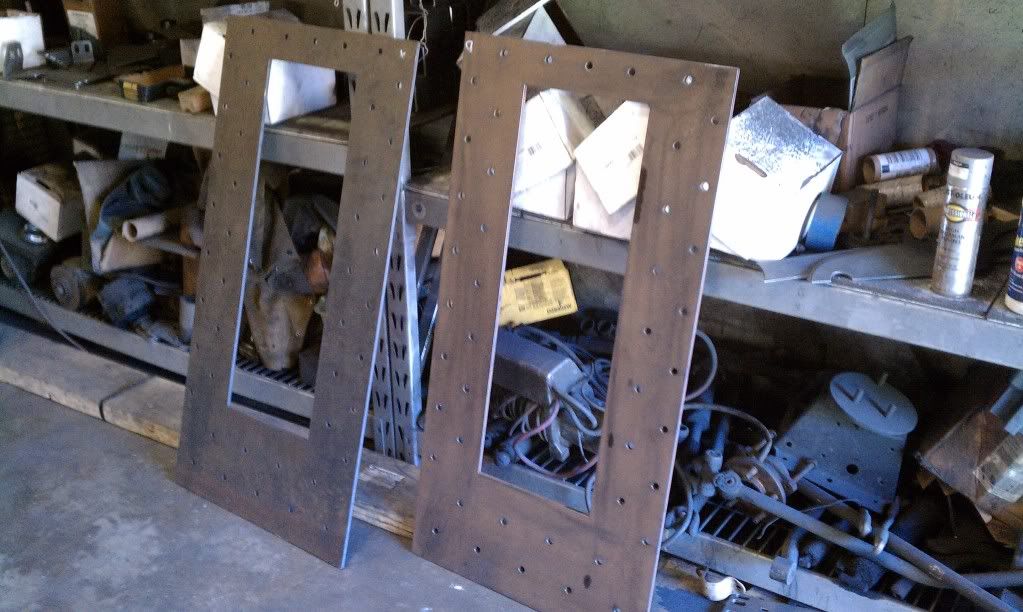 This is my JD2 Model 3 Tube Bender with the hydro conversion. The quick disco on the hose fits both the bender's ram and the press brake's ram.. I may pull the power unit off the bender and mount it on it's own little rolling cart to make it easier to position.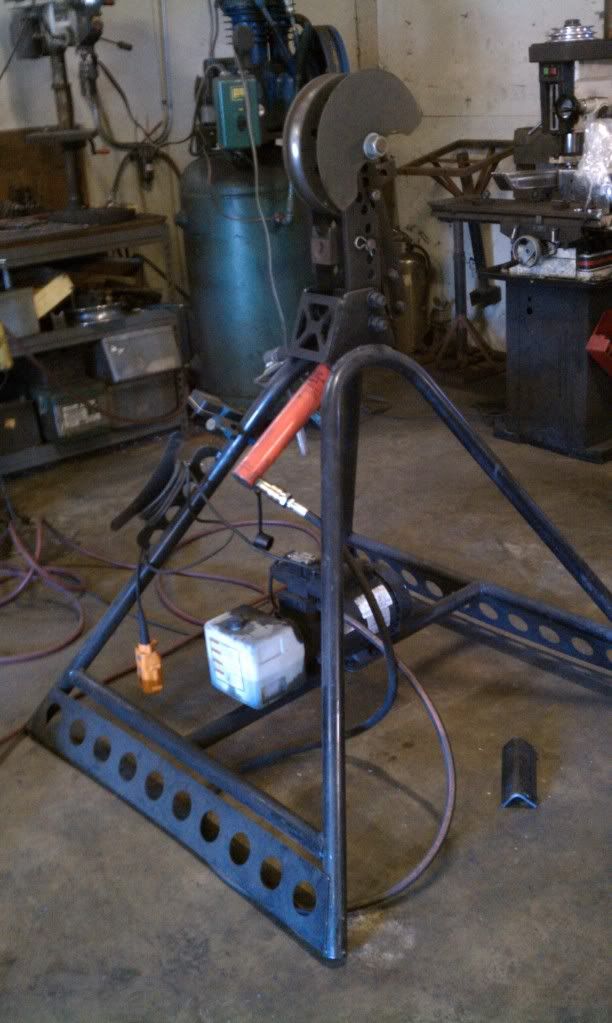 I did a few test bends already (you know I had to). This thing bent 9" of 1/4" plate like it was wet cardboard. I also shoved a piece of 3" wide 3/8" plate in it and it folded that over to a perfect 90deg too. I still need to order all the 1/2" bolts/nuts to bolt everything together. I also need to pick up a few heavy springs to pull the punch up against the ram. After that, I'll make a simple backstop so I can repeat bends.
I've got the pieces all torn apart and painted. I'll reassemble it tomorrow and shoot some pics/video..