I thought I would do a little walk through of my homemade rock slider project. First to show them off a little bit but mostly to show some folks that they can make these in their garage/driveway too. Also I enjoyed searching through threads for tips and ideas, so this will be my contribution. Thanks to all who took the time to write those threads as your ideas and info was greatly appreciated. There are several pluses to doing these yourself. You get the exact dimension and coverage that you want, and theres always the "I made this" bragging right and feeling of pride. So anyways lets get to it.
I made a pair for my 93 YJ and my buddy John made a pair for his 95 YJ at the same time. I had dimensions in mind due to fit and asthetics of having 5 inches up the side. I also wanted 2 to 3 inches under the tub. I wanted the side step so that short people can get in the Jeep and I really like the look of it. John just wanted flat sides so he didn't get caught up on anything. I wanted my sliders to go from flare to flare, John wanted his to go from the rear flare clear to the front fender end. He also has stock flares and was planning to keep these.
In the end we had our sizes and needs figured out so it was time to get some metal. We couldn't find any angle iron in the size we wanted so we ordered some 7" by 5' by 3/16" and had the metal shop put a 90* bend at 5" and 2". As far as the side steps I wanted, I had no access to a tubing bender and A to Z Fab had exactly what I wanted. So instead of making these myself I bought some pre-bent side steps from A to Z. I think its great that they sell just the step for us do it yourselfers. I suppose if anyone wanted they could add steps to an existing pair of rock sliders. I also ordered the slider backing from A to Z and it was plenty for two sets of rockers. For hardware we went to ACE and got 5/16" countersunk style bolts with some nuts and lock washers.
We are ready to begin our cutting, welding, etc. For cutting our angles on each end we measured the angles and then the length along the bottom. We measured twice and cut once. For the cutting we used a Dewalt chop saw and angle grinder.
For the holes in my slider I just measered locations that did not have any interference inside the tub or fenders. The front fenders are double lined but there is a large hole in the second layer on the inside so I used this as one of my measurements. I also ensured that all of the bolts were even horizontally. John did the same on his measurements but he reused the holes up front for the stock fender flares. We used my trusty Harbor Freight drill press to drill the holes. We cut through with a 5/16" bit and then used a 5/8" countersink bit. We first tried HF bits but they each only cut 2 holes before they were destroyed. We felt we might be at a loss but found a Ryobi bit at Home Depot and it cut the rest of the 30 or so holes with zero problems.
Now we're basically ready to put the flares up to the Jeep and drill the tub. Your buddy or a Hilift jack will come in very handy for this process. Now more than ever it is important to measure twice and drill once since you are drilling into the actual vehicle.
So a little paint now and and put the backing on and John's flares are done. They turned out really nice. There is only about a quarter of and inch or less of space where the flare goes over the slider to the tub. It really flows more smoothly than I thought it would.
I on the other hand still had to weld the side steps on. I did a little measuring and cleaned up the metal in the areas to be welded. I use a Lincoln 220V with gas. So the side steps turned out really good looking and I was able to get them really straight. A little paint and the backing and mine are now ready to be installed. I used 3 metal plates 3/16" thick on 3 bolt holes on each side for support and peace of mind. I used scrap from our earlier angle cuts for these. Many folks with sliders do not have any plates inside for support and never have any problems. Since I'm using it for a step also, I went ahead and added them. I painted them white to match the inside of the tub.
Both of our sets turned out great. This can certainly be done in a day but due to our HF bits breaking and waiting for primer and paint to dry it ended up taking us 2 days. We already got to go and test them out and they did their job perfectly. Here are some pictures, hope you all enjoy!
Here you can see the beginning stage with the raw metal and the steps and padding. The drive shaft was not part of this project lol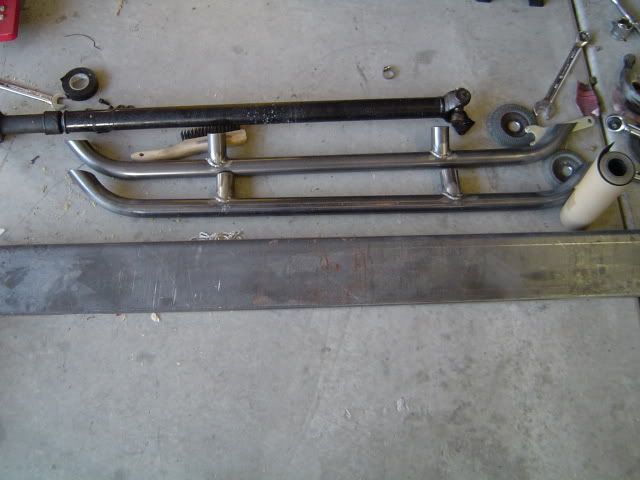 Here you can kinda see how I measured the holes and the steps.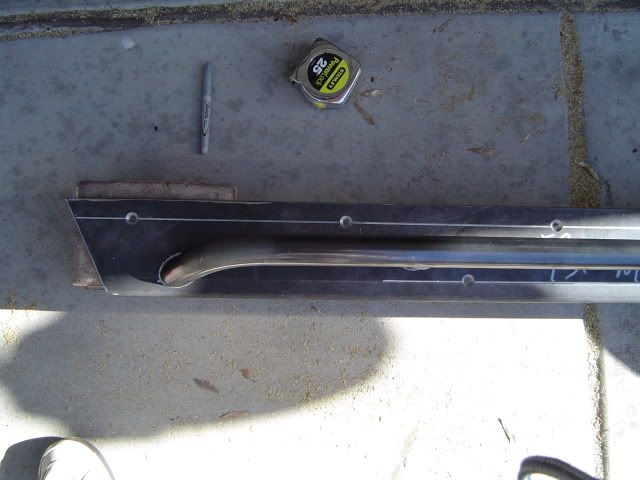 Here is the mock up on the Jeep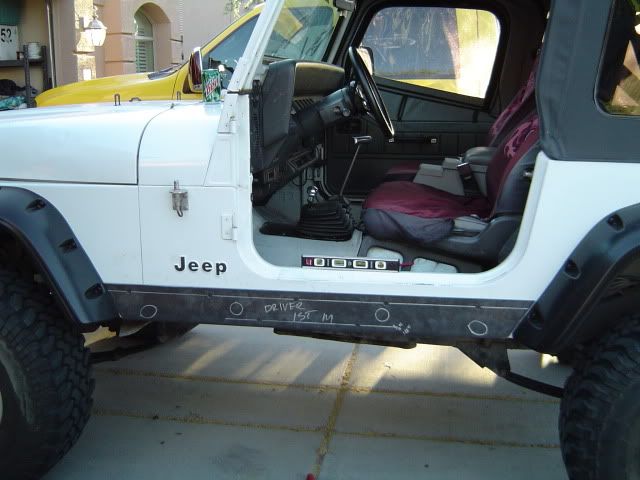 Here it sits after welding but before paint.