I wasn't sure where to put this, so I thought I'd share it here.
I'm in the middle of lifting my ZJ to clear 35's without cutting the fenders. It's going to be my daily driver and did not want to go long arm and will be keeping the adjustable short arms that came on the Jeep.
To get started I thought I'd share the HP30 build. The D30 will be trussed, custom control arm mounts to get the LCA's up from under the axle tubes, custom coil buckets that are raised up over an inch and moved back about an inch and a half for better tie rod/coil clearance. Additionally, I will be installing WJ knuckles and brakes along with high steer using 1 ton TRE's and a custom tie rod and drag link.
I started off by cutting off all of the factory brackets and removed everything. I was going to make my own truss, but I don't have a plasma cutter (or any easy way to cut long lengths of stock) so I bought a TNT truss to get the project started. Let me say that I like the design of their truss, but I was not overly pleased with the quality of their welds. It took me quite a bit of time with the flap wheel to get it all smoothed out and acceptable.
After laying the truss on the housing, I was able to fit the Ballistic Fabrication brackets for the LCA's and coil buckets. They would not work as originally designed and I had to modify them.
Shown below is nearly everything mocked up and prior to being welded on which I did today but did not take any pics (yet).
Let me know if you see anything blatantly wrong, or if you have any comments or suggestions.
Here is how it sits right now with 5.5" springs and it will be going higher due to the raised coil buckets. Moving the LCA mounts up and back will also greatly decrease the angle of the adjustable short arms for a better ride: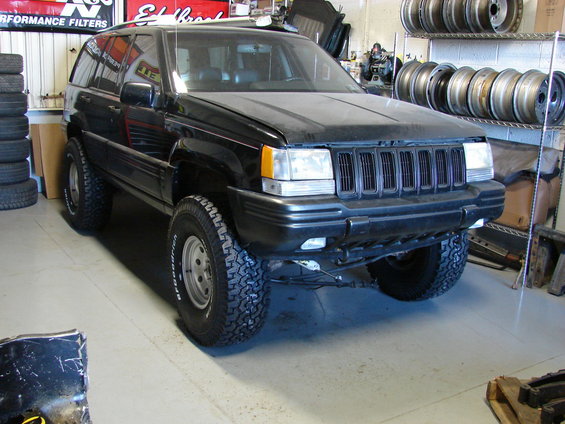 Here is the truss and passenger side mounts:
I wanted to stiffen up the truss a little laterally, so I installed some tubing in the pre-cut holes and welded them up. They really helped add some stuctual rigidity to the truss and I'll feel better when I weld the upper control arm mounts on: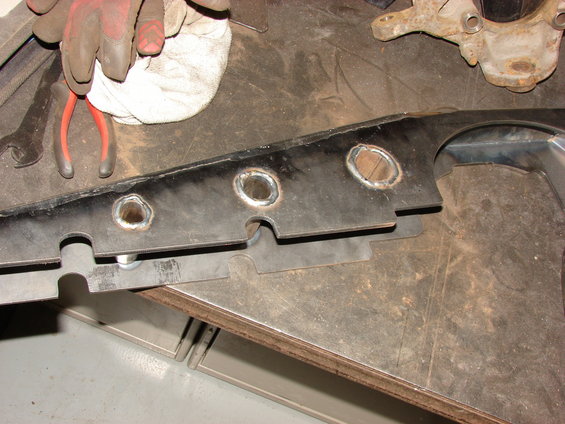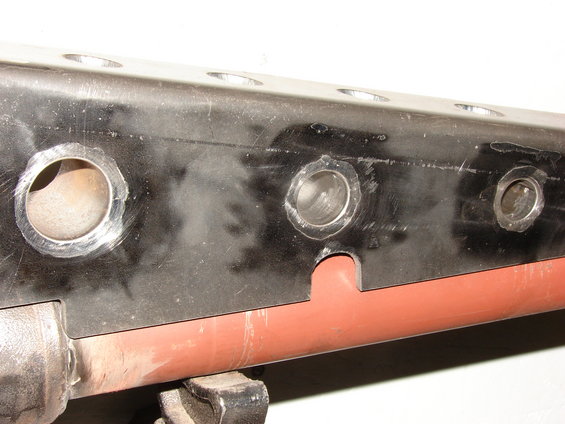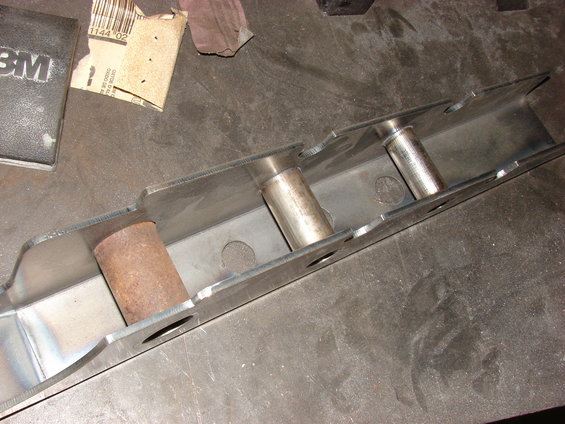 Here is what I came up with to bridge the coil bucket and knuckle and extend the truss to the knuckle at the same time: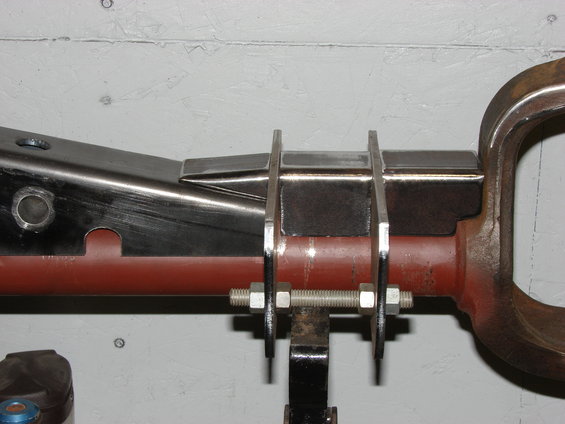 Notice the position of the lower control arm mount hole. It's been moved up and back quite a bit from the stock location. I will move the UCA mounts up the same amount to minimize brake dive and keep the separation close to stock: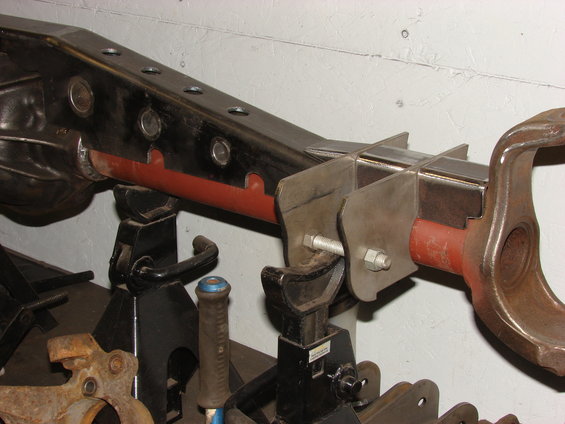 Next I notched the oversize coil bucket and set it so that the centers are at 37" (same as stock) The coil buckets were originally designed to sit centered on the integrated control arm brackets but it would not work in this application. The lower control arm brackets need to be about 30" from the inside edge to inside edge and that would have put the coil spring centers way too far inward if I were to use them as designed: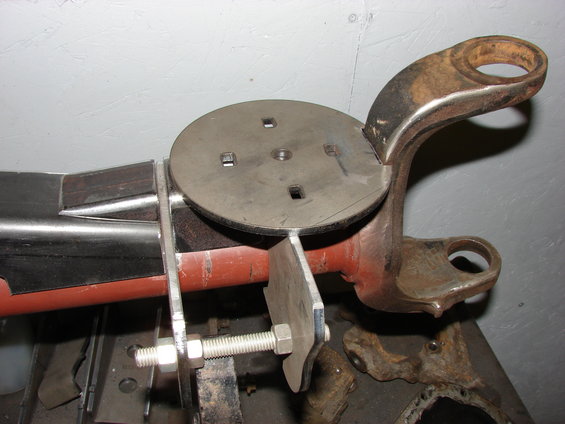 The stud is only being used for mockup. I cut a slot in the lower bridge and made clearance for a 1/2" nut that will be welded to the bottom of the coil bucket: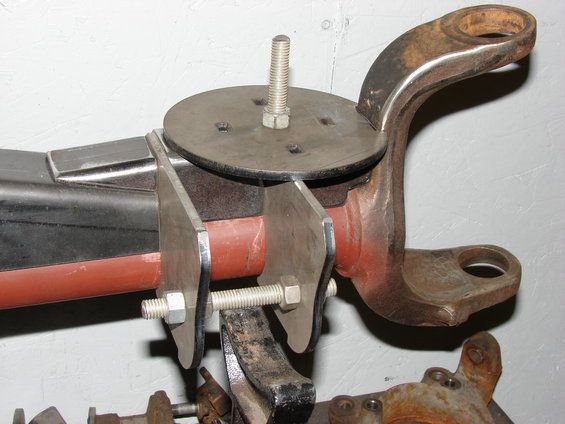 I also started on the driver's side and this is where I left off last night: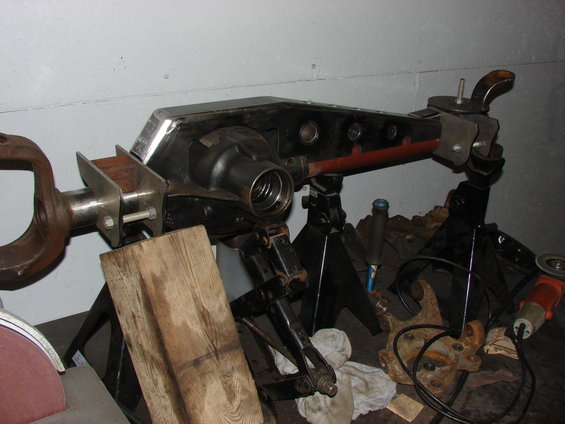 I got the truss all burned in and most of the passenger side done today. More pics will be posted tomorrow to let you see where I'm at. If I were to do it all over again, I would have made all of my own stuff. I am not too thrilled about some of the design, but I already bought the TNT truss and Ballistic mounts and could not see not using them.
Enjoy.