Registered User
Join Date: Mar 2008
Location: Northern Kentucky/Cinci Area
Posts: 3,012
Homemade Belly Up Skid
---
Hopefully around christmas I will have a new rear axle and a JB Super Short SYE with a Woody shaft. I want to put a flat skid on it but was wondering how hard would it be to build my own? The jeep will have a 1" BL so thats fine. But I was thinkin like 1/4" steel across. Anyone made their own? Post up some pics and what and how you did it. Thanks!
---
93 YJ - SOLD
Registered User
Join Date: Apr 2004
Location: Charlottesville VA
Posts: 2,334
Link in my sig. Great project, well worth it.
Registered User
Join Date: Oct 2005
Location: Albuquerque, NM
Posts: 227
Get a 1" ML and you shouldn't have any real problems. Here are some shots of mine.
In this shot I didn't have the slot cut for the front drive shaft yet.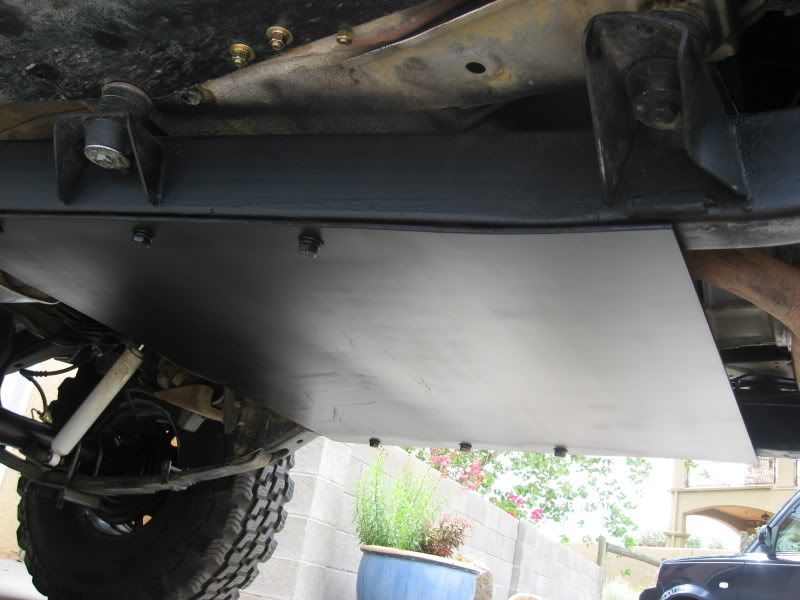 I also installed a AX 15, Klune V, reclocked the T case, and moved the engine 8" forward
---
92 YJ on 35s
Registered User
Join Date: Feb 2008
Location: Alabama
Posts: 90
I just finished mine today. After reading scotch740's write I was all over it. Doing it yourself will save you a lot of money.
Some Call me RockDog
Join Date: Feb 2006
Location: Louisville, KY/ Columbus, IN
Posts: 6,406
I built one for about $60 out of 1/4" It's ugly, but it's taken a major beating. Eventually I will re build it similar to the one posted above but that's down the road.
---
Stretched TJ , Coil overs, 42" IROKS, 60/14 bolt...
'95 YJ fuel injected 302, 8.8, cage, ARBs.
'04 QC LB Cummins 4x4

To view links or images in signatures your post count must be 10 or greater. You currently have 0 posts.


To view links or images in signatures your post count must be 10 or greater. You currently have 0 posts.

For Sale:
TJ Rear Dana 44 shaftsfor sale
3 11"& 2 13" BBCS shocks




Currently Active Users Viewing This Thread: 1

(0 members and 1 guests)
Posting Rules

You may post new threads

You may post replies

You may not post attachments

You may not edit your posts

---

HTML code is Off

---