Here's a pretty good article on the basics of welding rods. There's tons of great info, but it can also get confusing. I try not to read too much as I weld mild steel, and the occasional cast steel somewhere on an axle, or pitman arm like last week.
http://www.weldingtipsandtricks.com/...ding-rods.html
More often than not, especially in the field, you are going to grab for a 6010-6011 road. They are called "farmer's rods" for good reason. They will burn through paint, dirt, grease, and all kinds of funky stuff. Obviously cleaner is always better though, but on a broken jeep in the woods, a wire brush is about the best you can ask for.
I carry a HF die grinder with a wire and grinding wheel to run off my OBA. One of my wheeling buddies has a receiver mounted vice. We are getting spoiled.
The 6010-11 rods are very easy to start, dig deep, and easy to weld with.They are what I grab for doing a tack weld when you are holding two pieces together, and trying to juggle things at an odd angle. They are a fast freezing rod, the puddle will harden up quick, so they are good for vertical, overhead, and odd ball angles. They are the rods you have to sweep back into the puddle as you go.
The rods are easier to care for, especially packed away in the back of a jeep.
The 7018 is a higher strength rod, that runs smooth once it's burning. It's harder to strike an arc with though. The end will glass over when you finish, and must be knocked off before it will light up again. I always give it a quick drag on my concrete floor. The low hydrogen is better for things like cast steel. The surface must be CLEAN for a good bead with no porosity.
With the slower freeze rate of the 7018, it is a good rod to basically drag in a straight line, with very little, if any, side to side movement of the rod tip. That also makes it hard to use for any vertical or overhead welding. It tends to run and glob up.
Dampness will ruin them in a heartbeat, so they must be well taken care of.
They are my #1 rod to use at home though. Once you get used to them they are a great rod.
It's hard to practice alot with an emergency battery setup, but that really is the only way to know exactly how it will react. With a little practice, you should easily be able to drop down to 2 batteries. I found that even with 2, it burned way too hot for thinner TJ brackets. I probably could have easily welded 3/8" thick plate.
Sometimes you just have to treat it as if you were welding sheet metal, tack, tack,tack. Whatever gets you out of the woods.
I made mine from a $15 junkyard 90 amp alternator. That way I can vary the power by setting my engine rpm. I made a quick disconnect bracket on top of my York, and it takes about two minutes to set up and run. It all packs away in a tote bag.
Works so well, I have used it on my trailer when I couldn't get it close enough to the garage to use my shop welder when I did a SOA on it.
The welder was actually a fun project to build, and it has definitaly earned it's keep. It's gotten 4 or 5 undrivable jeeps out of the woods so far.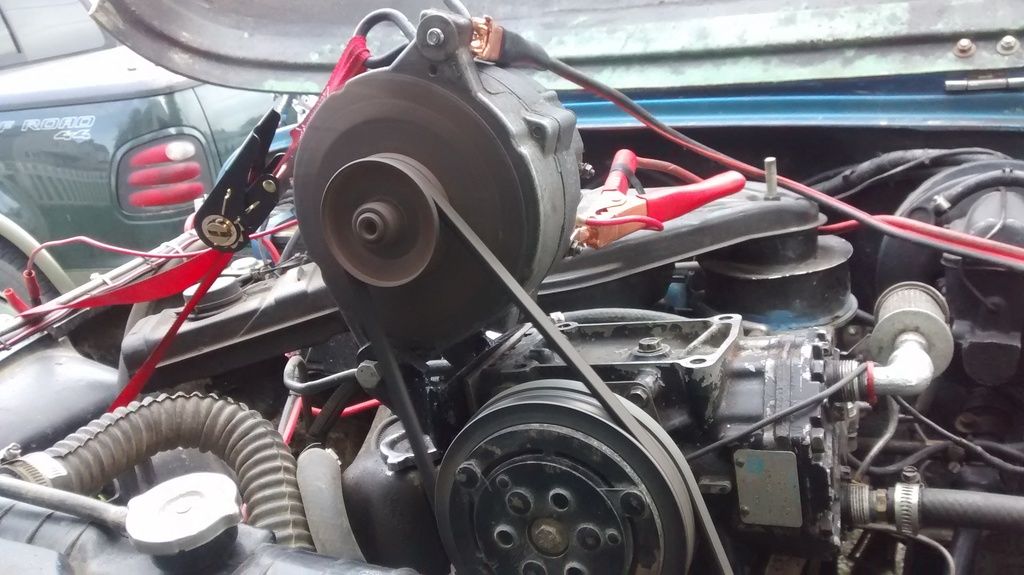 Plenty of power to run a nice bead with a 1/8" 7018 rod.
This was back in the batteries days.
Getting spoiled now.Air tools, welder.....
Broken pitman arm miles back into the woods. No problem, just enough time to take a sandwich break while it's welded back together.
A welder is a must have tool to carry with you if you wheel hard, even if the best you can do is stick some metal together to make it back to the trailer. The guys in my group all pitched in the gear to build mine, leads, stinger,coat, sleeves, gloves. So far, just about everybody that pitched in to build it has needed it. I don't leave home without it now.