Registered User
Join Date: May 2011
Location: Fallbrook
Posts: 51
Cj7 half doors any suggestions
---
I'm looking into making half doors for the 7. I already have full doors in good condition and all the half doors I find on Craigslist are expensive. So anyone ever chop the top off a throw away set of doors and go that route. Any suggestions appreciated.
Registered User
Join Date: Jul 2011
Location: Evansville
Posts: 66
Are you wanting to make some tube doors or solid ones? I've seen some tube doors made from the tire carrier from either a Nissan pathfinder or maybe it was a bronco 2. I can't remember witch SUV it came from, but they looked good.
I kind of wanted solid but I would do either right now the wife needs to feel a little less like she's going to slip right out of the jeep
Registered User
Join Date: Oct 2009
Location: worcester
Posts: 2,265
I cut down an old pair of CJ7 doors and made half doors out of them.
---
Rubicon Rich ,05 TJ Rubicon: PatriotJeepers.com
86 CJ7 258,T18,Scout Dana300,twin sticks,Dana44's,4W Disc, locked,35's,YORK OBA,Warn 8274,fullcage.
51 M100 1/4 ton Jeep trailer
Registered User
Join Date: Apr 2009
Location: Hebron, IN
Posts: 1,162
I have a set of junk doors in the garage I was thinking of playing with- I want to cut out the centers and replace with an expanded metal grate. Also thinking of adding an expanded metal roll up window to keep the brush from entering the cab, but not sure it is worth the effort for the window...

I 7 year old loves to go wheeling but I only do it with the full doors on with him- I figure if I make a set that feels more open but will keep him from leaning out would be cool for the summers.
---
1994 Jeep YJ off road toy
1981 CJ7 SBC 350
2005 KJ Libertyt 4x4 CRD w/ 2.5" Frankenlift DD
So if I find a set of junk doors and cut them down what should I use to cap the top.
Registered User
Join Date: Jun 2006
Location: Kamloops
Posts: 4,127
If you use rotary latch style doors, then yes, you can cut them down. Here's a set I did a while back. I cut them down and then ripped down a 1x4 piece of wood to fit in between the inside and outside of the shell. I screwed it in place to add support to the upper edge of the door and then capped it with a piece of sheet metal I bent up.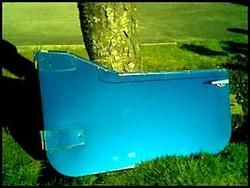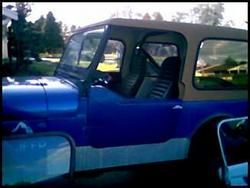 ---
'84 CJ-17: 17" stretch, locked Toy axles, 5.5" lift, FI, AX15, D300 w/twin sticks, boatsides & junk.
Awesome that's kind of what I was wondering if I should block the inside if the door. Thanks jeepwhore
Registered User
Join Date: Sep 2012
Location: Iroquois falls
Posts: 6
I am making a set of half doors out of full hard doors right now, I'm almost done one, then i still have to do the other one. I can post pics in a couple hours if you would like.
I got most of it done, except the top edge. waiting on money to buy material for the top edge.

Bradley
That would be great thank u
I miss the snow...
Join Date: Jul 2010
Location: Nashville
Posts: 1,580
Since you would be altering the full doors anyway, have you considered selling the full doors to finance paying for a set of factory half doors? There is also a market for the full doors - I'm guessing that you may come out ahead.

Good luck!
I thought about that but I really like having my full doors
Currently Active Users Viewing This Thread: 1

(0 members and 1 guests)
Posting Rules

You may post new threads

You may post replies

You may not post attachments

You may not edit your posts

---

HTML code is Off

---