I am considering building a body mounted, swing out tire carrier for my TJ. I like the Genright design in general, but rather than have the tire sit between the tailgate and carrier, I would rather build something that sits fairly flush to the body/tailgate, where the tire mounts on the outside of that.
Some basic details to start...
I just received my Poison Spyder Customs 'trail gate', so the factory hinges will not be a factor.
I have Genright full corner armor currently installed (will fill the spaces left from removing the hinges).
I also have 4" flush LED tail lights.
My basic idea is to use some 'off the shelf' fabricator parts from Barnes4wd or RuffStuff, etc to put this all together.
Here is the basic design idea:
I am looking at using some frame mounts for control arms on the passenger side that the carrier will hinge from, attached to the corner armor. There will be one upper and one lower.
I would use DOM tube with poly bushing and sleeves at the end of the DOM tubing that makes up the tire carrier. The poly bushings will bolt in the control arm mounts to complete the hinge.
An upper and lower length of DOM tube (considering 1.75" OD, .120 wall) will run from the hinge on the passenger side, to corresponding mounts on the driver's side.
I would use the same type of poly bushing setup on that end, as well as control arm mounts attached to the corner armor.
I would use some sort of hitch pin to allow the carrier to open.
The upper and lower horizontal lengths of DOM would receive vertical supports on either end and the actual tire carrier portion would be built at in the middle of all of that.
I am curious if it would be better to weld the brackets to the corner armor, or bolt them on. I figure either way, there needs to be a backing plate on the inside of the tub at each of the link mounts that bolts to the exterior mount.
Is just a piece of equal-sized plate sufficient, or does it need to be complex and tied into another part of the Jeep?
What I am looking for is some feedback to the overall theoretics of the design, and input on the backing plate support aspect.
This is a basic CAD drawing
of what I am talking about.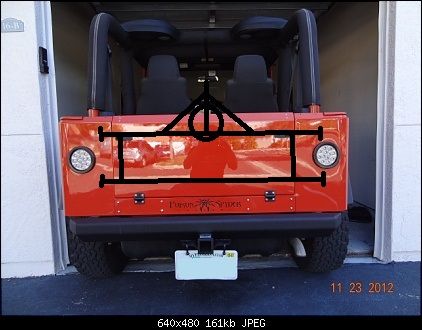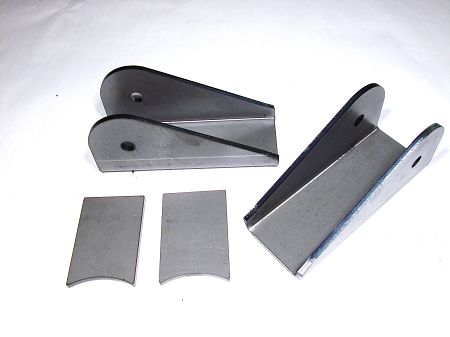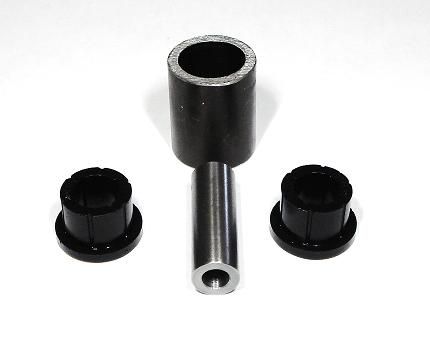 I have also spotted the Synergy frame tie-in kit for a roll cage that includes the bracket, backing plate, DOM tube, and bushing. The bracket material is only 3/16" thick, where the above items are 1/4" thick. This setup would be an easier install, but I am not certain the 3/16" would be sufficient.