Narrowing 86 Ford KPin 60 for 97 TJ using stock coil location, how to.
---
So, I had searched alot about this and I have found several threads, but not the photos I wanted and for my application. So here is my Dana 60 install.
My Jeep is 97 Wrangler
-I'm building a custom 3 link front
-I have a 14 bolt in rear from Chassis cab so my width is 63-64? inches
-I'm narrowing my front to be 65inches -stock is 69.25 inches, I have read that less than 65inch makes it very difficult to fit and I would agree, the ballistic mounts go all the way out next to the inner C for it to all fit.
-My 60 is from a Single wheel 86 F350, I bought entire truck for axle and scrapped-parted the rest.
-I'm only stretching the front just a little 1-3inchs, so i can use my stock steering box
Parts for 3 link
Artec Pass side frame rail 3 link Mount
Artec lower control arm frame Mounts
Artec Axle mount for upper link on passenger side
Fabbing mount for track bar on axle and frame
Ballistic Fab Lower Coil Mount plates with Lower control arm mount and shock mount built into 1, like $60 bucks.
I'm currently using my 4in lift coils that came on Jeep. Rough Country brand
DOM Links 2in 1/4 wall
1.25 Heims and inserts from Ruff Stuff
7/8 Heims track bar
GM 1 TRE for steering
Now for pics:
Front axle- remove passenger side hub, spindle,axle shaft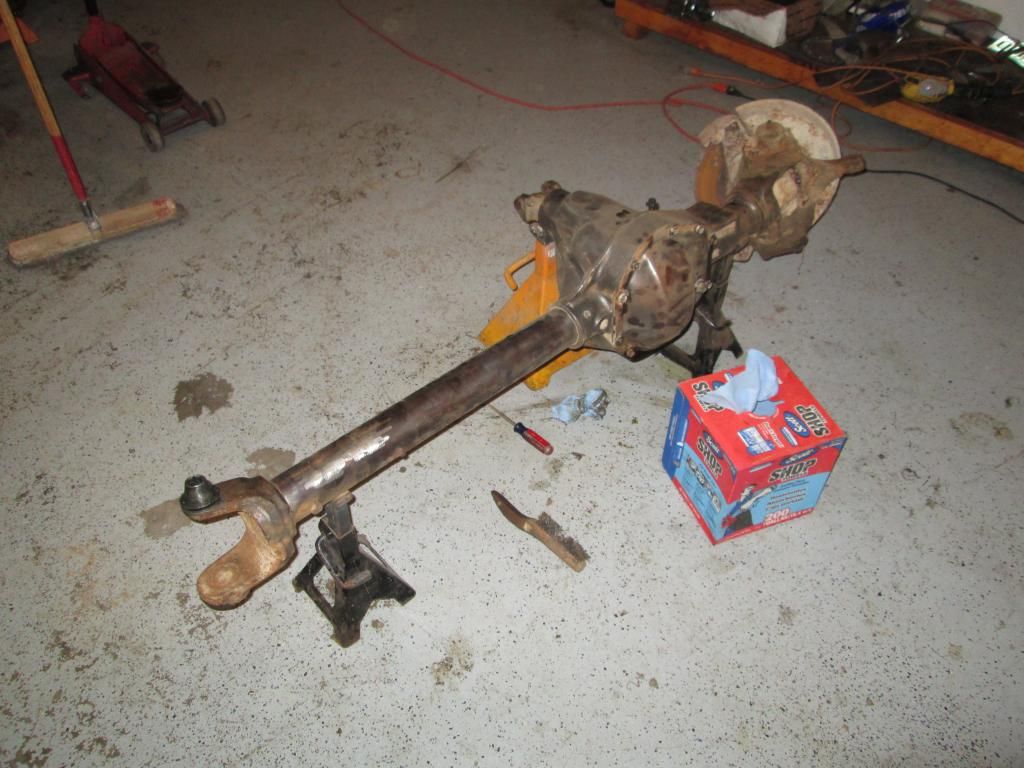 Supported and counted clicks on jackstands incase of movement, supported pinion with another jackstand and took some calculations.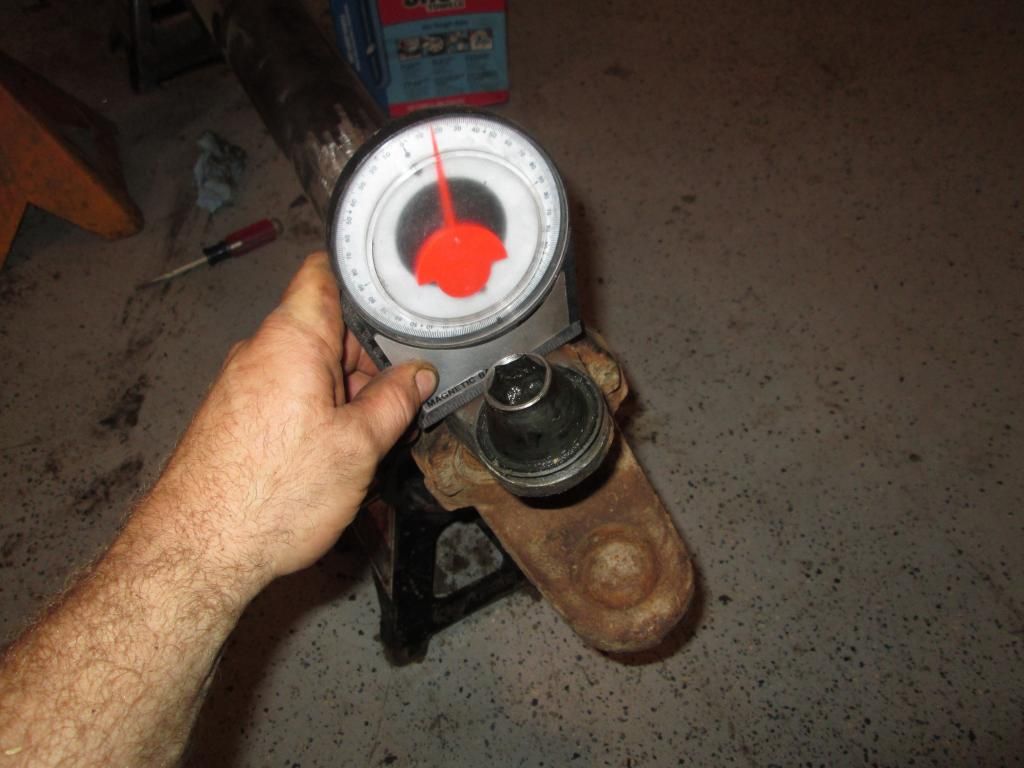 Just getting ready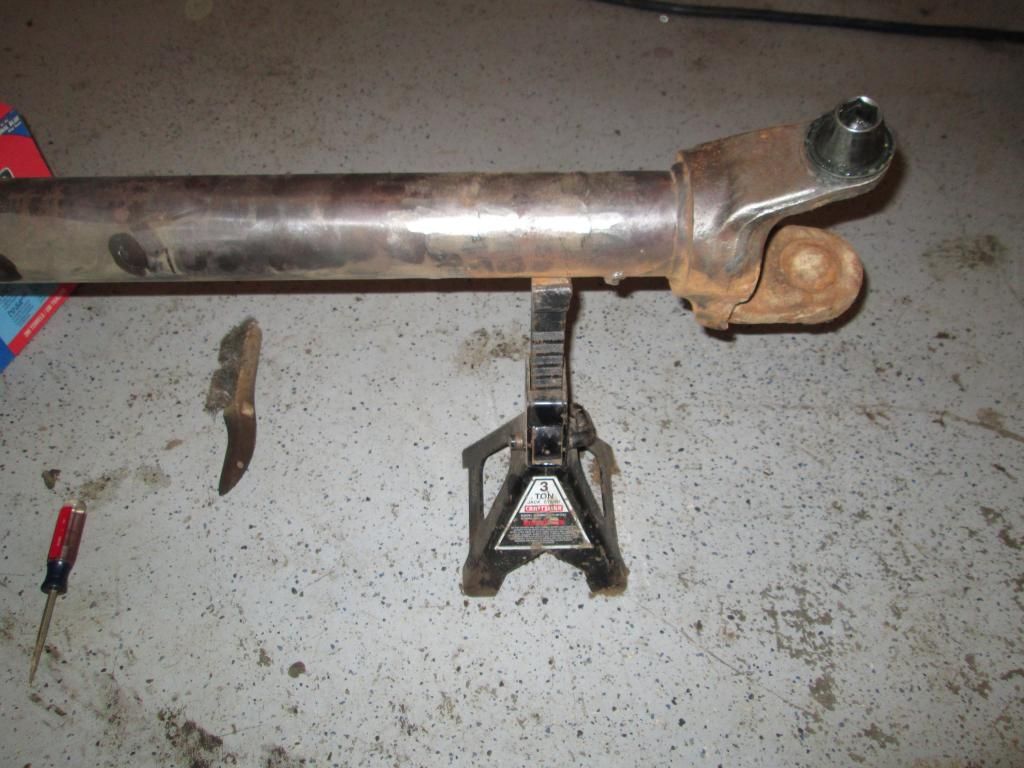 I took some measurements, I know that the Inner C were the weld on the axle tube connects it, needs moved in 4.25 inchs, but this is not your cut off line. Remember the Inner C slides over some of the tube. I made the measurements.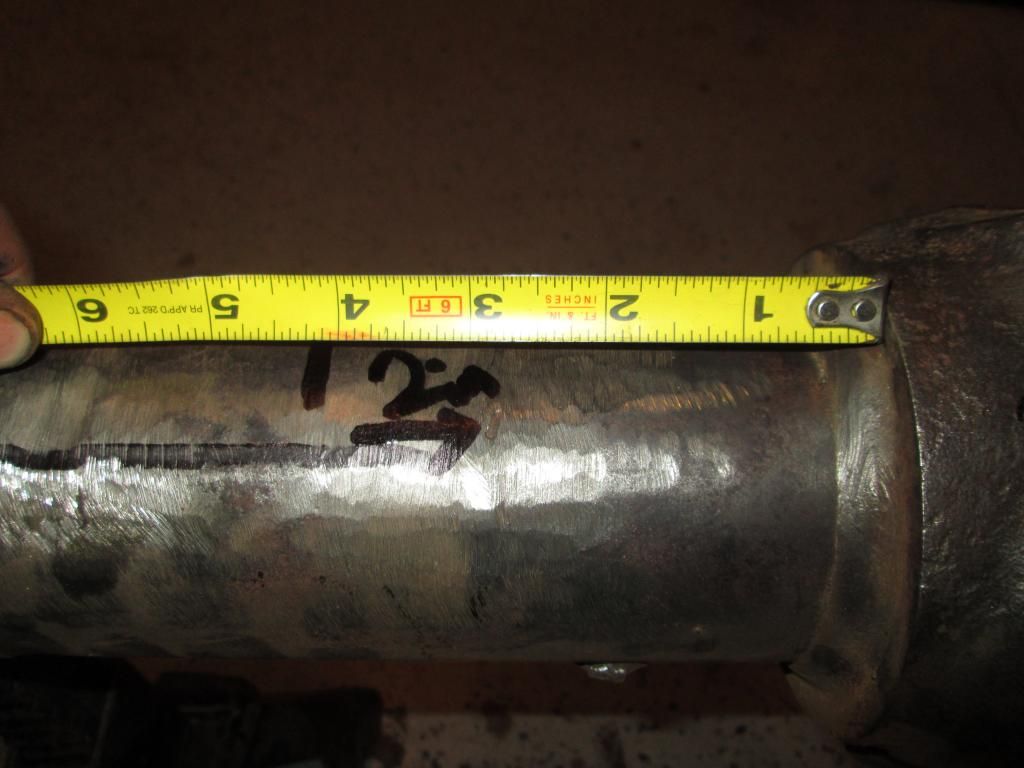 Picture showing the axle tube in the Inner C: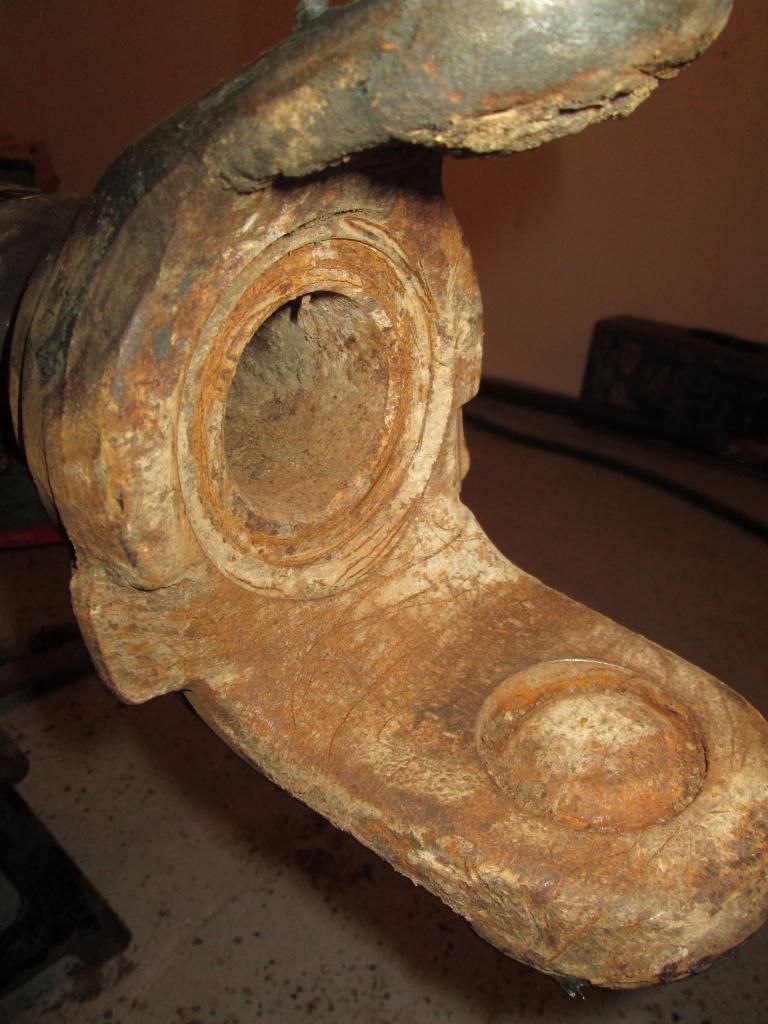 I used my angle grinder with 6in cut off wheel, make sure to use gloves and eye protection.
More pics next post
Member
Next very carefully cut off the Inner C around the weld, it's ok if some weld is still showing.
I put the Inner C in my vise and used a grinding wheel to smooth off the remaining weld flat with the base metal.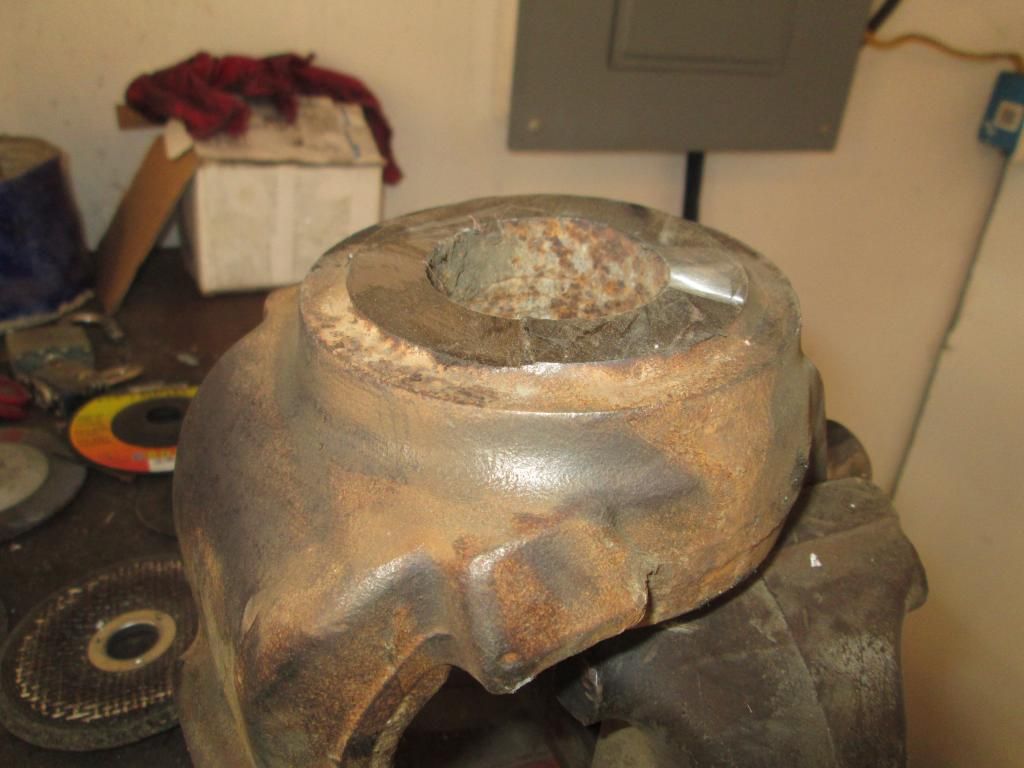 Inside depth of tube still in the Inner C
Measured over from my mark where the Inner C needs to go onto, and calculated where to cut off the tube. I used a hose clamp once marked to serve as a guide and this worked great.
Old weld ground down smooth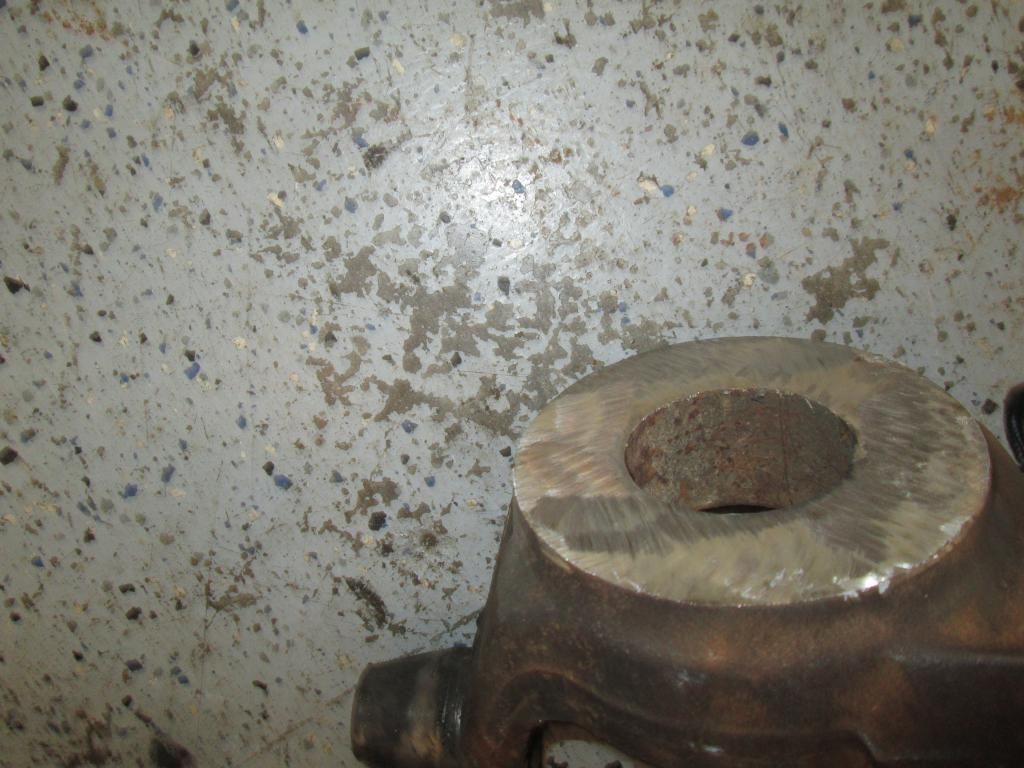 Here is the tube after I cut off the extra tubing not needed.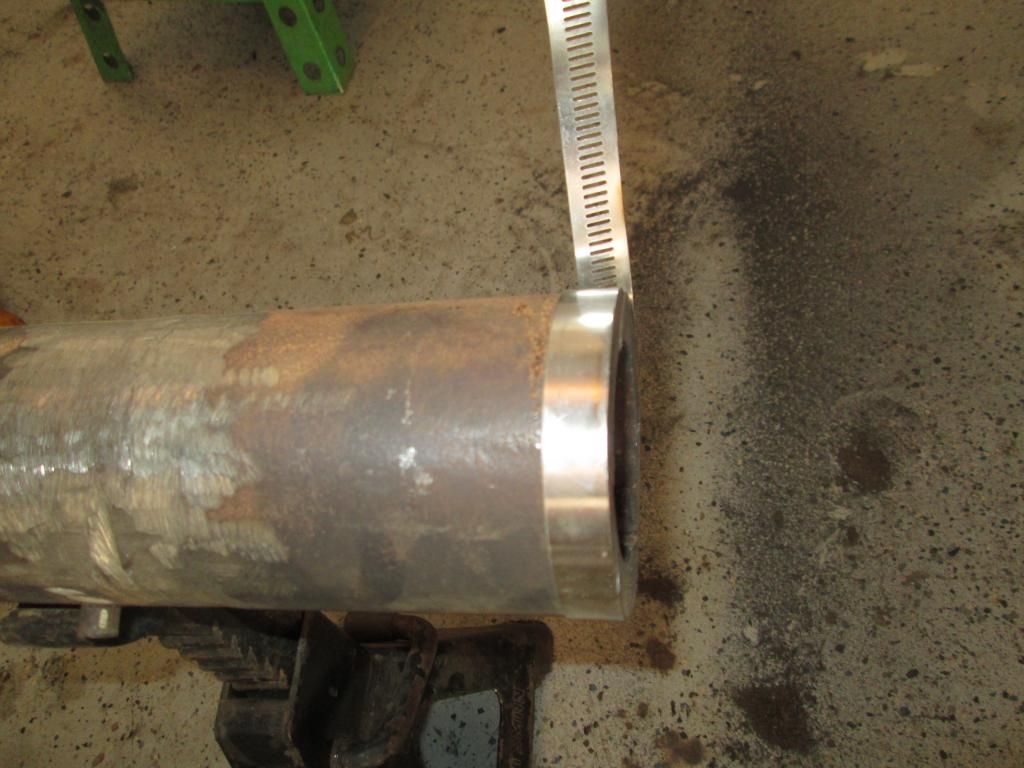 I got side tracked and missed some photos, but you will need a press. I tried to press old tube out of Inner C and was getting worried about the amount of pressure I was using , so I actually cut a small line down the old tubing inside the Inner C with my torch, then tried again with success.
Member
I had marked my axle to help me line up the correct caster angle when I put the inner C back on, so it would match the driverside.
Next I put the Inner C in my BBQ for about 30 mins, hoping this would help me get it back on the axle housing a little easier.
I then placed Inner C lined up and caster matching back on axle and proceeded to use BFH to get it back on and up to the line where I wanted it.
This was the hardest part of the whole Job in my opinion.
I have to check my computer for more photos of that.
Next i put together my Ballistic lower coil plate,radius arm brackets, but did not weld the coil seat plate on yet.
On the driverside, this is where you lack room because 86-91 Kpin are narrower on driverside than 78-79. Which is good once narrowed cause keeps pinion in a good location for clearance. To make this work, I have read where other cut some of the housing away and have not had any problems, I did the same. carefully with my cut of wheel after marking where I needed it gone. Then melted some out of the way with my torch. Worked real good.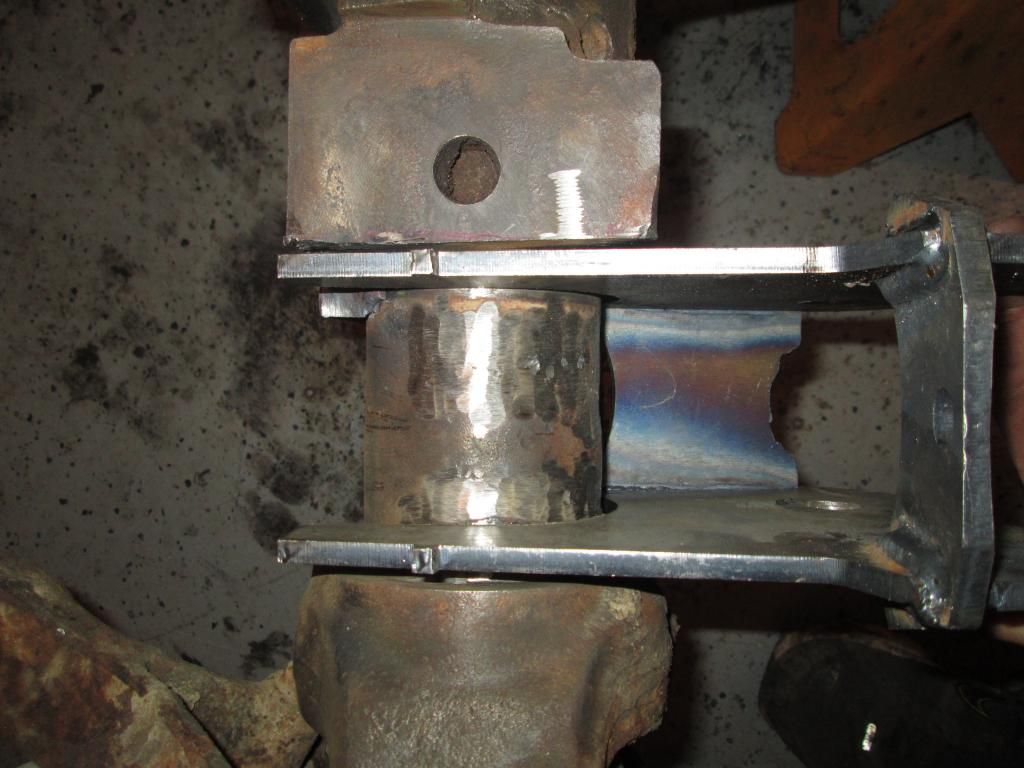 Starting to mock it up under the front.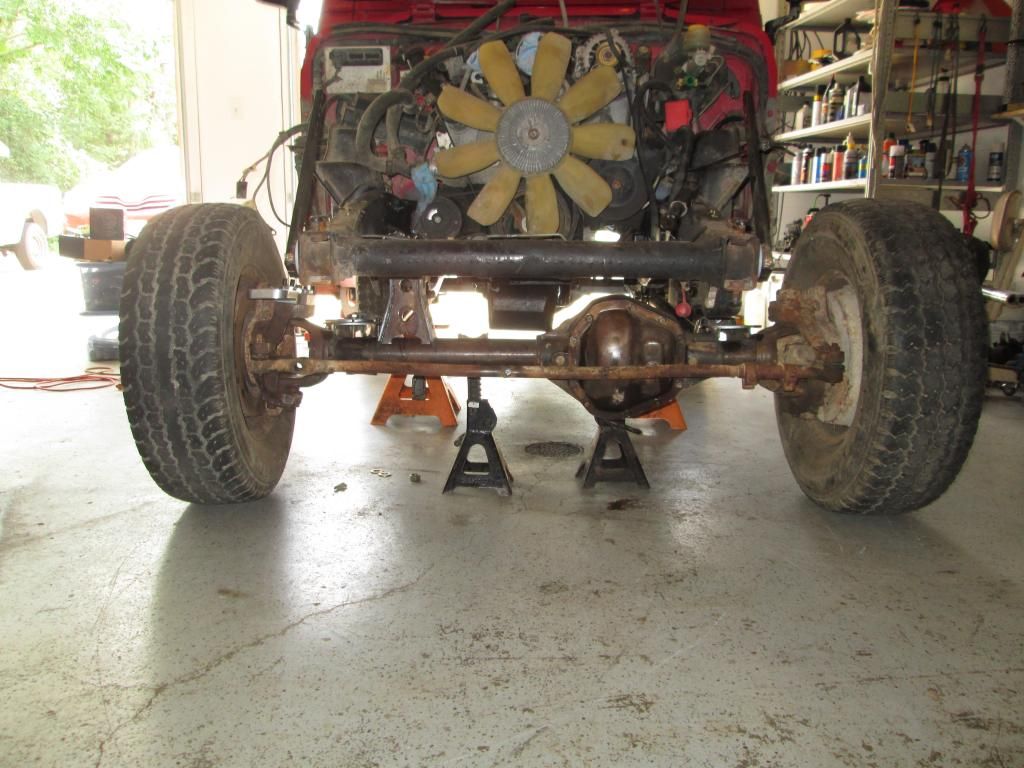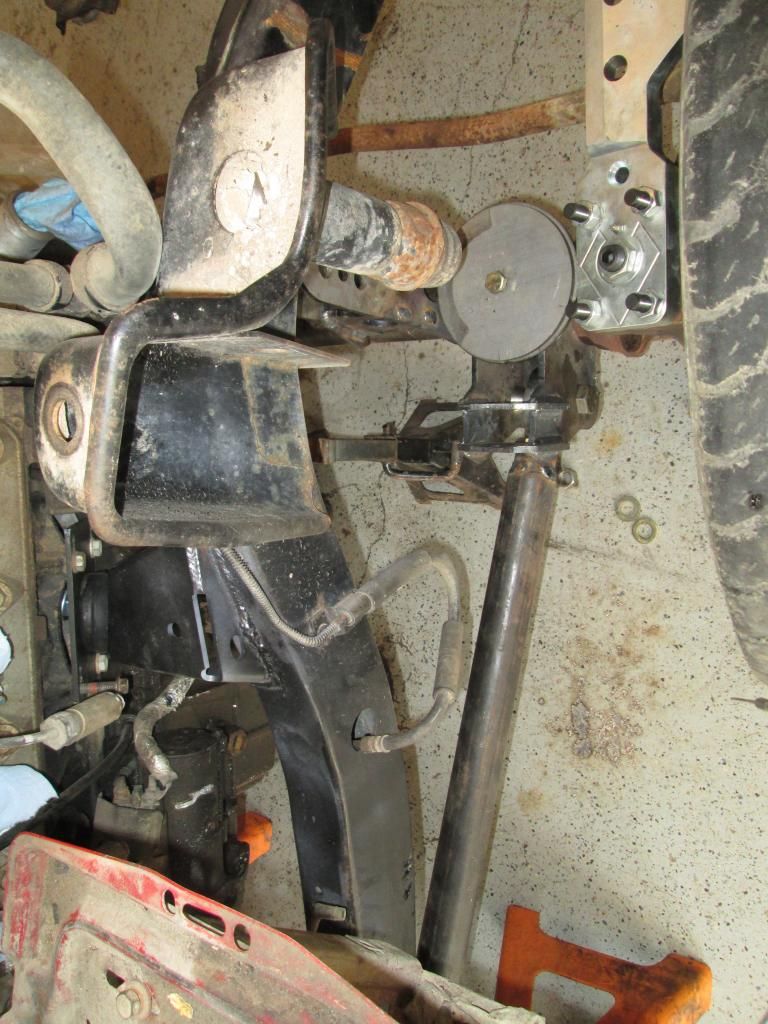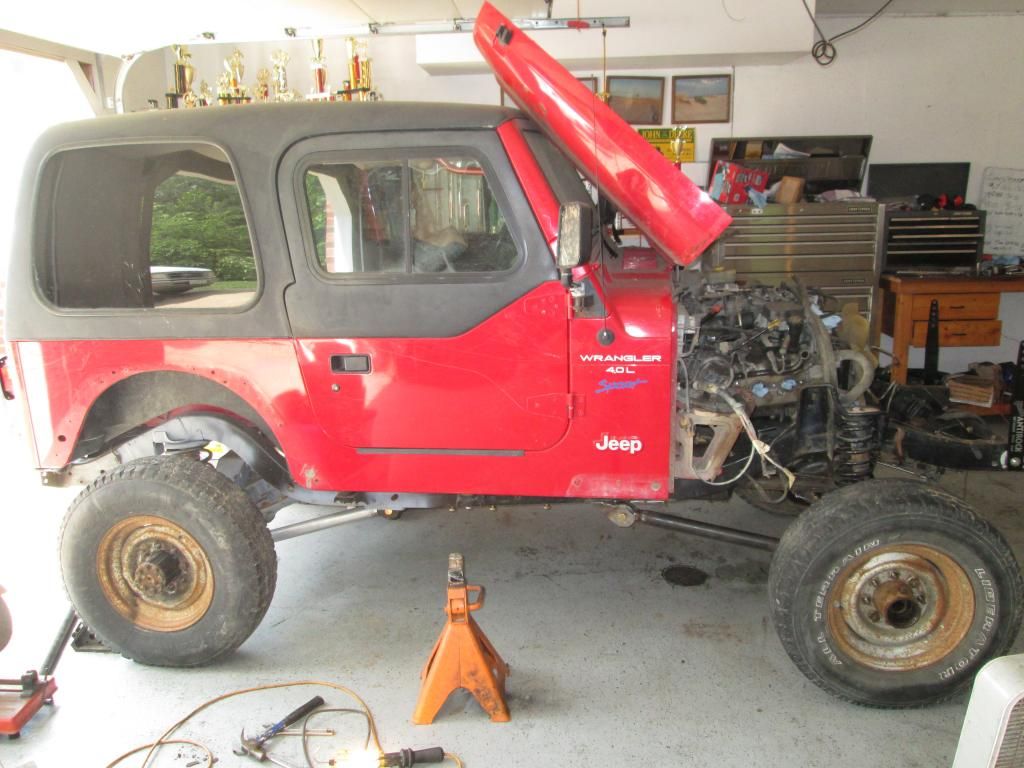 I still have more to do, so will update when I get more done.
......
Join Date: Dec 2003
Location: Hale'iwa
Posts: 5,092
With the trackbar and steering you might need to rotate the upper mount more vertical or even towards the rear to make room. I liked to use mine to reference 0* so instead of tilting it back towards the rear I recut the mounting arc to move it back and still have it straight up and down. The more you stretch forward the more problems you will have with fame and steering clearance. Had to mount steering well underneath arms and section the frame.
---
-insert meaningless out-of-place political diatribe-
Member
I did some checking without coils in place seeing where my bump stops would need to be and looking at my steering.The angle of the mount seem to clear everything ok and I might build off of it for the axle side track bar mount. All should work well, I will not however be using my high steer arm on passengerside, it's to high.
Registered User
Join Date: Nov 2009
Location: 'Merica
Posts: 2,232
Yea definitely keep an eye on the tie rod and pitman arm at full bump. With a bit of front stretch and the longer steering arms of a D60, the tie rod may want to travel up and through the pitman arm with the box in the stock location.
Nothing but the facts
Join Date: Aug 2004
Location: Holland mass USA
Posts: 3,784
---
1993 YJ 4.0 60 Front, Rear steer 60, bolth spooled, 5.38's, 700r/241 39.5 iroks and beating it like it owes me money.

And on the 8th day, God created the 14 bolt...


The happiest people don't have the best of everything, they make the best of everything.



To view links or images in signatures your post count must be 10 or greater. You currently have 0 posts.

Registered User
Join Date: Jul 2010
Location: Arkansas City
Posts: 838
Nice write up.
---
Measure with a Micrometer
Cutter with an ax
Beat it to fit
Paint it to match


My NP435 install
To view links or images in signatures your post count must be 10 or greater. You currently have 0 posts.

Member
Update was long day and I was using my words Inner C and Knuckle incorrect, which I know better LOL.
Yes I will be doing alot of checking on full bump and tierod clearances. I don't want to move box if possible.
Thanks 78 Ford
Currently Active Users Viewing This Thread: 1

(0 members and 1 guests)
Posting Rules

You may post new threads

You may post replies

You may not post attachments

You may not edit your posts

---

HTML code is Off

---