Registered User
Join Date: Jan 2009
Location: W.Rutland VT
Posts: 586
AN fitting help!!!! (Custom clutch line)
---
I can't make heads or tails of the AN fittings. Seems -3 AN is the correct size for braided brake/clutch line...... I'm trying to build a clutch line to go from my 87 YJ clutch master to my 2001 S10 NV3500 Slave. Some of you may know that the S10 clutch line is part nylon and part braided with a funky fitting on the end that I have to keep to mate to the slave. My master accepts 1/4 brake line, And I have a left over extended braided brake line from another project. I want to run a 1/4 hard line from my slave to the left over braided line and adapt the two together, then I want to cut the nylon end of the S10 clutch line off and couple it to the end of the extended brake line I have. Here's a pic of the brake line. Seems there is no coupler to just fit the two pieces of brake line together. From what it seems is I need to get both a male end and female end and thread the two pieces of line together. I'm not sure which sizes or pieces I would need because there's so many different AN fittings!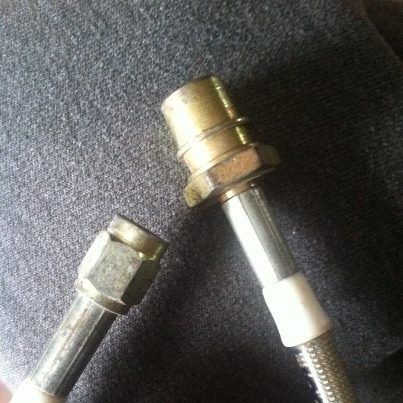 ---
- Luke
Was actually just thinking I would leave out the extended brake line all together and just run a hard line from the master all the way to braided line comeing from the slave... But still need to know which Braided line end that would require
---
- Luke
Registered User
Join Date: Apr 2009
Location: "The Kingdom"
Posts: 1,521
And this is why I hate AN fittings. There are plenty of conversion charts on the internet to take you from SAE to the corresponding AN fitting.

A while back I used two female pushlock ends and then a coupler in between them. I got all of mine from Jegs.
---
To view links or images in signatures your post count must be 10 or greater. You currently have 0 posts.
Talked with ANplumbing.com Very helpful tech support. I ended up ordering Part number 600143 for the braided -3 line and part number 989548 to adapt it to my 1/4" hard brake line.
---
- Luke
Currently Active Users Viewing This Thread: 1

(0 members and 1 guests)
Posting Rules

You may post new threads

You may post replies

You may not post attachments

You may not edit your posts

---

HTML code is Off

---