Registered User
Join Date: Oct 2009
Location: emporium,
Posts: 3,010
dana 300 build options.
---
here's what i'm looking for...
i want to build my dana 300 for use behind an nv4500. this would complete my 1 ton driveline to compliment the hpd60 up front, d60 rear, 5.2l magnum, and H1 wheels and tires.
the axles are under the jeep and nearing completion. the trans and x-case are the next order of business.
here are a few of thoughts i have had while trying to plan the swap. . .
transfer case brake... i have acess to a very skilled cnc machinest that would be able to make me a custom rotor to bolt behind my cv yoke... like this one i pulled from another custom d300 build.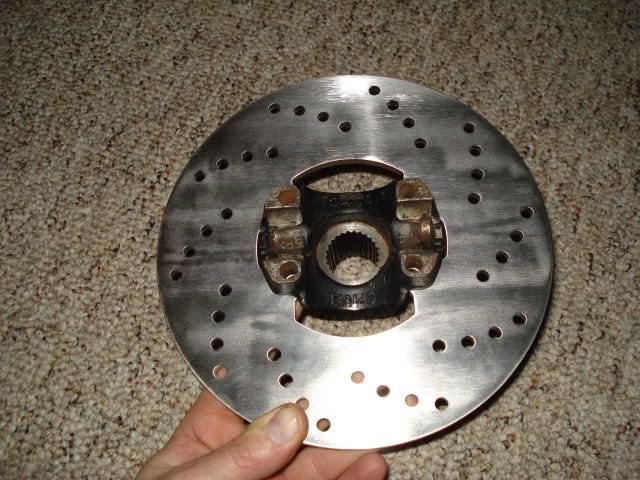 any of you running an x-case brake?
what kind of kits did you buy and what kind of mounting does the caliper have to the case. i am concerned that if i get the rotor made i won't be able to modify the caliper mount to match a caliper not supplied by the maker of the caliper kit.
32spline output...
what kits are you using?
do they use the old housing or do they re-use the stock one?
what cv style yokes are compatible with the 32 spline shaft?
any other modifications to the case or internals needed?
4:1 reduction kit...
any compatibility issues with the 32 spline kit?
ease of installation?
any foreseen strength advantages over stock? i am not worried too much about the lower ratio since i am primarily into mud and not crawling, if it was a large enough strength increase i would definitely do the upgrade.
flip kits...
what are you running and how do you like it?
i am heavily considering the down east offroad kit that puts the shift rails on the top center of the case after being flipped rather than using the stock linkage that winds up being under the front DS after the flip.
any other pros, cons, or suggestions to throw my way would be greatly appreciated. this is going to be a pricy upgrade to the d300 and i want to do it all at once and do it right.
---
Ratmonkey donation page. all proceeds will go to his family.

To view links or images in signatures your post count must be 10 or greater. You currently have 0 posts.



it's not much to look at... but it's mine.
5.2lswap, metalcloaks, bedliner, tucked belly, d60's, soon to be nv4500 and d300.

To view links or images in signatures your post count must be 10 or greater. You currently have 0 posts.

Nothing but the facts
Join Date: Aug 2004
Location: Holland mass USA
Posts: 3,769
Upgrade to the Stak case, I just watched two dana 300 blow up this year alone and bolth were in 4.0 Jeep based buggys. Not putting down the 300 as a good offroad case I think they are, they just cant handle big tires and power like your looking to do.
Like I said the two that I watched break bolth were powered buy a 4.0 and they bolth did the same thing, flexed the case, cracked the case and stripped the 4-1 gears.

I would look into a upgraded case from stak, then at least when you might break it will be the gears.

Jason.
---
1993 YJ 4.0 60 Front, Rear steer 60, bolth spooled, 5.38's, 700r/241 39.5 iroks and beating it like it owes me money.

And on the 8th day, God created the 14 bolt...


The happiest people don't have the best of everything, they make the best of everything.



To view links or images in signatures your post count must be 10 or greater. You currently have 0 posts.

Currently Active Users Viewing This Thread: 1

(0 members and 1 guests)
Posting Rules

You may post new threads

You may post replies

You may not post attachments

You may not edit your posts

---

HTML code is Off

---