This is how to for making your own carnitas at home to throw into whatever mexican inspired dishes you want. Ideally this is for those of you are that burned out on ground beef or chicken as your meat options.. This is something ideal to put together in the evening and refrigerate over night, start it up in the morning and come home to some magic in your face.
What you will need:
-Slow cooker
-Pork Shoulder (whatever size you want that still fits into your slow cooker)
-Water or chicken broth
Ingredients: (mix and match however you want, I've utilized a couple of these together and all of them together and they all provide a unique flavor! All of the seasoning options on these are preference really but typically a tablespoon is a good measurement to go for with most of them, be careful with some like cayenne pepper that stuff can tear people up)
-Bay leaf
-Salt/Pepper
-Oregano
-Whole garlic cloves/garlic powder
-Onion quartered
-Orange juice and throw in the peel
-Lime/lemon juice and throw in the peel
-Onion flakes/powder
-Cayenne (can make ungodly spicy)
-Cumin
Throw the meat into the slow cooker, add all of your ingredients/seasoning
Add water or chicken broth until you've either covered the meat or gone as high as you can in your cooker
Put the cover on, turn it on high (I typically cook mine for a good ~6hrs or so) remove the cover and using some tongs see if the shoulder bone removes easily, if so it's ready, if not let it keep going.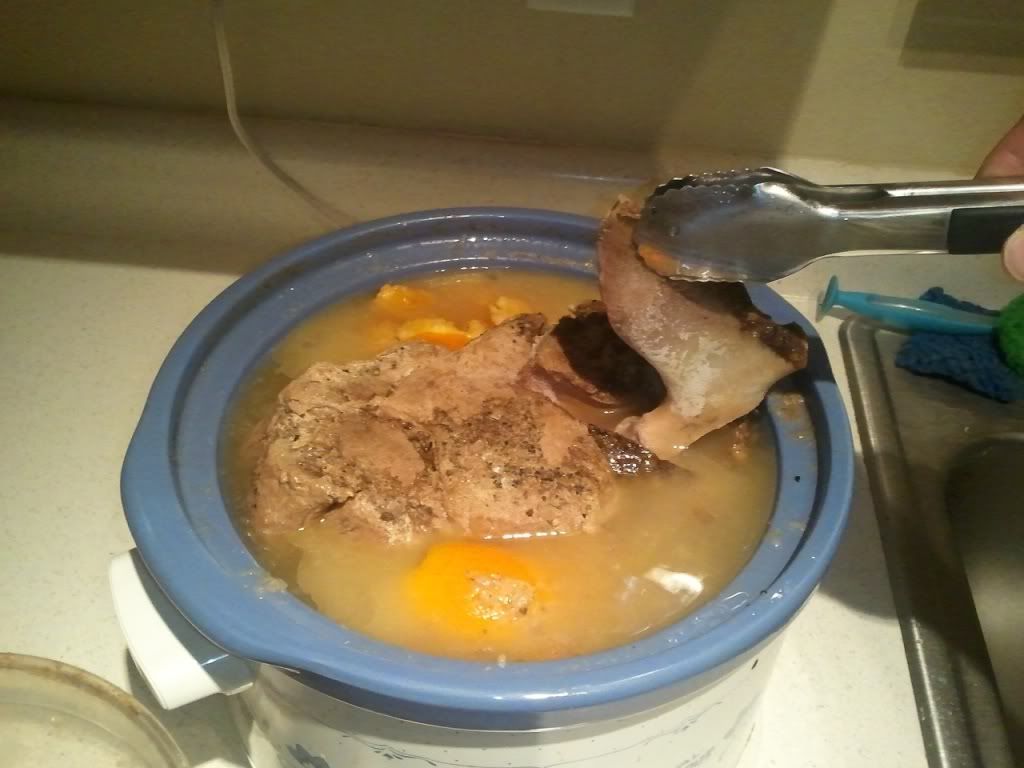 Now grab a cookie sheet and cover it in aluminum foil and preheat the oven to 450*
Remove the meat with the tongs (careful it's likely to fall apart on you) use a couple forks and pull it apart until you have good sized chunks ~4" in size or so and put them onto the cookie sheet and throw them into the oven. Keep an eye on them starting at about the 8 minute mark, the idea of this is to break down the fatty layer on the meat and to give the exterior a nice crispy layer.. When it looks like what you would devour in a heartbeat, it's likely ready!
Take those individual chunks and shred them with your two forks and put into whatever dish you want to make!