Unfortunately, I didn't get a bunch of pictures of the brisket. My recipe for my first attempt at this was very simple though. What you need:
Brisket (I had a 4 pounder)
Seasoning Salt
Pepper
Garlic Powder
I started by carving off a little extra fat. Some fat is good - it's been rumored to hold in the juice, flavor the meat, provide the meat with extra juice, etc. So, feel free to take off the big chunks but leave plenty behind. It will render out quite a bit.
Once trimmed, I coated the brisket with the above seasonings and rubbed them in. How much seasoning? Coat it well and smell it. If it smells good, it probably tastes good.
Grill prep - I used natural lump charcoal and mesquite smoking chips. I let the lump charcoal burn down a bit (cooked at about 200°F), placed some mesquite chips that had soaked in water over the charcoal, and placed a foil 'boat' of mesquite chips above the charcoal on the grate. I had the charcoal low and on one side of the grill near a vent and located the brisket on the opposite, high side of the grill near the top vent.
When the grill is ready, toss on the brisket. I started with the 'cap' up. I turned the brisket after 45 minutes. After another 45 minutes, roll it over. Another 45 minutes, turn it again. You want all 4 sides to trade locations. This helps it cook more evenly.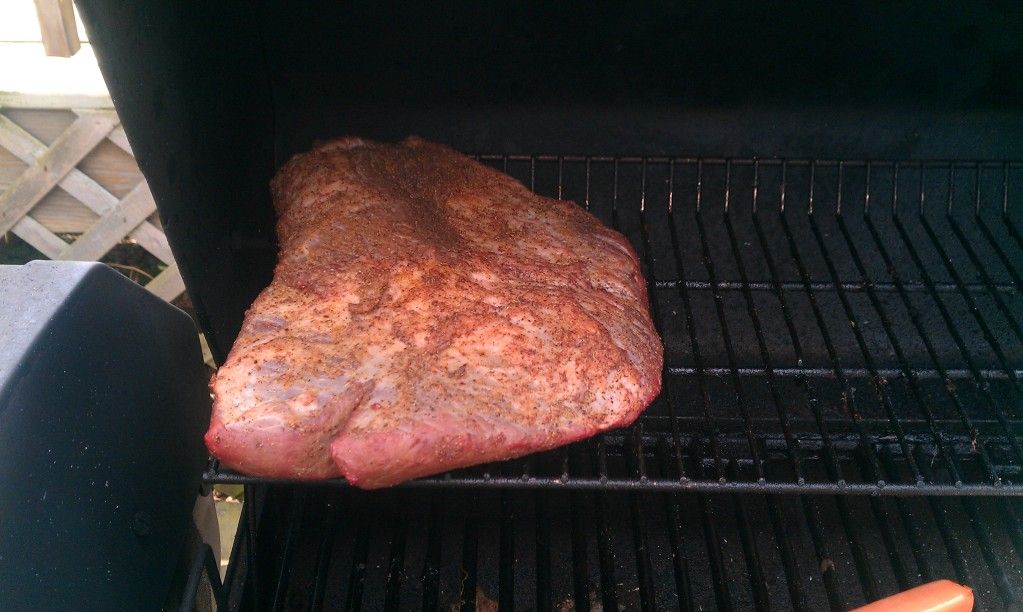 Don't mind the hot dog in the picture. A friend I hadn't seen in a long time joined us. She for some reason wanted hot dogs, even though I had more awesome food ready!
Keep an eye on your grill temperature. You want to keep it at about 200°F. When you are getting close to done, feel free to check the internal temperature. I believe I pulled mine off at about 145°F. It was definitely cooked, definitely juicy, perhaps cooked to medium or a little under.
Let it sit for a few minutes before slicing. First cut - check out that smoke penetration! Also, I let my fancy pants new chef's knife make it in the shot!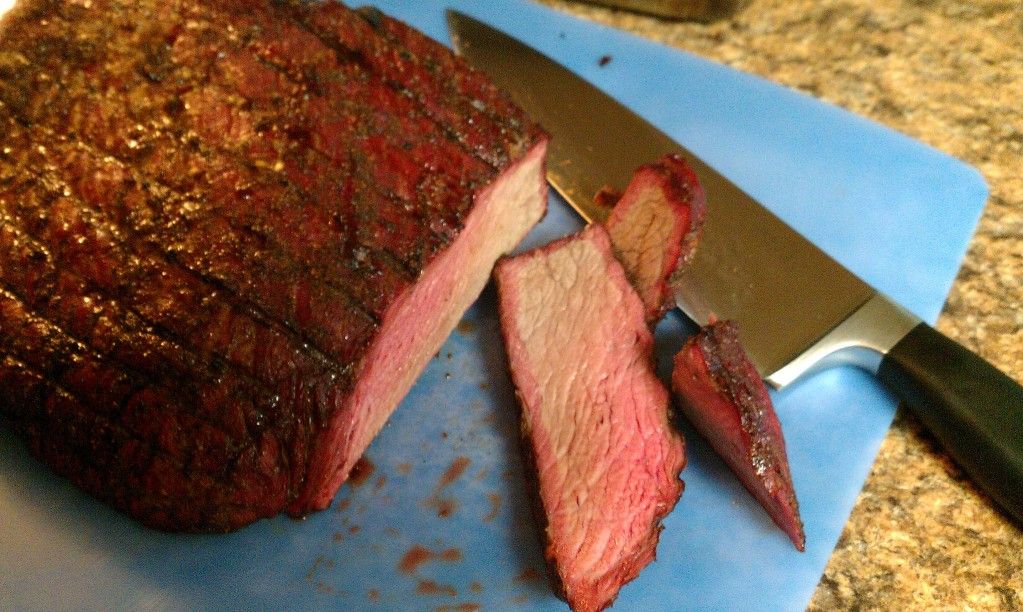 I think this turned out wonderfully. The smoke flavor definitely made itself known. The brisket was plenty juicy and flavorful enough to not need any BBQ sauce. I'm giving this one an 8/10.