I cooked like a mad man over the 4th of July weekend. One of my favorite items to smoke is pork. This weekend, we decided on a picnic that weighed in at about 8 lbs. My go-to seasoning is Chris Lilly's rub. The concoction goes as follows:
1/4 cup Dark Brown Sugar
1/2 cup White Sugar
1/2 cup Paprika
1/3 cup Garlic Salt
1/3 cup Kosher Salt*
1 tablespoon Chili Powder
1 teaspoon Oregano Leaves
1 teaspoon Cayenne Pepper
1 teaspoon Ground Cumin
1 teaspoon Black Pepper
*IF your meat isn't 'natural' and has some kind of added solution or preservative, I highly recommend reducing or eliminating the salt from this recipe. I made the mistake once of including the salt in the rub for a preserved chunk of pork - wow was it salty!
Anyway, the first thing I did was chopped off the pig's skin, which left an interesting scent in the kitchen that about made my wife sick.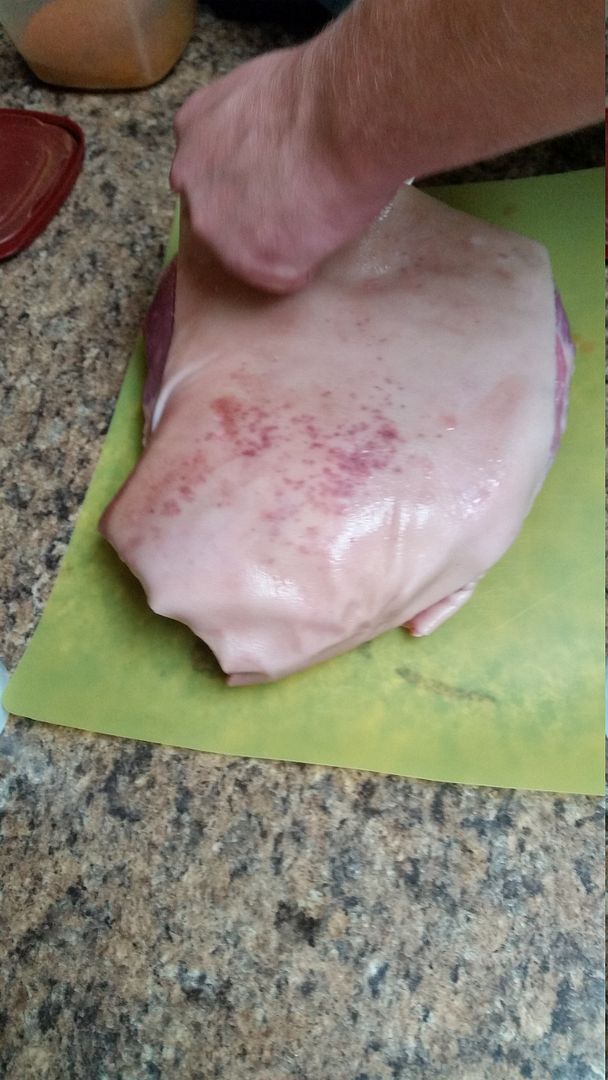 I just noticed you can see my little man's baby picture on the mug in this picture.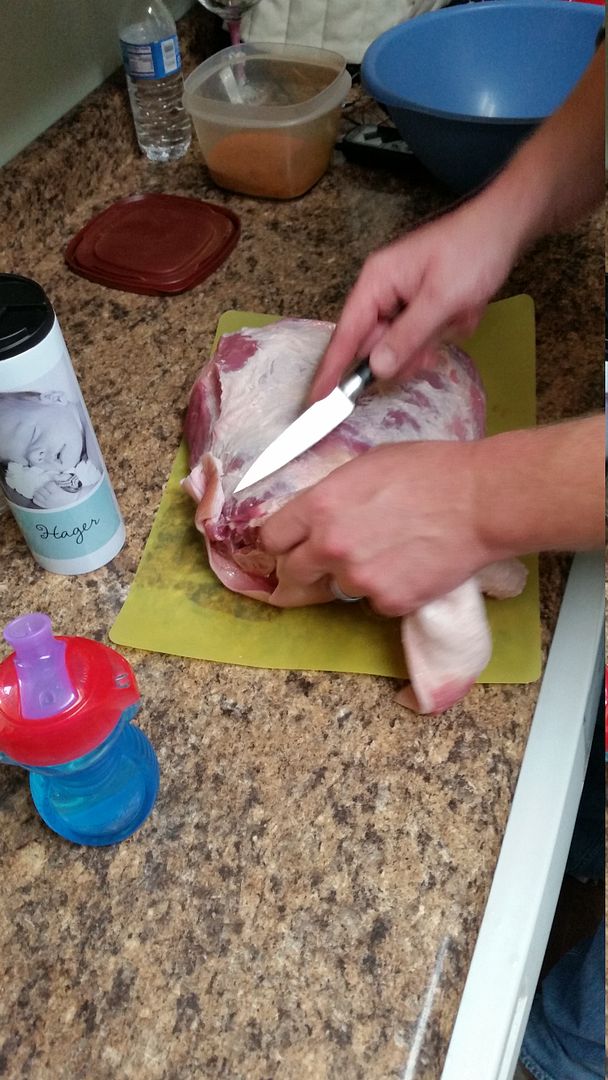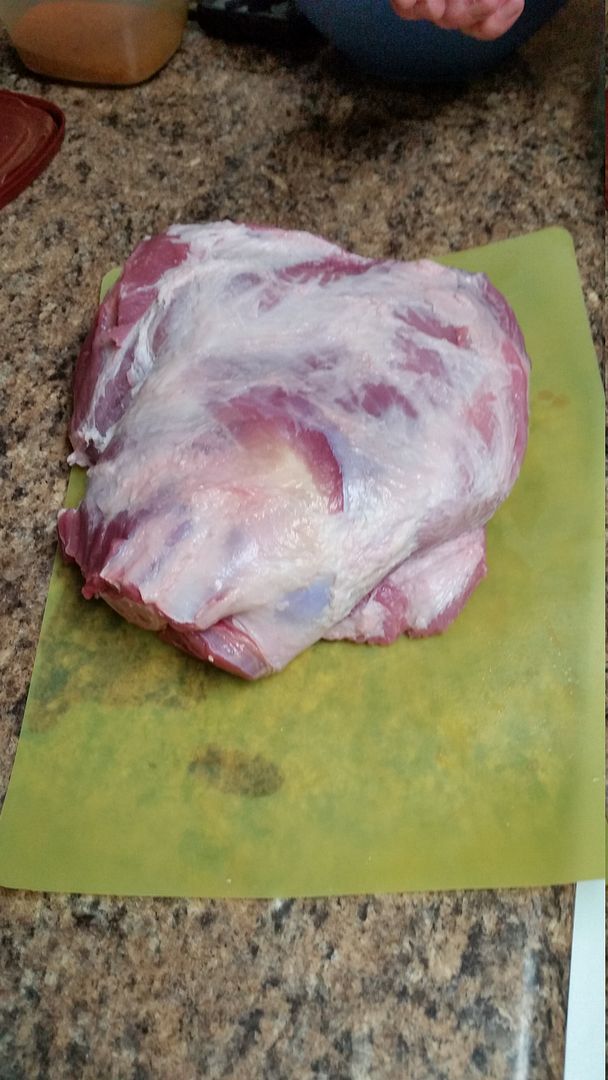 The 'inside' was much cleaner.
Next up, I covered it in the rub. Generously.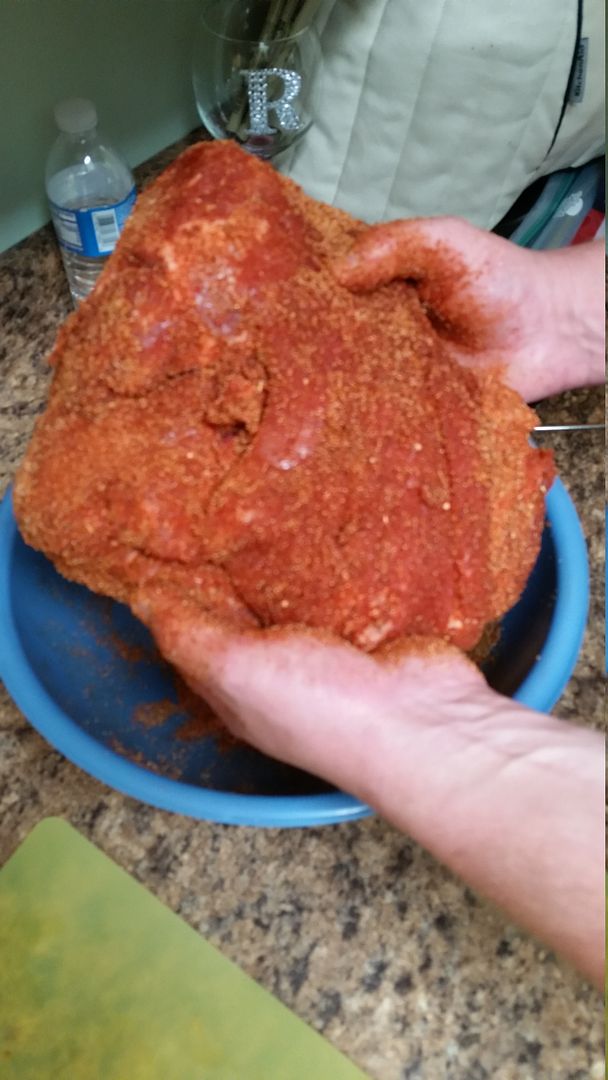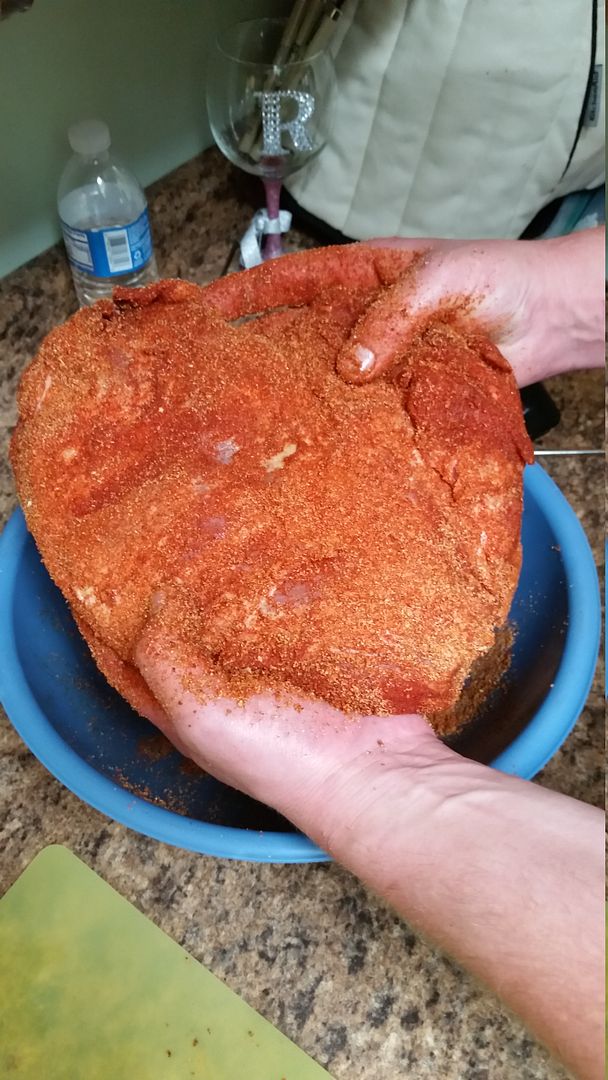 At this point, it was ready to go on the smoker, which I set at 225°F. The rule of thumb is 1.5 hours per pound. At 8 pounds, we were looking at 12 hours, give or take. My goal was to pull this at around 190° internal temperature as typically that's when the meat starts falling off the bone. A little more never hurts either. Once off, I like to wrap it in a towel and throw it in a cooler for a couple hours. Unfortunately, I was a little rushed. While I did bring it to 190°, the bone wasn't wiggling meaning it could have stayed on a little longer. Since it was already late into the night, I pulled it anyway and let it rest in the cooler for only an hour before letting it sleep away the night in the fridge.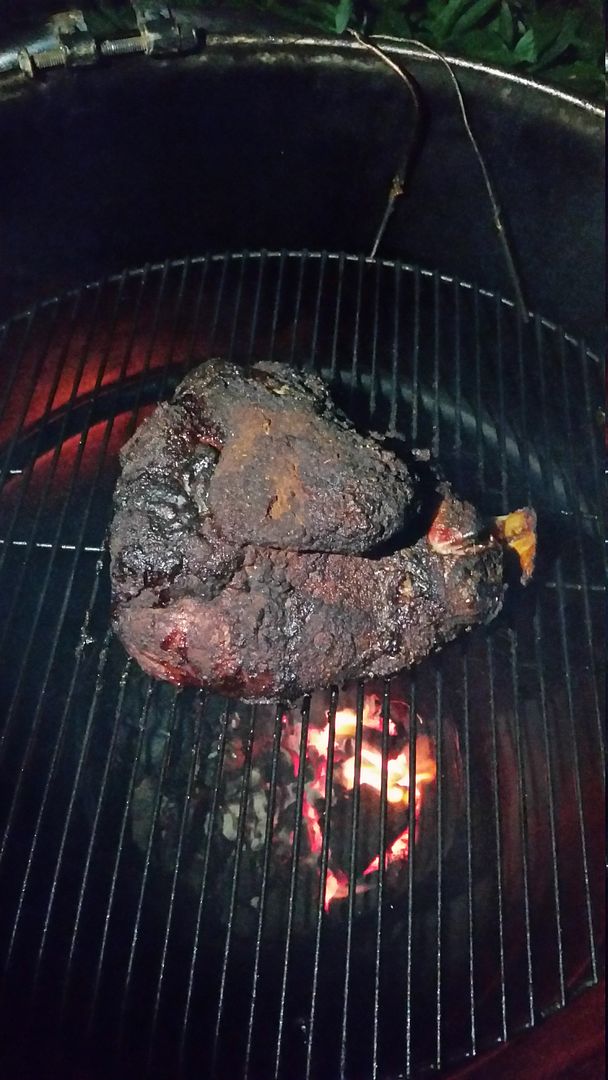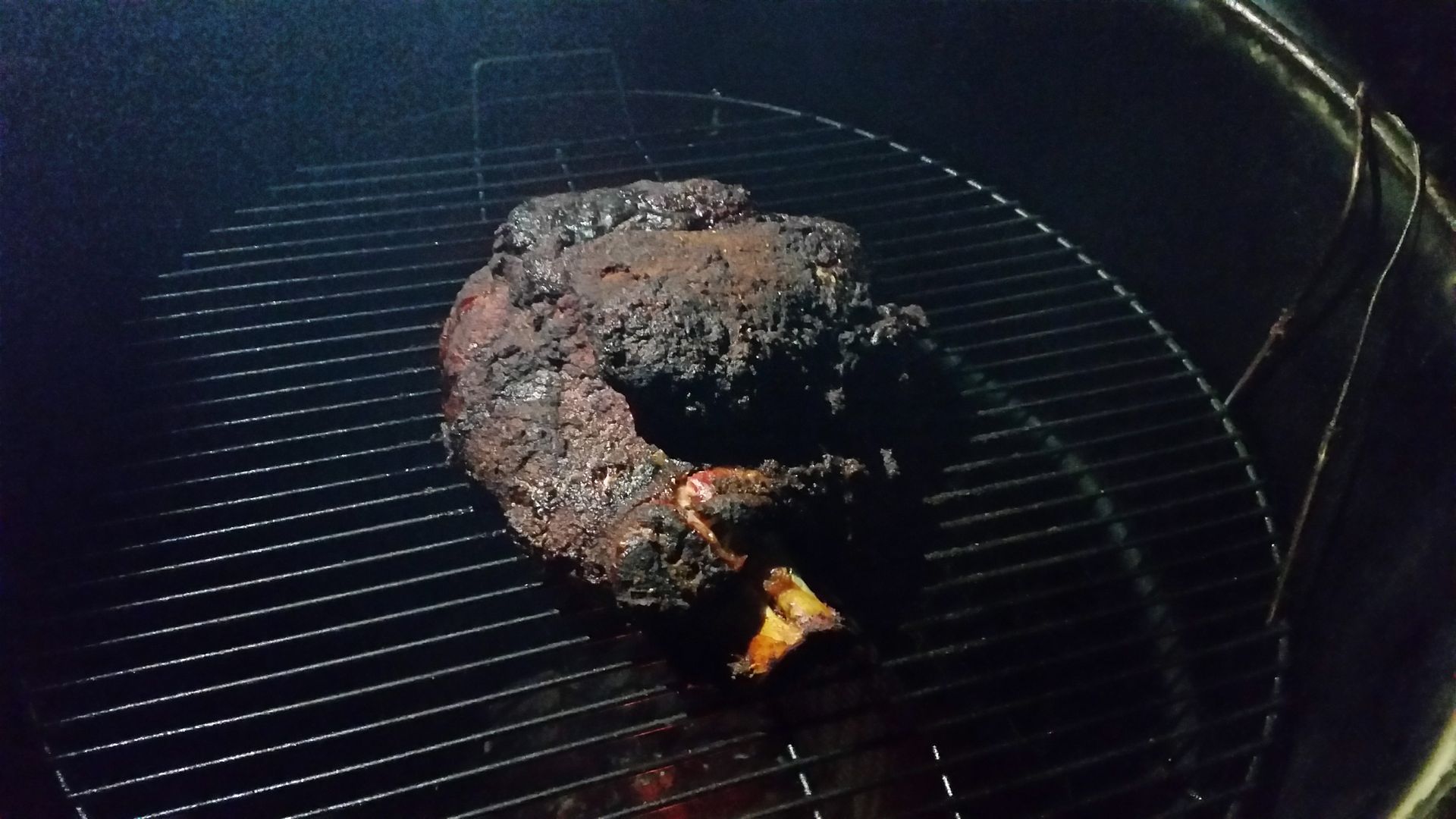 I waited until the next day to pull it so to add a tiny bit of extra cook time, I heated it back up in the oven for a little while. This seemed to help.
Pulled: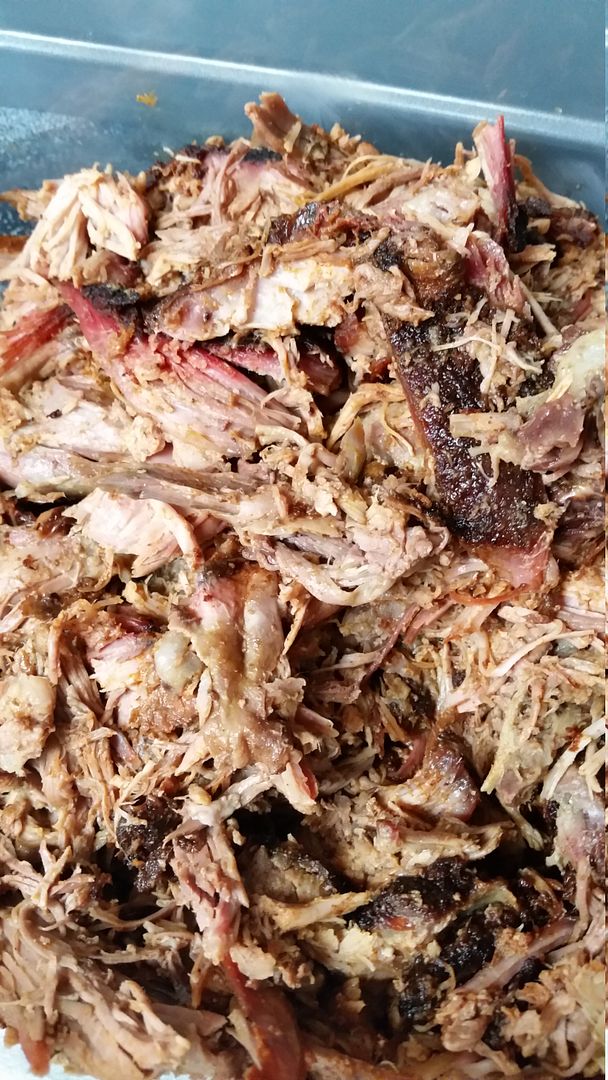 Sandwich:
Overall, it was very good but I'll admit, it was absolutely not my best pulled pork. My problem was I started cooking it at 11am instead of 11pm like I prefer for a long smoke. Lesson learned.
Rating - 8/10 as I know how great this can be!