Registered User
Join Date: Aug 2008
Location: Phelan
Posts: 7,496
BBQ Waffle Pie
---
On the grill or in the oven. I use the grill for breakfast and dinner most of the time.
I came up with this waffle pie idea by accident. I was trying to make some breakfast cakes that I could cook the night before and throw in bag so I wouldn't need to stop for breakfast on the way out to go wheeling. I got the idea for the breakfast cakes from the movie True Grit, you know the corn dodgers that Chin Lee made for John Wayne.
Well they didn't turn out very good so I took the left over ingredients I had and put it in a pie tin and baked it. This turned out pretty good. You can make all types of changes to it.
How I make it,
1, Mix up some Betty Crocker waffle mix, follow the directions on the back of the box but add a little sugar and a couple of teaspoons of vegetable oil. Pour into a pie tin until it's about half full.
2, A single pack of Microwaveable Jimmy dean sausage links. Slice the links long ways in half and lay them all around the pan leaving a link gap between each one. Whatever left from the pack just stuff in the center.
3, I use mild Cheddar cheese but you can try whatever you like. Cut in strips about the same size as the halved sausage links and place them all around the pie tin between each sausage link.
4, Beat up some eggs and pour onto the top, how many eggs will depend on the size of your pie tin. Leave a little space for it to rise while cooking. I also chop up some white onion and mix into my eggs.
5, Maple syrup, use as much as you like. Most of the time I'll just take the bottle and swirl some right on top of the eggs. It sinks right in. Either that or add the syrup after you've cooked it.
You want to get your grill to at least 350 degrees. My grill has a gas side and a charcoal side. I use the gas side and monitor the temp gage. If it starts to get to hot I just lift the lid a little and let some heat escape. When it looks done just stick it with a tooth pick, knife, or whatever and if it comes out clean it's probably done.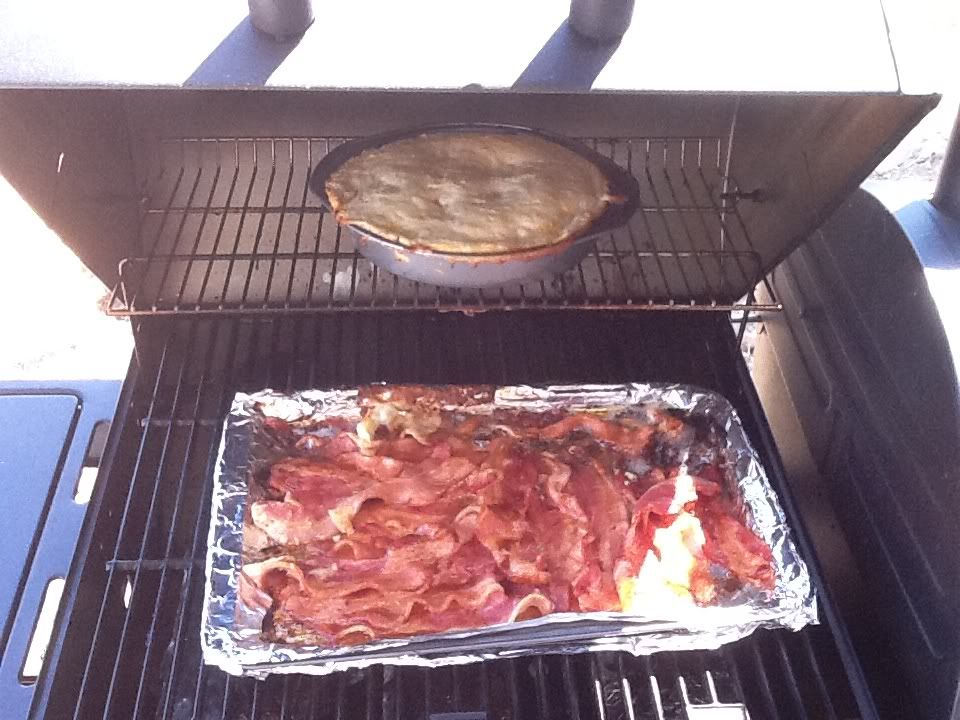 A little graded cheese on top.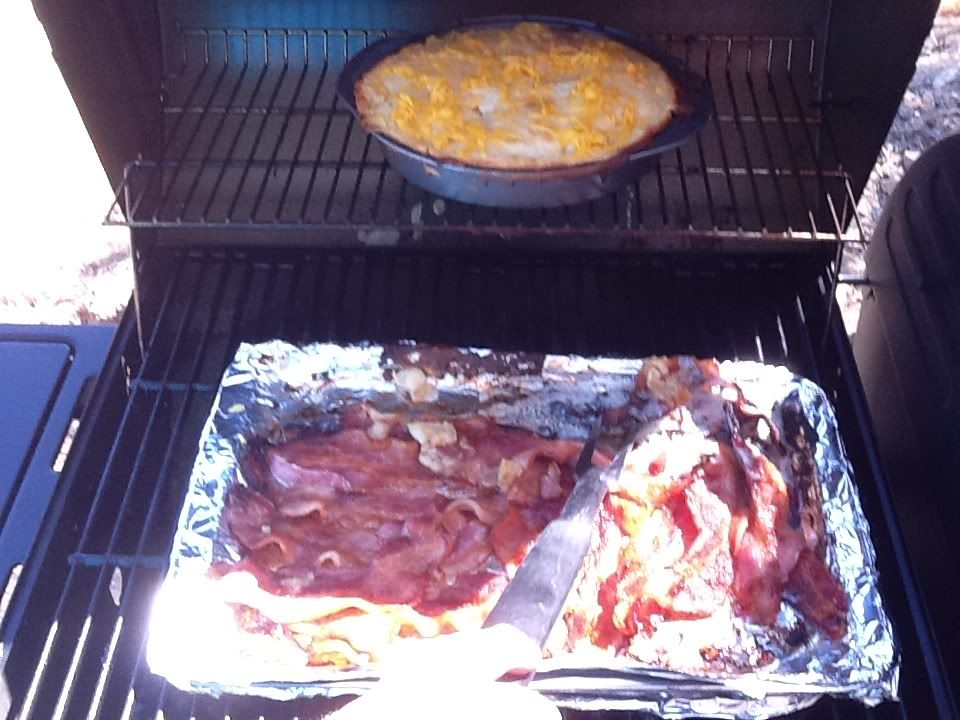 Syrup on top instead of on the inside.
Registered User
Join Date: Jul 2011
Location: Cohoes
Posts: 306
WOW! all i can say....
---
F.T.P.
Web Wheeler
Join Date: Feb 2008
Location: north Ga.
Posts: 14,216
I would love to try that but that one meal would be more calories and fat than I eat in a day. Sure looks good though.
---
'95 XJ country edition, 4" coils/3/4" spacers, HD leafs with extra main added in, Ironman adjustable control arms, rough country shackles, aussie locker, JK rubicon shocks, 35" mudder's, soft 8's, cobra cb
Sold'99 WJ limited, 4.7L, 3" IRO lift. Bilstein shocks, JK rubicon wheels, 255/70/17's, carolina driveshaft, IRO adjustable control arms, IRO adjustable A-arm
Sold '00 TJ, 4" lift, rusty's adjustable control arms, skyjacker shocks, rock krawler adj. trac-bar,rugged ridge SYE and RE driveshaft, soft 8's, 35" mud king xt's,XJ HP D30 w/aussie locker, 4:88 yukon gears, hella 500's, rock crusher diff covers
4. 04 Dodge ram 1500 quadcab, yes, it has a hemi.
5. '08 BMW X3, Mods in progress.
Yeah you wouldn't want to eat this everyday.
Registered User
Join Date: Sep 2011
Location: Layton
Posts: 112
This sounds SO good! I am going to try it this weekend
Been over a year since I've had this. Been drooling thinking about it for a week now.
Gonna have to find time this weekend.
Working on the jeep today getting ready for a run tomorrow so I talked my mom into making one. She lives just across the road so I dropped all the ingredients off. Sure smells good.
Sent from my iPad using JeepForum
Currently Active Users Viewing This Thread: 1

(0 members and 1 guests)
Posting Rules

You may post new threads

You may post replies

You may not post attachments

You may not edit your posts

---

HTML code is Off

---