Saturday, March 30th. Trails open early on Friday the 29th. Address for the Eldorado Outpost is 4021 N Carolina 109, Troy, NC 27371.
Clubs, Dealers, Parts Manufacturers, Swap Meet, UORTC 4x4 Games, Helicopter rides, Off-Road Test Track, ect.
Fly-over from the Fall Jamboree. I'm partial because you can see my rig on it.
VVV Click icon for more information. VVV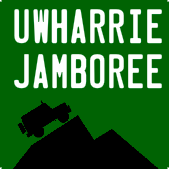 So, who's going? I'll be there with 3 rigs and some ATV's if it all works out.