Registered User
Join Date: Jun 2005
Location: Berea, KY
Posts: 123
Breast Cancer Benefit for Anita Wetter 9/10/11 - London, KY
---
All,
I would like to share some valuable information for all of Mothers, Sisters, Aunts, Grandmas, Wives, etc., that we love and spend our lives with. One of our club members was recently married and a few months after he married his new bride they found out that she has a extremely rare form of breast cancer called Inflammatory Breast Cancer. Currently there are only a handful of women in the state of Kentucky that are alive and fighting the disease. This cancer has very few symptoms and is not easily detectable via normal breast cancer screenings.
YouTube Video:
Our club member Reed (F9K9) and his wife, Anita Coyle Wetter, are covered by government retirement health care as he is retired USFS and now works as a special deputy US Marshal in a federal courthouse and their policy doesn't cover treatment at either of the two facilities in the USA that treat this type of breast cancer. Anita unfortunately found out she had this cancer too late and she is Stage 4 which is terminal. However, she is very optimistic and hopes to be with us for years as opposed to the months that her current doctor has stated.
Anyways, we will be doing a Show-N-Shine Car Show type of thing in London, KY on 9/10/11 with Jeeps, Buggies, Cars, Trucks, Motorcycles, RZRs, etc., in an effort to raise money to help her travel to Huston, Texas for treatment. There will be food, music, raffles, etc., and it may be fun to bring the kids out or show a vehicle or motorcycle if you should happen to have one. We are basically hoping people will spare a couple of dollars and make a donation.
We are in need of raffle items as well as general monetary donations so anything is welcome and greatly appreciated.
I have attached a flyer to this email and I hope that everyone can come. For the ones that can't come but would like to make a donation, you can either give it to me or make one by PayPal at the following address
anitasbattle@windstream.net
.
Anita is in the process of setting up a website,
www.anitasbattle.com
with more information. Other information can be found on our club's forum thread
http://www.kentuckykrawlers.org/forum/viewtopic.php?f=13&t=6563&p=46678#p46678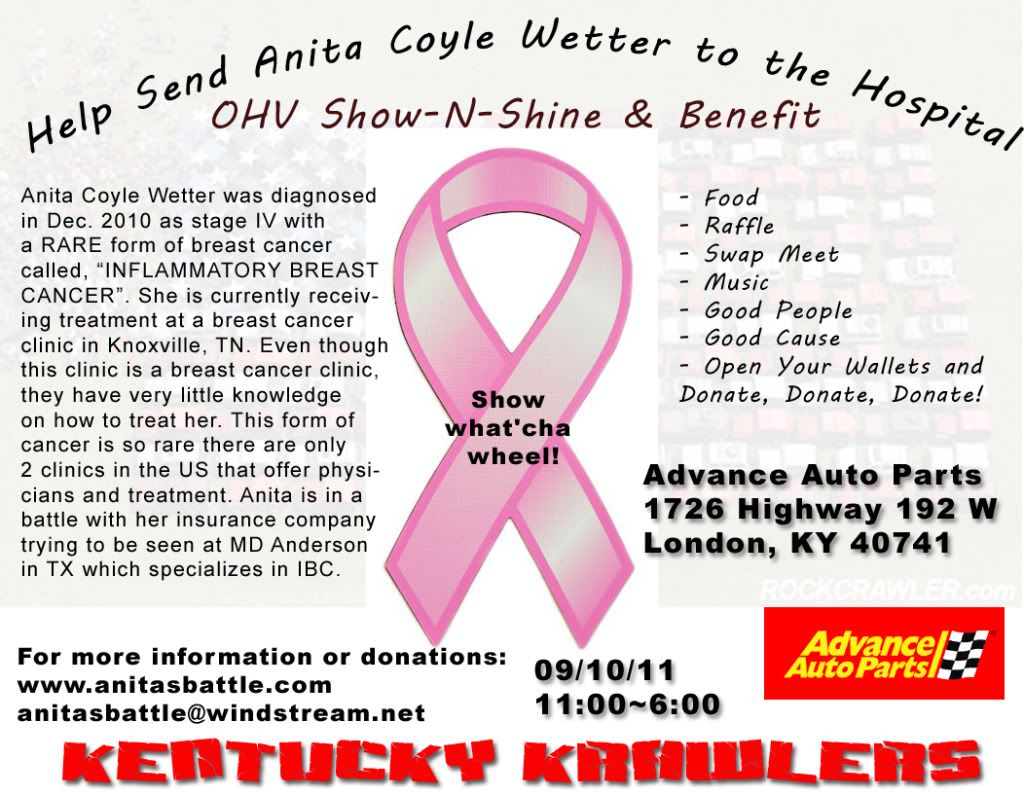 Special thanks to Kelly Young (TJMAGOO) from team 311 for donating some items to raffle off from her Crawl to Cure organization.
http://www.crawltocurecancer.com
Also, she was kind enough to get 4WD.com to donate a few items as well.
However, the best thing of all is that she threw in a Crawl to Cure beanie to help keep Anita's head warm this fall.
Registered User
Join Date: Jun 2007
Location: Danville, Kentucky
Posts: 56
A special thanks goes out to Gerald Lee of Savvy for his support all the way from the left coast!

Just as cancer is no respector of persons, Jeepin' is a fraternity that knows no limit.
---
Quote:
Originally Posted by osburn
My neighbor asked me when I first got it what I planned to do to it. I replied nothing, it's a Jeep, it doesn't need anything.

Obviously I didn't know where this was all headed.

Currently Active Users Viewing This Thread: 1

(0 members and 1 guests)
Posting Rules

You may post new threads

You may post replies

You may not post attachments

You may not edit your posts

---

HTML code is Off

---