Registered User
Join Date: Sep 2008
Location: Mooresville
Posts: 1,408
Shoe creek run 2/7/09
---
Well I was up in lynchburg because my brother was getting married so I decided I'd try and find shoe creek so it was originally going to be me and my g/f, but I leaked it out to my brother and he just had to tag along.
So we left amherst about 9am heading down 26 north we turned down a couple of country roads and came across this one
We decided that's a bad route...So we kept going and we got onto 56 and went looping around a couple of mountians and then we turned around, which I later found out we were about 100 yards shy of the trailhead so we whipped her around again and there it was route 826, and we saw the 4 wheel drive only sign which as far as I'm concerned a 2wd vehicle could make it through the gravel road to the parking lot easy. We found 3 guys camping out in the snow to the side, and they waved us down for a jump so we stopped for about 15 minutes gave them a jump and chatted, apparently they were about to hike it to the rangers office if noone came so lucky them! anyways we got to the actual trail and barely made it up the first snow covered hill in 4hi and 20 psi disconnected, and a jk wrangler decided to follow us from the parking lot which was really kickass, we kept rolling through the trail and a comanche pulled out ahead of us and I decided to follow him. after a while we stopped because the comanche and I were running hot.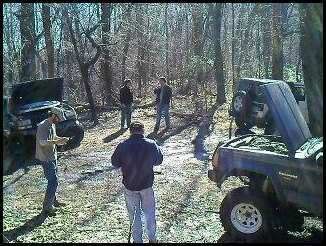 The comanche is to the right the jk is further right and I'm straight ahead in my zj then we decided to head back down because we had to get to a family function, but the owner of the jk suggested we take a loop trial first because its really fun. He was right it was fun.
That trail just looped around and got back on the main one and we hit the main trail and headed back taking pictures along the way.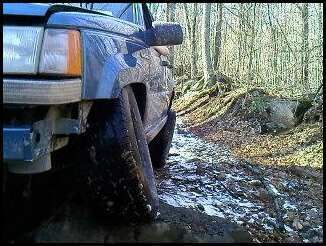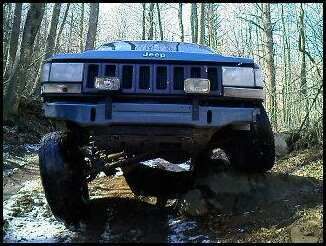 My brother decided it would be fun to try an obstacle and got hit with muddy slush it was hilarious. The snow that was there on the way up melted into slush when we came back so sucks for him haha.
This is just a picture of the snow that was up there, you can see it already melted and turned to slush on the trail.
So that's my shoe creek adventure next time I'm going up for a few days and camping and probably hitting big levels too.
---
-1993 Grand Cherokee Laredo V8 5.2, Mopar CAI, Borla headers, Borla Y-pipe, Turn down exhaust, 4" RC SA, 33x12.50r15 BfGoodrich Km2, Crown extended brake lines, IRO Double Shear Track bar, IRO HD tie rod, Home made Quick discos, E-fan, Heavy duty harness/9007 bulb conversion, HP30 WJ knuckles lockrite solid cover.

BUILD THREAD:
To view links or images in signatures your post count must be 10 or greater. You currently have 0 posts.

Currently Active Users Viewing This Thread: 1

(0 members and 1 guests)
Posting Rules

You may post new threads

You may post replies

You may not post attachments

You may not edit your posts

---

HTML code is Off

---