These first two pictures (one from each side) are the spot where I had to winch. Mud pit with a rock ledge to climb as you make the left turn exiting the pit into a pretty rutted up part of the trail. If I had been on 33 MTs (instead of 31 ATs) I think I would have made it. For most of the more built up jeeps (yourself included) you moved right through. Guides made a couple other jeeps on small tires who did not have winches bypass.
This next picture is in the same stretch of trail where your picture was taken that I'm in the background. In fact this picture is down by where I am standing in your picture.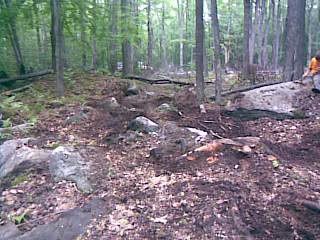 This last picture was just a section of trail with some rocks with a drop down into a bit of a water/mud hole.
Again, not particularly great pictures but I guess better than none.