"Jeeps Gone Wild" Oct 18th "The Haunted Trail"
---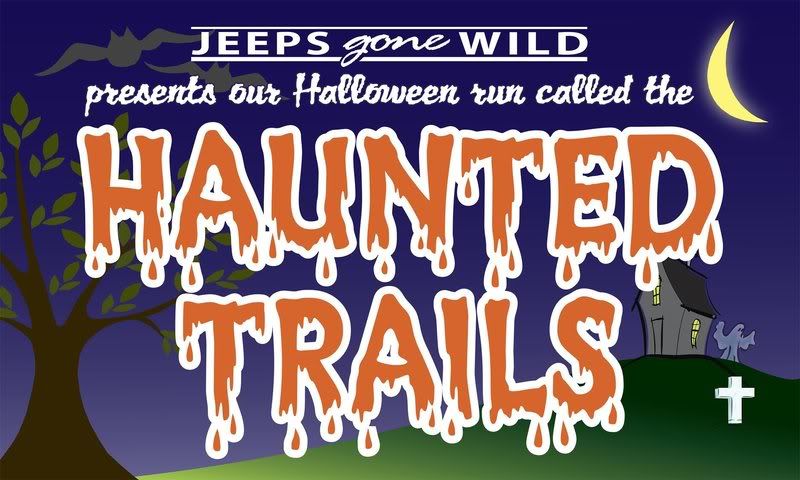 Taking place at the Badlands in Attica, Indiana
In the morning on the 18th of Sat everyone will meet at the top parking lot by the office around 10:00 to 11:00am & get their jeeps/rigs ready for our runs. Please, Have your jeeps/rigs ready to roll by the time of your departure when you are with your group. If you are not ready you can always go with the other groups.
At the lower parking lot we'll have 3 line ups for the trails. These line ups will be group A, B and C . We'll try to have equal amounts of jeeps/rigs per group. Once we have our groups lined up...Group A will depart at 11:30am and start their trail run. Once group A has departed group B will soon depart at 12:00pm. Soon after, group C will depart at 12:30pm. Doing this will leave a gap between each group so, hopefully there won't be a huge line to go on the trails.
We'll be running "The Creek" and our "Haunted Trail" that we designed for Our Club and for the Badlands. Our group will run "The Creek" first then go stright into our "Haunted Trail"
*These 2 trails 100% stock jeep can run along with built jeeps and rigs*
*We'll have Trail Leaders in the front, middle and the back through out the runs and can & will help anyone who needs help with anything while on the trails. Our Trail Leaders will be wearing an Orange safety vest and our Trail Recovery will be wearing a Green safety vest*
Here's how we will arrange our groups
Group A: ADVANCED
Depart time: 11:30am
*Jeeps or Rigs with 2 years and over of offroading experience
*With 3" and over suspension lift
~Michael~ With the Yellow "Disney Jeep" will be the Leader
Group B: INTERMEDIATE
Depart time: 12:00pm
*Jeeps or Rigs with 1 to 2 years of offroading experience
*With 2" to 3" of suspension lift
~Zach~ With the Black & Orange XJ will be the Leader
Group C: BEGINNERS/FIRST TIME OFFROADERS
Depart time: 12:30pm
*Jeeps or Rigs with 1 year or less with little or no offroading experience
*100% stock or slight suspension lift
~Eddie~ With the White XJ will be the Leader
*Note*
Jeeps or Rigs that are Late Arrivals can join Group C
Our Line Ups will be at the Lower parking lot so please line up as soon a possible so,
We can depart at our proper times.
Also, Please have your jeeps all prepared for the trails before we depart.
Once both groups get done with the trails we'll end up at the "Rock Quarry". This is a place where everyone can pratice and play with their jeeps and rigs. By the time we are at the "Rock Quarry" the time should be around 1:30pm to 2:00pm. Everyone can stay around and play or can leave and get some lunch.
When we are done playing at the "Rock Quarry" we'll all head back to the upper parking lot because, there will be less ATVs up there. At 3:00pm we'll hand out an award for the Best Dress Halloween Costume, Pass Out Candy, have a Gift Give Away and we'll have our 50/50 also known as Split the Pot.
After we have done that, Everyone is welcome to explore and enjoy the park.
Our Club invites everyone to join in and enjoy our "Haunted Trail" for Halloween. We'll just be running 2 trails for this event and everyone is welcome to go on other trails as they wish. If you do not wish to stay for our costume contest, split the pot & raffles thats ok with us and you can enjoy the park. But, We do thank you for join in our trail run.
This will be a awesome time to have fun and enjoy Our "Haunted Trail" and get to meet our friendly Club Members and other jeepers.
So, Please join in and have a Blast with Our Club.
We'll assuse you that you will have an Awesome time.
Thank You,
Michael
Club President
If possible...Try to dress up in a costume or paint your face
and you are welcome to bring along some candy for everyone.
You don't have to dress up really nice because,
we'll be offroading and may or will get dirty.
This is just something fun to do by dressing up in a costume.
So, Let's enjoy the Halloween Spirit.
*Just remember when we hand out our candies...
Please
Do Not litter
and toss your candy wrappers on the park grounds or
on the trails. We must be respectful*
For all who is going to join us... We will be having a sign in sheet before we do our runs. I like to get everyones names so we'll have a head count for that day. Members or Non Members please "sign in" and we'll have Name Tags so, everyone will know who's who. We'll also be on Chan 12 on our CB's and 2 way handhelds.
Here's a few tips when we head out on the trails.
Think Safe at ALL Time!
*When in Doubt - Don't Do It!
*Don't be in a hurry-Take your time.
*Try not to follow so closely to the other jeep.
*Stay together with your group & please wait for eachother.
*Keep in look out for the front and rear driver.
*Call on the CB if you need help or you fall behind.
*If you don't have a CB, Beep your horn for help.
*If you need help, ask for a Spotter.
*Try to use a bi-pass if the terrain is difficult to pass though.
*When going up a Hill, wait for the jeep in front to make it up then wait for the jeep to tell you its "Clear" so you can go up the hill.
These are a few tips to help everyone out on the trails and for your future use.
If your jeep is a daily driver and will be driving your jeep to the Badlands.
Please, Try not to wheel very aggressively so, you won't break parts.
Just remember, We have to drive our jeeps back home and get home Safely.
Though, If you will be trailing your jeep or rig you can offroad aggressively
---
I'm Michael, Founder of: "Jeeps Gone Wild™"
www.JeepsGoneWild.org
<><
---
Last edited by IGotADisneyJeep; 10-16-2008 at

07:43 PM

.