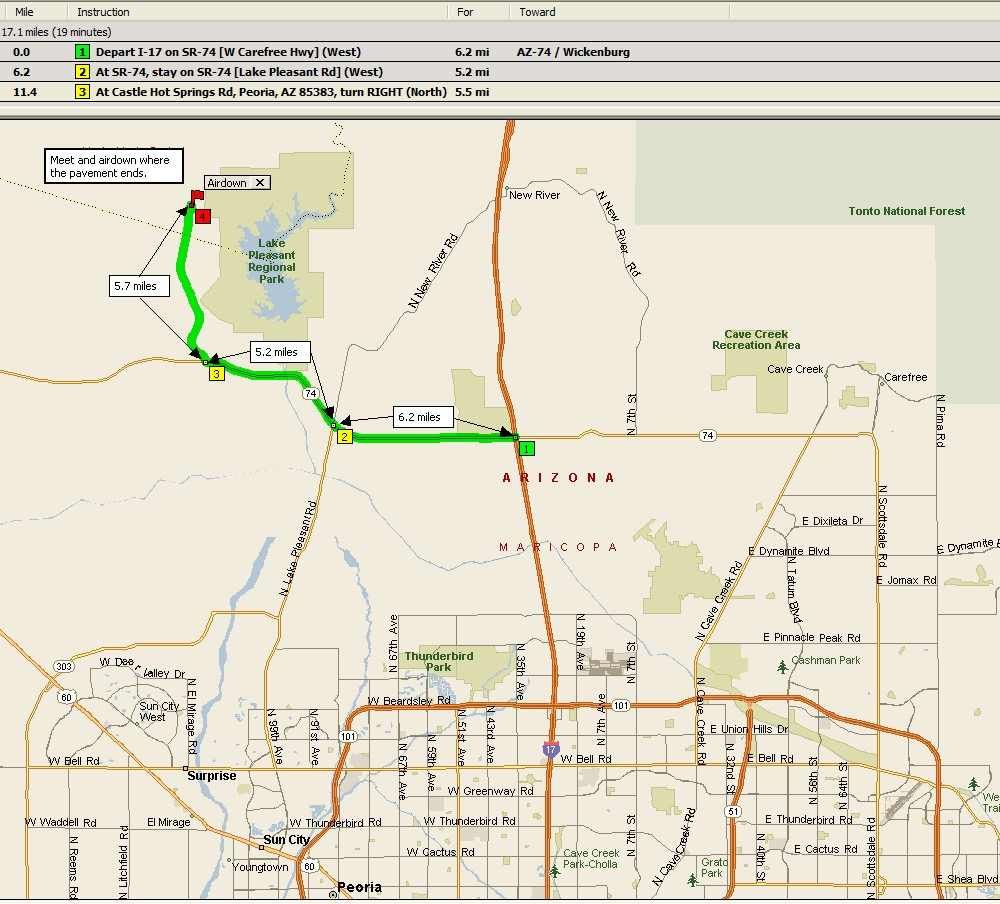 General information:
1) Air down spot is on Castle Hot Springs Road where the pavement ends:
2) Plan on showing up at the air down around 30 minutes prior to your run time. There will be a brief driver's meeting at 15 minutes till the hour and the groups will leave at the hour - sharp. The last gasoline is east of I-17 on the Carefree Hwy (Chevron).
3) If someone breaks they will not be left alone. We will however keep the group moving, this will avoid backup for the groups behind us and ensure everybody has a good time.
4) CB channel will be 4. GMRS radio channel will be 4. 0 If you have a radio bring it.
5) Make sure you are prepared. This is a relatively easy trail, but things can and will happen. This can turn into a very long day or night for that matter. Make sure you have plenty of water for you, your passenger(s) and your rig. Ensure you have some food as well; we will stop for a quick lunch. Also make sure you have appropriate tools, spares, first aid kit, fire extinguisher, sun block, a spare key for your rig (don't ask), a hat, vital fluids for your rig, and check your spare tire (same size as other tires, holds air, etc-you would be surprised).
6) Bring a camera!
7) Reminder that some groups are non-alcohol, family oriented group and newb's are welcome.
General trail guidelines:
If it looks like everyone is going to stop for any reason such as obstacles, breaks or rig issues: Remember to pull to one side of trail and leave room between the jeeps for quick maneuvering.
When on a hill, if you feel like your rig is getting sideways, stop, stand on the brakes, we will talk you out of the situation.
When we hit the steep incline, watch the trail, if you want to take pictures then say so and we will stop. It is very important to stay to one side of this incline if we should stop, and again, leave room between jeeps.
When you are on any part of the trail, watch for dirt bikes/ATV's, they are quick and have every right to enjoy the trail as we do. When they see others on trail they usually slow down till they get past.
All of the obstacles have bypasses, we will stop at each one so you can determine to run them or bypass.