This is pretty big for a PM, so I will just post it here. I will just PM both of you the address and tell you to take a peek at this thread. I will edit it if I think of anything else you should bring.
K-Saturday it is. I will be at the shop at 8:30 AM and ready to go. I looks like I will need to roll at 3:30 or 4:00 as we are meeting up with some friends.
You might want to read my thread on the iceland install to see how I cut my fenders and seamed them together:
http://www.jeepforum.com/forum/f310/...ll-wj-1072703/
There are two ways to do this,:
1-cut and separate the inner and outer panels, cut out the inner panel, fold the outer panel over piece by piece and weld the tabs down, then silicone the whole thing
2-Cut both the inner and outer panels out of the way, fill with body panel adhesive, and your done.
I like method 2 because the line is cleaner, you don't have to fold the tabs over by hand and weld them all down. If you don't want to do paint work, this method is also better.
You will see both methods in the thread I posted above.
My bro has some of his tools there (misc stuff, mig welder, die grinder, etc).
Here are some things you might want to bring:
Tape to lay down your cut lines
Eye protection
Spray paint or undercarriage coating to cover bare metal
Black Silicone (I will have a gun on Sat. I buy this stuff from home depot for just a few bucks)
Body Panel adhesive (I highly suggest this method. It gives a cleaner look IMO) The bad thing is that it is EXPENSIVE, like $40-$50 per tube. If you are careful, you could get away with using one tube for both sides. You would also need a dual applicator gun as I don't have one. Or you can do what I did: I mixed it in a plastic cup with a plastic knife, applied it with the knife, and smeared it with rubber gloves. It dries VERY fast, so it would take two people working on it at once to make sure that you get the job done before it hardens. 3M, SEM, and others make this product.
I will have a die grinder, a jig saw with metal blades, and an air saw. I am out of air saw blades though. If you want to cut with this thing, just bring some blades with you (harbor freight)
I wish I had metal shears...If you have one, bring it:
When you cut the rear fenders, it will expose a section and create hole that is about 1 inch wide and 4-5 inches long. Bring a small peice of sheet metal (I will see if I have anything) to silicone in place.
Door edge molding: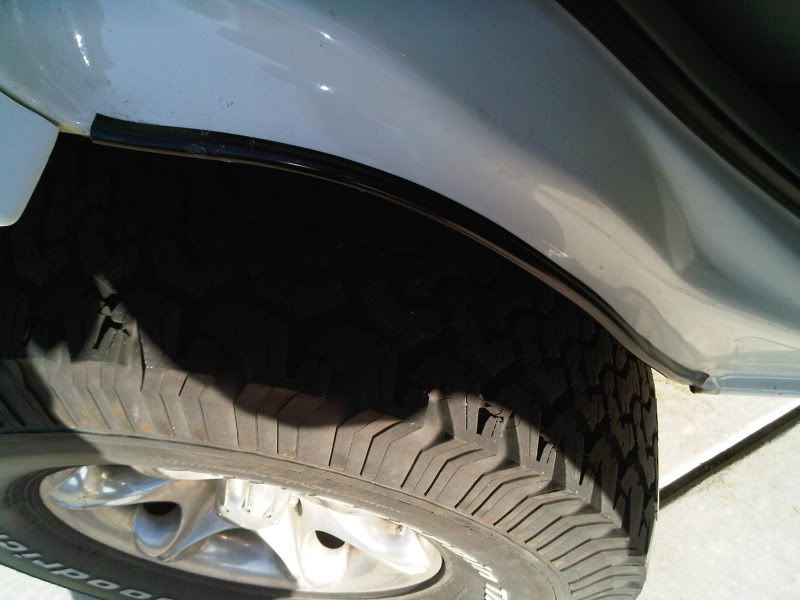 You will want enough to at least cover curved section seen in that pic. Since neither of you are running flares, You may just want to continue this all the way across the fender. It hides the cut edge imperfections. If you want to fold and weld the outer panel though, you won't be able to run this seal. It only works when the panels are separated and you can slip it over the outer edge.
Lastly, I would find some time this week to remove your rear interior panels. It will take about 30 minutes per side to remove them. You will want access to the interior if you are using body panel adhesive, and you will want access to the interior to put out any fires if you are using the welding method. It might be a good idea to remove them beforehand.
If I think of anything else, I will let you guys know. Cutting is the easy part, seaming it back together for strength is the time consuming part. Let me know what method you are thinking of using: 1-cut/fold/weld or 2-cut and glue.