Quote:
Originally Posted by
Cliff333
Its a good thing he had that gas tank rack! Otherwise he might have gone over backward or stood up on end LOL Good old Mike... its to bad he isn't coming this year, he is a cool guy. He was all excited about working on his yota too, getting it better suited for another Moab trip. How come he decided not to come Jevon?
Yeah without that spare tire and gas tank rack I think he would have at least went up on end... it was more hairy than the video makes it seem. There was another time he had some trouble on Fins & Things - I think it was on Kenny's Climb? One of the steep hills he had to give it the onion on - he flew up that hill bouncing and tires squealing. If I remember right people were diving out of his way as he came up.
He is a realtor and money is a little tighter these days... he owns two planes which I think use up all his extra coin. You will like my friend Steve running three days with us this year. He is about 6'-5", retired Air Force and a real character. He is renting a RUBI but I bet he will give us all something to talk and laugh about. When he is not renting a rig, he may ride along with me or someone too.
On another note, how is the project coming along Redarcher89? I can't believe you are going to tackle all of that work this close to the trip! Im starting to get anxious about having enough time to do what I have to do before the trip and all I have to do is some maintenance items, cleaning and painting some scratches & scrapes on my suspension arms and axles.
By the way here is the same hill on Fins & Things that my friend Mike had trouble on... Turn up your sound.
Here is Kurt going up (Kurt took the photo at the top of this page and will be running with the group a couple days this year too. I think he was the first one to go up? Anyway my wife was taking the video and was getting nervous - listen to her its so funny!!!)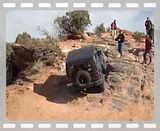 Here is Dax - our trail leader. (As you will see Dax loves to drive with his head out the window lol - you will notice he always has bugs in his teeth... this is why LOL!)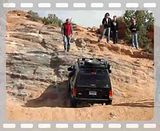 And here is yours truly...
The funny thing about this video of me is if you listen you can hear Mike (they guy in the Toyota saying "should I try it?" LMAO)