Registered User
Join Date: May 2012
Location: Salt Lake City
Posts: 385
Visiting Vegas
---
Gonna be visiting sometime this year and staying at Valley of fire, I'd like to run a trail or 2 . What do you recommend ????
Something similar to Hell's Revenge, Fins and thing's (Moab).
Not scenic easy but so I can put it in 4-low ,get flexy and bark some tires.
Station Wagoneer
Join Date: May 2006
Location: Reno, NV
Posts: 11,241
---
-Andrew
Illegitimi Non Carborundum
Station Wagoneer
Join Date: May 2006
Location: Reno, NV
Posts: 11,241
whoops. me and my private links.
---
-Andrew
Illegitimi Non Carborundum
Well if theres one trail that everybody must run. What would it be ? (for mildly modded rigs) . 31-33's, rear lockers, winch.
I'll only have one day there.
My research hasnt pulled up much just trail names and maps .
---
.
Potato Ridge / Rocky Gap is a popular one because it isn't too far out of town and offers multiple lines from relatively stock friendly to an obstacle that is better for the heavily modified. Lots of neat trails out in Logandale NV as well

Not sure on the best Logandale trail though, I like Rock Bottom a lot and Bronco Falls is a lot of fun. I would consider posting up on VV4W or WarMachines702 for trail specifics from people more familiar with different trails out there
Thank you. That's just what I was looking for.
I guess maybe not. Those trails aren't in the logandale area right.???
I had some maps sent to me but still no info about trail ratings. Researched like crazy. Why the big secret.???????
Id like to know exactly what I'm getting into before we go.
Registered User
Join Date: Jan 2005
Location: Las Vegas
Posts: 6,070
Rock Bottom and Bronco falls are in Logandale but I'm not sure if maps exist that show them. It's sort of a you know where they're at or are shown them. Our trails out here in the area aren't really mapped and don't really have official names like other areas of the country. Some may have trail numbers but that's usually the most if even... Most are just "known" trails that someone has named and the name stuck via word of mouth.
Bonez for instance mentions Potato Ridge/Rocky Gap up above. That trail is in the Red Rock area west of Vegas between Vegas and Pahrump. But that is one trail that is often referred to by both of those names depending who you're talking to.
There's also the trail down by Nelson that I've heard called Copper Cache Canyon, I've also heard tons simply say, let's go run Nelson. Samething... Is there a map? Is there an official name? I don't think so... It's not that they're secretive, it's more that the maps just don't exist and the names aren't official really for the most part so it's a word of mouth and people showing you were to go. There's also tie rod canyon for instance. No clue if a map exists for that one either. I honestly doubt it...
If you're staying at Valley of Fire though, your best bet absolutely is the trails at Logandale. You'll be right there basically already. Other best bet is when you know you'll be around post up here and maybe over at the warmachines702 forum explaining you're passing thru town, some details like you've posted of your jeep and ask if anyone wants to tag along and play trail guide. I'd be willing to bet you'll pick up an offer to show you around over at the warmachines forum. A lot of those guys know Logandale really well!
I'm not a jeep guy anymore but still lurk... This is an example of Logandale trails...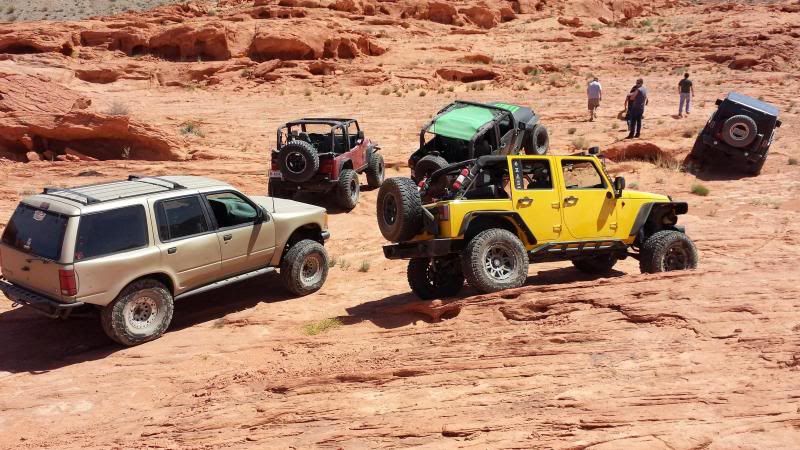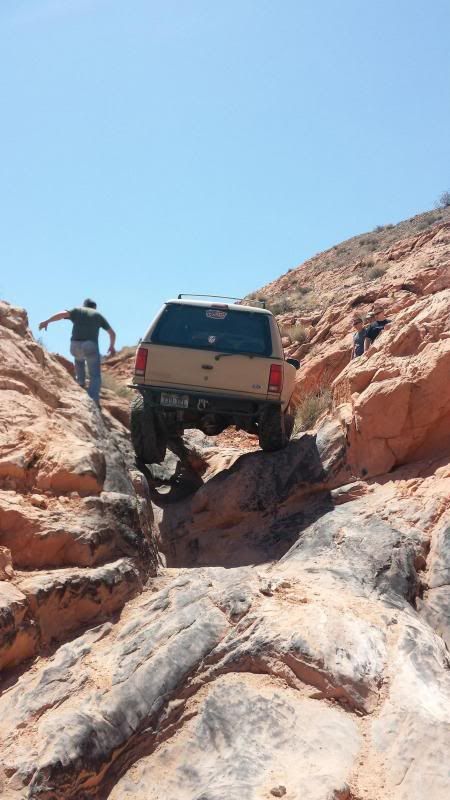 ---
Khris

http://www.facebook.com/pages/TPF-Racing/255393361194429
Registered User
Join Date: Feb 2012
Location: Las Vegas
Posts: 923
Pretty much exactly what you'll be getting in to.
---
2004 Roobicon
Clinging to my guns and my religion
Ahh. I see. Thanks for explaining that to me.
I guess im too used to moab.
The bummer is my rear locker just died and took out the ring and pinion also so the trip may be cancelled or I'll have to run open diffs.
The trip may be still on but I'll have to run open diffs for now. I'll have another full locked jeep with us incase we need to winch.
Looking at the map. The logandale trail loop looks it runs right by rock bottom and bronco falls. How long does it take to do the loop.?
Does it have any rocky sections or is it all sandy.?
Was thinking of Donna's trail if our time runs short. Or magnesite wash, Weber wash, Blake's trail.
Not sure if any of those are strictly atv or not.
Currently Active Users Viewing This Thread: 1

(0 members and 1 guests)
Posting Rules

You may post new threads

You may post replies

You may not post attachments

You may not edit your posts

---

HTML code is Off

---