BTW, IN GENERAL... JUST CAUSE I MIGHT NOT REPLY DIRECTLY TO YOUR IDEA POST DOESN'T MEAN i DIDN'T WRITE THEM DOWN ON THE LIST. Funny part is the group is going to be like WTF??? We all came with like 3 ideas, you've got 3 pages! HAHAH
Quote:
Originally Posted by
B0nez

SirHK100: I 100% agree with the ideas for storage solutions. I would also love to see some quality reasonably priced fire extinguisher mounts that work with different diameter roll cages. Another big one for me would be a good hook that lets me hang my CB mike from the straps on the ceiling (I don't like drilling holes to mount stuff if I don't have to) without popping out of the hook or the hook snapping; the truck stops only have cheap plastic ones that hold on to the mike great, but the hook snaps. The metal ones don't snap, but the mike pops out of the place where the hook holds it. Something that would beat all of that though would be some rails that I can bolt down to the floor on both sides of the "bed" in my rig to have a way to strap down my tools, victims, etc. the rails should have adjustable points to tie stuff down to.. I have seen something similar in truck beds, but nothing designed for jeeps. My trip to the Rubicon with camping gear, tools, and liquid oxygen was an adventure without decent tie down points. The rails would be awesome!
Already make a billet fire extinguisher mount and have jeep rollbar specific mounts. A few people know my employer or possibly have figured it out since I've been on here chatting with me. I'm not wanting to advertise and spam the board. PM me if you want to see our fire extinguisher mounts. They're priced on par with some others out there but IMO ours are much nicer quality and looking.
Like the CB Mic Idea, added it to the list...
Mounting ideas... Worked on two different ones just a month or two ago. I completely over did them and they ended up being priced out of reality in my opinion.
By the time this hit the quadratec book it probably would've been in the $30 each realm... Just didn't seem realistic although I would've loved a couple! Planned on them bolting to the floor or wheel well tubs or any flat surface really...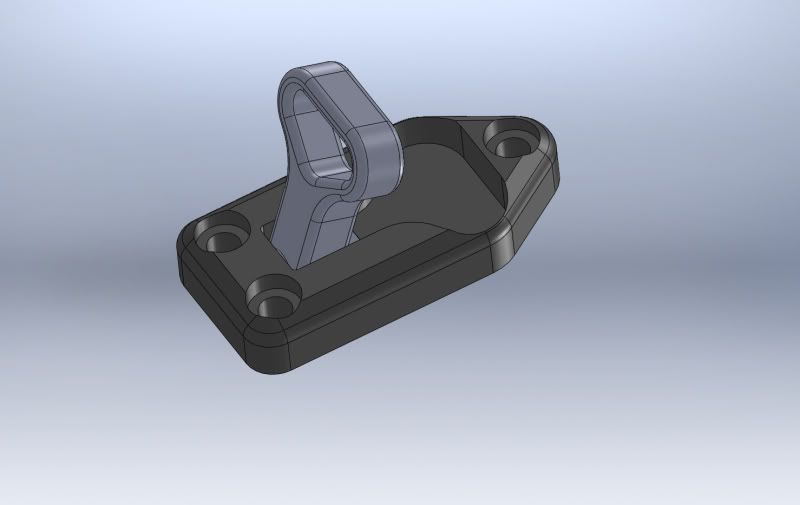 These were meant to specifically clamp to jeep roll bars and with the dove tail, the hook could slide onto the clamps either way. Again, just was priced too high for reality though.