My truck is sketchy as can be in the rain and it should be downright out of control in snow! It's got a spool in the rear so while traction is great, cornering is interesting to say the least.
I'm not even sure if I've posted a picture of my jeep but here's what I've been doing the transmission swap in and my crawler go anywhere slowly exploring vehicle.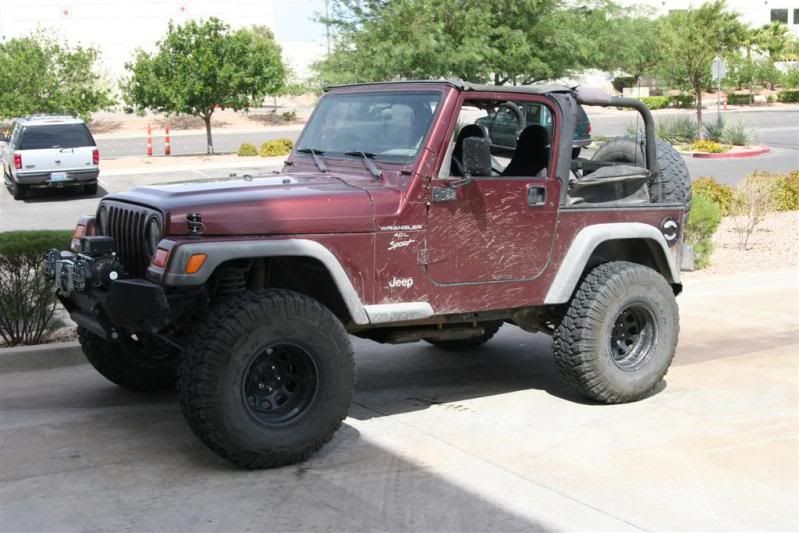 How about a totally off topic topic?
One of my biggest issues is when the zombie apocalypse hits, which vehicle do I escape with?
The jeep pictured above has a range of about 150-200 miles on a tank of gas and is pretty slow but reliable. With the hard top on I can probably haul the most as far as survival gear goes and being 4WD it's got the biggest advantage as far as where I can escape to.
Dirt bike will get me anywhere I need to go fast and with 26 years riding experience I'm pretty confident on it. My issue is I'm very exposed to attack. A wreck is potential injury, and I'm limited to about 80 miles distance and also can't carry a whole lot.
Next would be my truck. Greatest range on a tank of gas at around 465 miles and it can get out fast but in traffic trying to escape the city the bike would be better. The truck though would own for ramming vehicles out of the way and also with the spool and suspension you'd be surprised the places it will go. It is pretty limited on what i can carry though but not as bad as the bike obviously. The cab is only so big and I can only strap so much in the back cage. Cross country travel I can put some miles down fast though if I really had to get out in a hurry!
My lowered Mazda Hatchback... Ehhhh, not so much of an option.
Honestly, in the zombie apocalypse I'd probably load the jeep and go. Now if it was a matter of Russian's attacking like Red Dawn, I'd probably go for the truck as speed might be necessary. I don't picture the zombies being that fast so the jeep should escape just fine and get me hidden deep enough to not have to worry about being found.
(and yes, I possibly do have an issue with motorized vehicles. That's not even the whole collection, there's also a 2004 ktm 125 dirt bike, a 1978 Honda XL125 enduro bike and a 1982 Honda C70 scooter in the collection too, lol)