Random pictures from the weekend...
They look just as dumb in person as they do in pictures...
1929 Studebaker Indy car... The guy standing there is the owner and he still races it. He'll be racing it in Havasu the same weekend as the Mint400.
Friggen thing fired right up, I should've left the camera running for when he hit the throttle, the straight 8 in it sounded mean!!! Click below to watch the old man fire it up...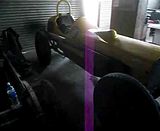 saw mill...
Studebaker vice! I kinda wanted this!
I wanted to convert this trailer into a camper!!!
Oh and found another jeep for you guys...
I've got more but this is a good variety... This is at the end of about a 40 mile dirt road from my house in Az.