Random pictures... I went to the Ford Raptor Roundup on Sat morning which was between Boulder City and Henderson. Afterwards I decided to take the scenic way back into Vegas and ended up snapping a couple static scenery type shots.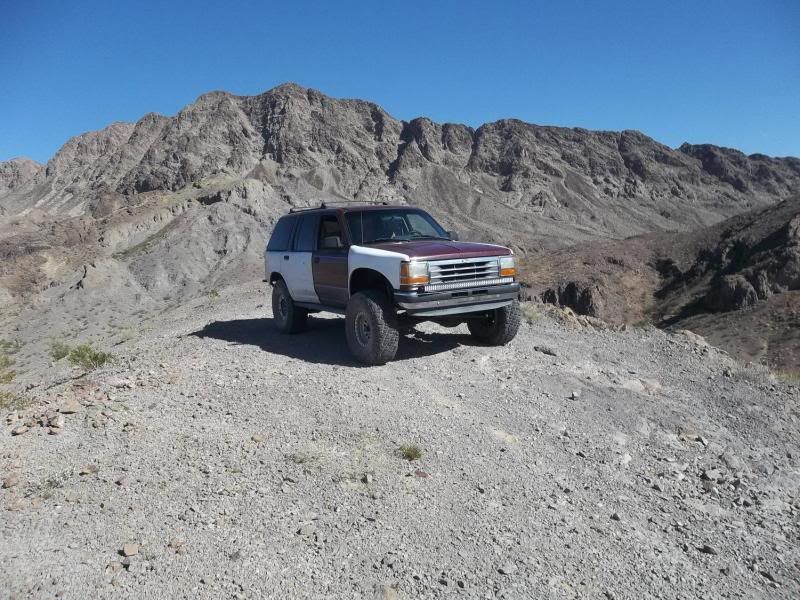 The joys of wheeling solo... Gotta get out occasionally to check the trail coming over blind rises where the hood blocks your view. Hence all the random pictures...
Meant to be way more passenger side, this photo was after I'd dropped over the rock a bit, high centered, backed off it, and then decided to jump out and see where the heck I should've been. I'd already gone up this all and had turned around and was heading back down.
I know wheeling solo isn't the best/smartest thing in the world but this area has cell coverage and is at most about a 2-3 mile walk into the nearest neighborhood and city streets for help if needed.
Like I said, I'm going down stuff I'd already gone up... This is going down... LOL Neither of these pictures show the steepness of this and I'm sure a bunch of you know this exact spot! I remember a few years back trying to climb this spot in my old Jeep on 35's with open diffs. Couldn't make it... The expo crawled right up it with ease!
The hill in the back... Like I said, these pictures don't do it justice.
The neat thing was these were all on Sat and then yesterday I ran a couple of the exact same sections in my toyota on the loop from henderson to searchlight that I did. It became very obvious what the pros and cons of my two rides are in comparison to each other that's for sure! LOL