Some of you have been following my brake issues.
A week and a half ago I was out there and made sure to fix the one minor leak i had. It has sat since then.
I went out today and noticed the front of the prop valve was wet. "odd" i thought, i know i had fixed any leaks, and there were never any leaks on the front flare fittings anyway. It was a dark color, so either it was dirty or maybe had dried up a bit.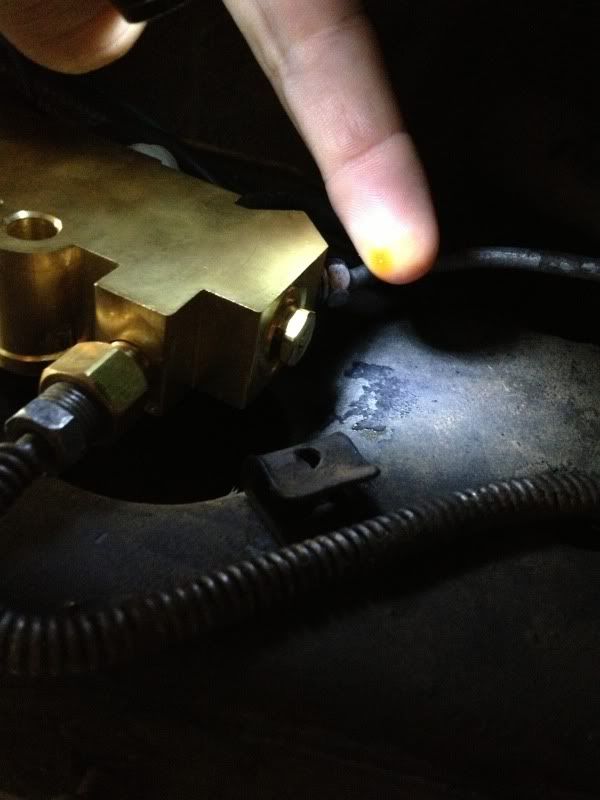 I hopped up, and pressed the brake pedal. it went to the floor with zero resistance. that has never happened. I checked the master cylinder and front reservoir was almost completely empty.
Wha?! It has never leaked down any amount in the entire time I've been dealing with this. I got under the truck and the front of the prop valve was all wet again. I had the girl press the brake while I watched and it just gushed out fluid from the threaded fitting that the reset pin is in (metering valve).
See video: (sorry, flashlight was in my mouth, thats why i sound funny)
What the heck? I tried to tighten it and it moved a LITTLE but i was going to start stripping the brass hex head. I couldnt get it any tighter without risking damage. I pressed the pedal again and it was wet when i got under the truck.
So, my metering valve portion of my proportioning valve is leaking. Also please note that the pin on the front of my prop valve has never popped forward. It's always "in".
I dont know alot about this stuff, but from my understanding the rear builds pressure first then the metering valve allows fluid to the front. My rear brakes have worked fine this whole time, i could lock em up, but the front wouldn't work. IT seems like maybe this was preventing the front from being able to pressurize, or perhaps it was trapping air or allowing air to enter. I don't know, but it sure seems like the metering valve in my prop valve isnt working right, which would maybe explain why my front brakes have never worked right.
Obviously at this point I know I need a replacement prop valve, but could this have been causing my issues? The only weird thing is that this didn't happen in any extent close to this before. Occasionally the front of the valve would have a drop after sitting but i figured that was the flare fittings, and i hadnt seen it leak since.
Thoughts?