I hear the stories of people that take the car to the mechanic and tell them there's something wrong... The mechanic can't make it do it's thing and gives it back. Yeah, that's my situation right now. Expo runs GREAT when I'm looking for the issue... I can't figure out how to intentionally induce the crappy running symptoms except for taking it driving. And of course that's fun cause it happens as far from home as possible. Like oh say, last night around 9:00 when I was over near sunset station when it finally acted up. Whipped into a parking lot and started checking things. Everything passed so then limped it home. Got home about 9:45ish and of course it runs perfect in the driveway. Took it out for some laps around the hood and finally got it to fail again. Checked a couple other things and limped it back home. Then finally had it in the driveway about 10:30 last night finally running crappy!!!! Checked everything I could and it all passed.
Round 2 is tonight. Good times!
Yes, there's an oil pan under it, the front dif is leaking. No big deal, 1 hour fix... Not exactly a priority right now though, more interested in making it run.
Oh and see puck, that crazy steering swinger that looked like it hung down and was really vulnerable, not so much... In fact, where'd it go? LOL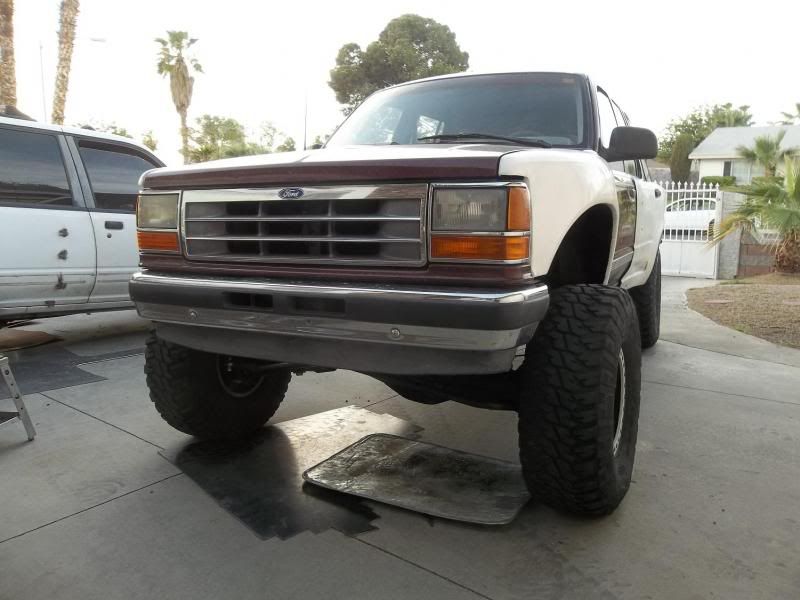 I may actually have to break down and peel off the mossy oak sticker finally at this point.
Here you go puck, figure it out...