LOL, Ricky, just gotta keep it on 4 wheels and it should do okay!!! Race day is actually a bit easier to drive cause you get going and get in a groove and settle down. Survive like the first 10 minutes and then you're just in a zone driving within your means. Cameras come out though or giving test rides and you tend to try to hit stuff a little different. Actually on the test rides I gave Sat, I wasn't going race pace. That whoop section where I balled it up, I definitely went into hotter then norm for the cameras. LOL damn those cameras!!!
Does it matter much on jeeps? someone mentioned moving that lower control arm axle mount up further more inline with the center of the axle. Doing this puts A LOT more load on the upper mounts. Basically it puts virtually 100% of the twisting force to the upper rather then spreading the load. Maybe it's not a big deal in jeeps but on the go fast stuff with the beating and constant on/off forces pounding thru whoops it's harsh and wears parts and has even ripped mounts off axles that I've seen. Is it a concern on the jeep stuff?
It's also interesting the difference in relation to upper and lower control arm mounts on the jeep vs. how I setup my truck. It looks like your upper and lower arms are almost the same length and are mounted almost directly above/below each other. You can see here, mine definitely are not.
Here from the side you can obviously see my lower frame mounts and the upper frame mounts are right behind the cab. Drastically different in locations. I get 2 degrees of pinion change over 24" and about an inch of plunge on my shaft which is fine cause of how my shaft was built with the slip in it rather then at the yoke.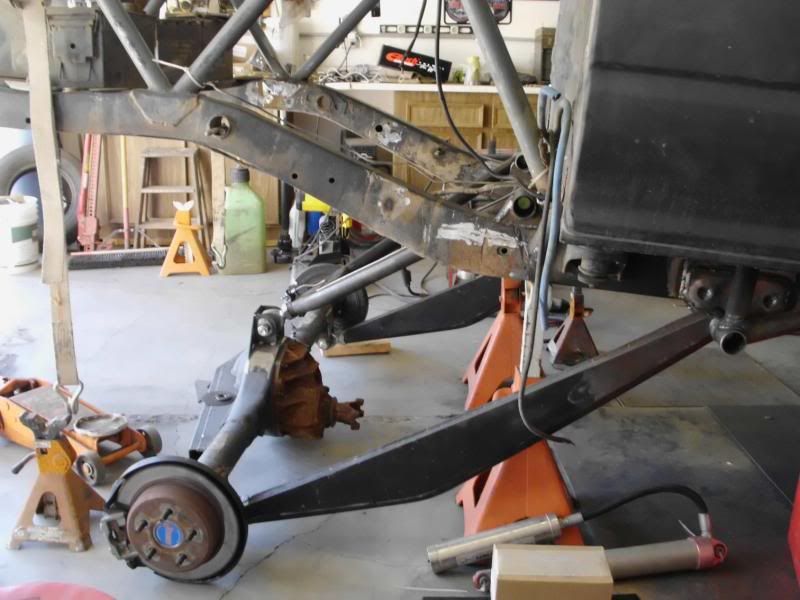 BTW, I didn't use a link calculator at all on this. I just used cad to figure out my locations and then the challenging part is finding those places in space in real life on the truck and hoping they aren't physically blocked when you find them.