If anyone sees smoke from my area tonight, just assume you won't hear much from me anymore... I hate playing with gas!
If I get it out this afternoon, I can do the mods I want to do and probably get it popped back in place tomorrow night if not tonight. Then it just needs some tires swapped out and lugnut check, fluid check all the way around, quick general nut/bolt check and ummmmm... Should be good to go I believe. Assuming it fires up that is...
I guess I also can toss out an invite. "Tentatively" we're taking the race truck out on Sat. I've got rides promised to Merrick, Andy, Garza and his friend Dave. Jason also has requested some video shoots and I'm hoping between Ricky and Dave's cameras we can get some stuff. Not onboard but external type runs. He's asked for footage from a couple specific areas which is the least I can do for him seeing as how I'm taking his truck out and he might literally be on a flight to london. We'll stage from our normal spot but I'm hoping either Andy or Merrick will be there with their jeep to kinda jump around a bit with as well in addition to the race truck. Chances are there'll be opportunities for other rides cause of some of the filming stuff. Can't promise a ton of seat time by anymeans and it would also depend how many people are there I suppose but chances are you'd get some seat time assuming we have a good day.
I'm thinking at least 4 of these loops will be done though with 1 loop per name above. This loop will be a good mix of straight up wide open and higher speed stuff to full blown brutal beat the **** out of you going kinda slow rough race type stuff.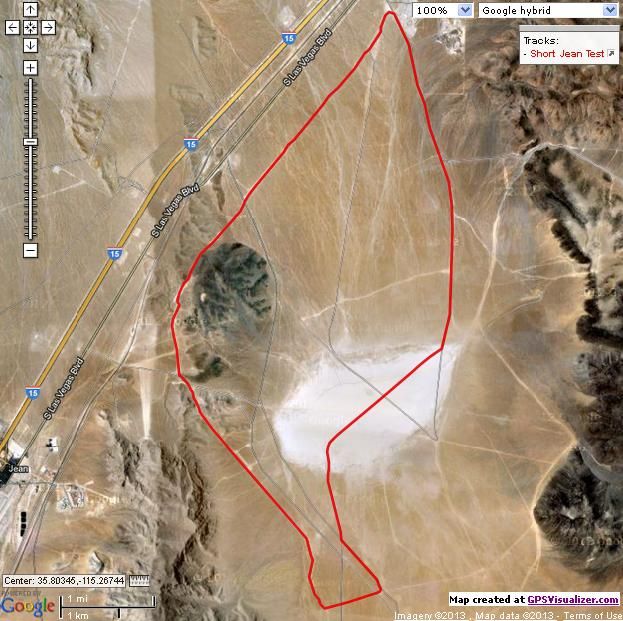 We'll be parked here somewhere and if you want an idea of that loop, just zoom out and figure out what I've GPS'd...
http://maps.google.com/maps?q=las+v...evada&t=h&z=18
And then rides would probably happen for the video shot stuff. I'll have a spare helmet with me to share for anyone riding shotgun.
Gotta get the truck to fire up and prep before I say we're in 100% though. I'm leaning towards a mid morning type deal and if Ricky and Dave's schedules allow I'm thinking spend some decent time out there if not make a full day kinda deal out of it even since this isn't a pre race test and the truck doesn't have to be fresh for some race coming up in weeks or anything like that. Merrick mentioned bringing out a grill so possibly bring some stuff to toss on if you wanted? Turn this into the "thank you" ride for those that have helped and that "open ride" type day that I've mentioned in the past. Will get details as we know more but keep it in mind and schedule open if you want to come out and hangout, watch, maybe get some seat time too even. Heck, bring the jeeps, make a trail day out of it or something...
This is one section he wants video from for instance and it's part of that loop shown above...
The other is the straight section kinda at the top running parallel to LVB is the other section he wants video from. It's BRUTAL!!! I think Merrick's been thru it with me in my truck.
Oh, and no, you can't drive it... Sorry, that's the agreement me and Jason have, me, him or his wife are the only ones behind the wheel. Any one else, it's his approval, not mine...