Registered User
Join Date: Nov 2005
Location: Tarzana, CA
Posts: 719
San Fernando Valley Jeepers (or close by)?
---
Hey all,
I haven't seen too much near the Valley so I thought I'd check to see if anyone else has been lurking in here. I met up with a local club only once, so I've yet to see how good their group really is. But wouldn't mind seeing who else is out there.
If you are in Santa Clarita, Los Angeles, the Valley, or Simi then maybe we could all organize a meet/greet or bbq or something.
TJ-Tera;
Hey bud! I'm just up the hill in the Antelope Valley, and thought I'd make our presence known! We have a few pretty challenging trails right here, as well as you are near the Sierra Palona trail through the mountains to Drinkwater, and Rowher flats if you want close in. A couple other guys went to Calico, and some i know went to Red Rock last weekend. Lots to see and do at both places. I am down to just my 2wd Cherokee now, but can still lead on some fun places.
I am also into my horses, so spend time with both in my exploring the trails.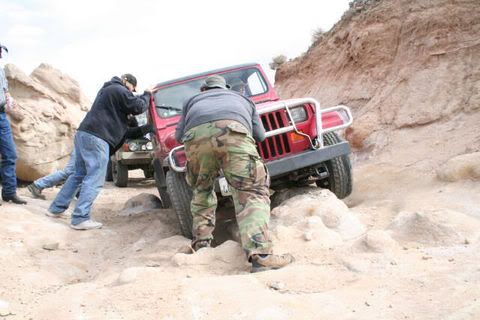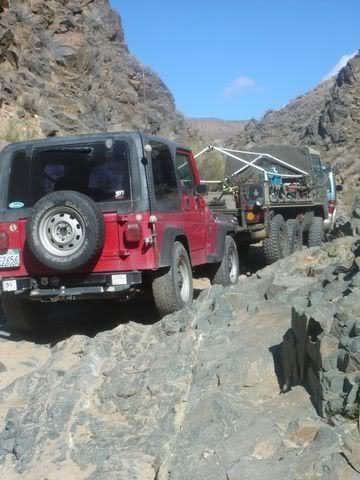 Registered User
Join Date: Nov 2005
Location: Tarzana, CA
Posts: 719
Hey Steve! Nice to meet ya...I've done Rowher Flats a long time ago, as well as Sand Canyon and Azusa off the 210. I moved away for awhile, so it's been some time since I went out with buds off-roading. Anyways, I'm always down to hang out with some local people as long as they don't mind a stock suspensioned Tj coming along. PM me next time you guys have something going on!
Tj-Tera;

Will do!
We may have a trip up for 21st to Goler Gulch. We are dropping a barn, then next day going to the gulch for some fun.
You are of course welcome, and since it is only about 1 1/2 to 2 hrs, away, we are home at dark.
There is a guy on here from Ridgecrest, Jeff, who is pretty cool, and my bud Mojavedave, who I go with from time to time.
As I said, my Cherokee is 2wd, so the really tough places are off limits for now. I really miss my old CJ-8, and my red YJ.
If you want to come here to Lake Los Angeles, ( there is NO lake), I also know of some tamer spots close in that are kind of fun.
Registered User
Join Date: Nov 2005
Location: Tarzana, CA
Posts: 719
All that sounds good to me. The 21st this month is out cause my company offered me a $1k training day in San Diego on the 20th and the g/f and I are gonna go down and make a weekend trip out of it. I'd be interested in some of those local spots you mentioned though on another weekend...sounds fun!
Registered User
Join Date: Aug 2013
Posts: 28
Are there any trails really close to sfv? Drinkwater is the closest I've heard of yet
I think there are some tame ones near Chatsworth, or out by Topanga and the Oat mtn site.
Also in Santa Clarita is the Bear Mtn trail to Lightning point, but the fire closures have closed a LOT of the local stuff right mow. Some fire roads, and a few public dirt roads, but you do have to come out here to do any rock stuff, or even get "kind of" hairy.
There are a couple rock piles, and a couple exploring spots out near Black Butte, and over off of Ave "J", and 260th East.
Registered User
Join Date: Jun 2011
Location: Los Angeles
Posts: 1,769
North Hollywood here! Check out the "Roll Call Los Angeles" thread too... Most of the dudes on there are like a 150 mile radius from the city and there's usually some sort of wheeling going on every couple weeks.
Registered User
Join Date: Jun 2008
Location: Trapped in the cesspool known as LA county
Posts: 3,838
I live in Elizabeth Lake, work in Santa Clarita. I've probably done rowher 100 times.
---
1990 YJ
Currently Active Users Viewing This Thread: 1

(0 members and 1 guests)
Posting Rules

You may post new threads

You may post replies

You may not post attachments

You may not edit your posts

---

HTML code is Off

---