Berdoo Canyon, Joshua Tree Park
---
Has anyone done this trail? It is rated 4 and I was wondering if there would be any problems with a stock JK 4-door Sahara
---
2007 Sahara Unlimited
4x4, Auto, Jeep Green, Tow Package, Soft top, 3 inch spring lift, MBRP Catback
Registered User
Join Date: Sep 2007
Location: Centaral Coast of California
Posts: 11
Berdoo is not difficult
---
I just got my flame red JK rubi unlimited last month. So I can't speak about doing it in a jeep. I did drive it two years ago in my stock 97 4runner. It was pretty easy, I drive slow, slow enough to often change my mind and pick another line. I did meet a CJ with four passengers heading the opposite way near the end of the trail in the park itself. At this point I wondered if I would need the capability of the jeep to finish the run into the park. A little ways further and I discovered that I had already covered the hardest parts. I look forward to trying some of the more difficult trails now that I have the JK. I think the clearance will make a big difference on the more difficult trails. I did take the 4runner on the Bradshaw, Red Canyon and the Pinkham the same week. Lots of sand so be ready to air down. I would imagine all these would be easy in the jeep.
RedRock53
Registered User
Join Date: Sep 2007
Location: Centaral Coast of California
Posts: 11
---
RedRock53
[/QUOTE]
I feel more like I do now then I did before!
---
Last edited by redrock53; 10-06-2007 at

02:26 PM

.
Registered User
Join Date: Apr 2007
Location: Orange
Posts: 1,456
Quote:
Originally Posted by redrock53
I feel more like I do now then I did before!
Thanks Redrock. I feel more comfortable now. Will let you know how the JK went when we get back.
---
2007 Sahara Unlimited
4x4, Auto, Jeep Green, Tow Package, Soft top, 3 inch spring lift, MBRP Catback
Registered User
Join Date: Oct 2006
Location: La Quinta
Posts: 124
---
Don't be discouraged when you start out. There's a shooting area at the enterance that's loaded with trash. But it cleans up as soon as you get to some wheelin'.

There's actually some history to the trailhead and some remains of a slab city. It's just been littered to h***.
Member
Join Date: Mar 2005
Location: Los Angeles, CA
Posts: 249
I ran down Berdoo Canyon from Joshua Tree in August (night run). There were a few difficult obstacles but they all had bypasses. A stock JK Unlimited that took the bypasses could run the entire trail in 2 wheel drive.
This is an example of an obstacle but it has a bypass: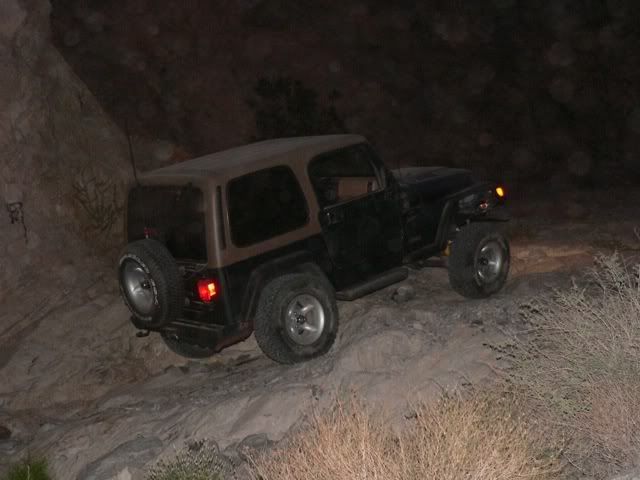 Most of the trail looks like this:
And there is lots of junk in the lower part of the canyon: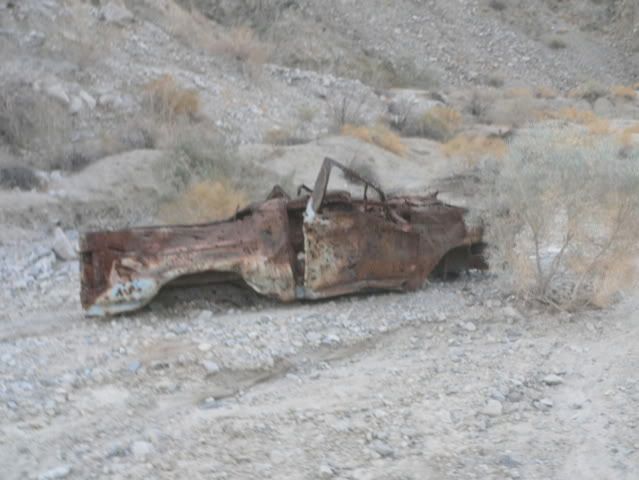 ---
If you don't like the way I drive, stay off the sidewalk!
KI6MLU
Registered User
Join Date: Jan 2002
Location: Indio, CA.
Posts: 712
It's been a year since I took this trail, but overall it's very easy. Bad rains could make it tougher and there was a storm there last month. There is one section that may require you use 4wd, otherwise an easy trail. The comments about junk at the bottom are true...but once past that it's nice, especailly once in J-Tree. Plus...no place to pay the park fee if you go in and out on the trail. I've seen stock CR-V's do it...go for it and have fun. J-Tree is a great park.
---
Gotten Savvy! Awaiting Tummy Tuck ;-)


To view links or images in signatures your post count must be 10 or greater. You currently have 0 posts.


65 million firearms owners killed no one yesterday - Assault is a behavior, not a device.
Registered User
Join Date: Apr 2007
Location: San Diego
Posts: 1,119
If thats the trail Im thinking, I use to use it as a short cut to Palm Springs when I was stationed in 29 Palms. Would save me 10 minutes or so and I got to wheel a bit. That was on a TJ with a budget boost and 31s.
Currently Active Users Viewing This Thread: 1

(0 members and 1 guests)
Posting Rules

You may post new threads

You may post replies

You may not post attachments

You may not edit your posts

---

HTML code is Off

---